PRelocate's First-Ever Client Appreciation Event
Posted:

February 19, 2020

Posted by:

Travis Lynk

Last Reviewed:

July 16, 2021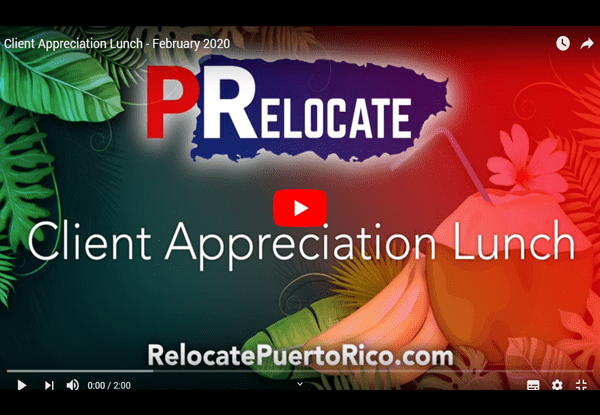 On February 8, 2020, PRelocate hosted its first-ever client appreciation event, Brunch & Brews, in the Terrace of St. Mary's in Condado, San Juan. Act 20 and 22 decree holders came together from all over Puerto Rico for a day of networking, socialization, and delicious, professionally prepared food, and ultimately, the event was a major hit.
The scrumptious food came courtesy of Chef Lorrie Rojas, founder of Bay Area Chef. An expert in gastronomy and food presentation, Lorrie prepared an exquisite Mediterranean menu that started with appetizers: hummus with lamb, butternut squash and tahini, babaghanoush, and tabbouleh. While these were good enough to constitute a meal on their own, they were complemented by some main dishes: falafel, Moroccan chicken, and kofta b'siniyah. Finally, no meal would be complete without dessert, and Lorrie's tahini and halva brownies and spice cookies really hit the spot.
To prep for the event, PRelocate Managing Partner Sam Silverman and Operations Manager Pilar Rivera teamed up with Lorrie to shop for supplies at Costco. The three had their hands full picking out and transporting the large amount of food and drink needed to make the event a success.
The day before the event, Lorrie got together with sous-chefs Pilar and Gisela Delgado, PRelocate's administrative assistant, to work her culinary magic. Anyone who attended would confirm that they were wildly successful in their gastronomical mission. Even Pilar's specialty, overly spicy falafels (the trick is to forget Lorrie's numerous reminders of how to calculate the measurements for the cayenne), was a hit.
To complement the delicious food, mixologist Mike worked behind the bar to provide guests with flawless cocktails and drinks. His two specialties were French 75, with gin, lime juice, simple syrup, and cava, and watermelon basil spark, which combines watermelon juice, rum, orange liquor, basil syrup, and prosecco. With his top-quality drinks, he ensured guests received a truly well-rounded meal.
The event was a blast not only for PRelocate clients but also our team. We're so grateful to everyone who showed up to share this day with us, and we truly enjoyed meeting everyone who attended. This was our first client-appreciation event, but it certainly won't be the last. If you missed the event this time, don't worry—you'll get more opportunities in the future. We look forward to seeing everyone we met again, as well as meeting those who couldn't make it this time.
See you at the next meet-up!
Disclaimer: Neither PRelocate, LLC, nor any of its affiliates (together "PRelocate") are law firms, and this is not legal advice. You should use common sense and rely on your own legal counsel for a formal legal opinion on Puerto Rico's tax incentives, maintaining bona fide residence in Puerto Rico, and any other issues related to taxes or residency in Puerto Rico. PRelocate does not assume any responsibility for the contents of, or the consequences of using, any version of any real estate or other document templates or any spreadsheets found on our website (together, the "Materials"). Before using any Materials, you should consult with legal counsel licensed to practice in the relevant jurisdiction.