Where to Live in Puerto Rico Guide
Posted:

October 15, 2018

Posted by:

Travis Lynk

Last Reviewed:

June 22, 2021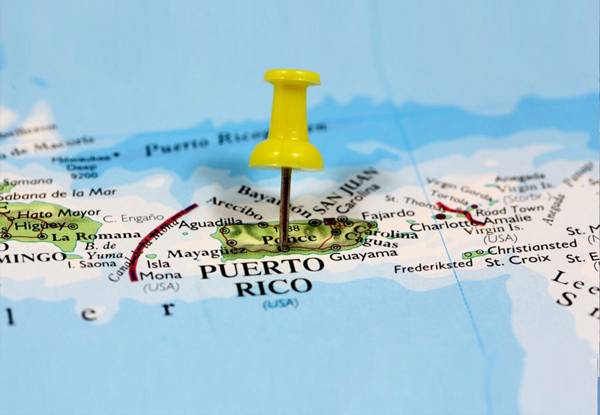 Where to Live in Puerto Rico Guide
There are many unique regions in Puerto Rico, each with its own amenities and features. With an array of locations to choose from, there is a high likelihood of finding your ideal neighborhood. With our guide, you will have no trouble finding what area is best suited for you.
We have looked into nine popular living spots:
Old San Juan
Safety: Good
Cost profile: High
Walkability: High
Population density: High
Travel time to SJU airport: 15 minutes
Serving as base for over 500 years, the island of Old San Juan is widely known and visited for its historical significance. Popular with residents and locals alike, the area is teeming with life and color, from assorted boutique shops and busy restaurants, to beautiful Spanish architecture and more.
The cobblestone streets are ideal for exploring on foot, bike, or the free trolley system. History lovers can indulge in hundreds of 16th and 17th century buildings that have been restored and are open to the public, including the three forts of Old San Juan—El Morro, San Cristóbal, and San Gerónimo.
Due to the wide variety of people living here, home buyers with different budgets have several purchasing options available to them. Most of the residential housing consists of three- to four-story row-homes and multi-family structures. Prices change significantly depending on the size, unit, and location within this area. You can find units ranging from 300 square feet to more than 5,000 square feet, and prices from $165,000 to over $2.5 million. Rent in Old San Juan is reasonable, with a 900-square-foot property in a good area coming in at $1,500 per month.
Condado
Safety: Good
Cost profile: High
Walkability: High
Population density: High
Travel time to SJU airport: 10 minutes
Just a few minutes from Old San Juan, Condado sits on a beautiful beach strip. The pedestrian focused region is a popular residential spot known for its peace and tranquility, as well as a good police presence and a feeling of security. An array of different restaurants, shops, and casinos serve as fun destinations with the beach only a few steps away. Condado is known for having one of the most beautiful beach areas – Ocean Park. Outdoor activities are big in the area, including paddle boarding, surfing, kitesurfing, volleyball, beach tennis, and more.
Living spaces in the region offer a good mix of condos and houses, averaging $650,000 for a multi-room condo. Prices start in the mid $200,000 for a nice, quaint apartment, and go as high as $3 million for a penthouse beachfront unit atop a high rise condominium. A 900-square-foot rental can be found for as low as $1,200 per month.
Miramar
Safety: Average
Cost profile: Average
Walkability: Average
Population density: High
Travel time to SJU airport: 10 minutes
Serving as one of the two entrances to Old San Juan, the historic district of Miramar is a great location for anyone looking to be close enough to the action while enjoying more space and quiet. The more residential community appeals to families with children and retirees coming from the mainland US.
The neighborhood is home to the recently constructed Puerto Rico Convention Center that connects to the sweeping green lawns and gently spraying fountains of the Paseo de las Fuentes park. Many restaurants are also located in the area, providing several dining options. The Club Nautico de San Juan offers sailing enthusiasts access to a boating club, sailing lessons, and fishing events. The club hosts the annual International Billfish Tournament that lures in fishermen from around the world.
Miramar offers a more elegant neighborhood, with townhouse/condo-style housing and Spanish-style houses replete with patios and gardens. Even with a few trophy properties exceeding a $2 million price tag, housing costs in Miramar are lower than in Old San Juan or Condado. Prices for condos come in under $200,000, while houses generally start in the $300,000 range. Rent in the area is inexpensive compared to other regions, with a 900-square-foot property as low as $1,000 per month.
Santurce
Safety: Average
Cost profile: Average to High
Walkability: High
Population density: High
Travel time to SJU airport: 10 minutes
Only 10 minutes from SJU airport, Santurce is known for its hip, artistic culture and oceanfront luxury real estate. As the largest and most populated neighborhood in San Juan, it is the perfect place for individuals looking for a big city atmosphere in Puerto Rico.
Entertainment and culture are an integral part of Santurce. Several renowned fine arts institutions are located in the neighborhood; these include the Puerto Rican Museum of Art and the Museum of Contemporary Art. Another hotspot for residents is La Placita de Santurce, an outdoor plaza that turns into a moonlit dance floor at night and on weekends. Further, Santurce is known for its distinguished private schools, which are scattered all over the neighborhood. The 20 private schools located in Santurce offer a variety of excellent educational opportunities.
Real estate prices in Santurce are generally reasonable, with a median home value of $146,400. Still, luxury beachside homes in the neighborhood can be worth as much as $2–4 million. Buyers can expect to pay about $1,200 per month to rent a 900-square-foot property.
Guaynabo & Bayamon
Safety: Average
Cost profile: Low
Walkability: Low
Population density: High
Travel time to SJU airport: 30 minutes
Sitting four miles apart from each other, Guaynabo and Bayamon are considered one by many. Home to about 250,000 residents, this regions is detached from the busy San Juan city and beach commotion. Offering a much more residential feel, this region is home to several industries covering healthcare, social aid, finance, insurance, retail trade, educational services, tech, and more. About 20 minutes inland, Guaynabo and Bayamon have several restaurants and popular attractions. You can find one of the islands most beautiful waterfalls, Poza Prieta Waterfall, hidden in Bayamon, along with the recently reopened 42-acre science museum. For great authentic Puerto Rican food, Guaynabo has many spots offering delicious and inexpensive bites.
Only a few miles from the capital, real estate prices significantly drop. It is typical to find a nice property with a yard for under $250,000. Investing $300,000 for a new residence in the area will get you far. Residences of all sizes are available. Large properties can be found for $5,000 per month, but overall, rent is low, with 3-bedroom apartments costing $1,000 per month.
Dorado
Safety: Good
Cost profile: High
Walkability: Low
Population density: Low
Travel time to SJU airport: 35 minutes
About 30 minutes west of San Juan, Dorado offers residents ocean views with quiet and peaceful neighborhoods. A hot spot for tourists, surfers, and boaters, the hotels, golf courses, tennis courts, and beaches draw in visitors looking for a break from from the action in San Juan. With about 40,000 residents, 10% of San Juan's population, getting in and out of Dorado is rarely a problem. While Dorada is amenity rich, the commute and traffic in and out of San Juan for business and pleasure should be a consideration. Oftentimes, transportation like Uber is only available from San Juan, not to it. On the plus side, Dorado is close to all cities and spots towards the western part of the island.
Real estate prices in the Dorado Beach Resort are some of the highest on the island, almost always topping $1 million. If you choose to live outside of the gated portion, prices revert back to around $300,000 for a 3-bedroom, 3-bath property.
Bahia
Safety: Good
Cost profile: High
Walkability: Low
Population density: Low
Travel time to SJU airport: 35 minutes
Located in the northeast of the Island, Bahia is blooming with nature and tranquility. Bahia Beach Resort is affiliated with the St. Regis, a popular alternative to Dorado's Ritz Carlton.

Similar to Dorado, if you decide to live here, you'll be more isolated from the metro area and with less population. Living near Rio Grande, the closest city to Bahia, does enable quicker access to the coastal city of Fajardo, the most popular place to store a boat with quick access to the islands of Culebra and Vieques. You will also be closer to El Yunque, the sprawling rain forest national park.
Real estate here is generally cheaper than Dorado, but with less options. The starting purchase price for living inside one of the golf course communities is $300,000.
Palmas del Mar
Safety: Good
Cost profile: Average
Walkability: Average
Population density: Average
Travel time to SJU airport: 1 Hour
Residents of Palmas del Mar, near the city of Humacao, love to tout the strong sense of community and family. Located in the southeast corner of Puerto Rico, 1 hour from San Juan, this is a popular location to live "away from San Juan." Living here is affordable, amenity-rich, and nearly on the beach. Similar to the city of Fajardo just to the north, Palmas is a boating mecca with some of the best boating infrastructure. One thing to consider is your travel time to San Juan, and how your social and entertainment options may be reduced by living outside of the main city.
Real estate here is varied, with many price points and developments from which to choose. Starting at $250,000 you can live within a community on the beach.
Rincon
Safety: Good
Cost profile: Low
Walkability: Average
Population density: Low
Travel time to SJU airport: 2.5 hours
Quiet and peaceful, Rincon is nestled in the westernmost end of the island, about 2 hours from San Juan. With open views of the Atlantic, the smaller beaches have not yet been taken over by hotels. You'll find a very "local" feel here, albeit with many expats who relish the outdoors. Rincon is famous for surfing, which draws in people from around the world, especially during surf competitions. Despite being far from San Juan, Rincon has the infrastructure and services to support your needs, and the needs of families and business owners alike. The major city of Mayaguez is just to the south, and offers a small airport and common shops.
Real estate here is generally very affordable, with small houses starting at $150,000. If you like the vibes of Rincon, you should also take a look at the nearby coastal cities of Aguadilla and Isabela.
Have specific questions, want our personal opinion, or need a real estate referral? Contact or chat with us.
Real estate resources:
Disclaimer: Neither PRelocate, LLC, nor any of its affiliates (together "PRelocate") are law firms, and this is not legal advice. You should use common sense and rely on your own legal counsel for a formal legal opinion on Puerto Rico's tax incentives, maintaining bona fide residence in Puerto Rico, and any other issues related to taxes or residency in Puerto Rico. PRelocate does not assume any responsibility for the contents of, or the consequences of using, any version of any real estate or other document templates or any spreadsheets found on our website (together, the "Materials"). Before using any Materials, you should consult with legal counsel licensed to practice in the relevant jurisdiction.
More Articles