What to Expect While Living in Puerto Rico
Posted:

December 17, 2022

Posted by:

Travis Lynk

Last Reviewed:

June 29, 2023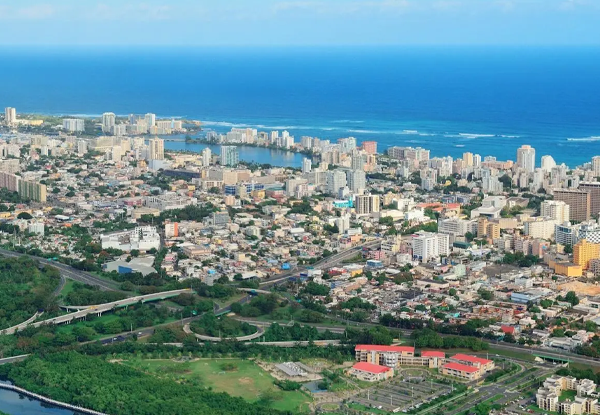 Here are a few things to keep in mind before moving to Puerto Rico.
Living in Puerto Rico
Puerto Rico is already one of the hottest tourist destinations in the world, but it is rapidly becoming a home-away-from-home for U.S. citizens as well. Many high-net-worth individuals and businesses have already relocated to the island to benefit from the many tax incentives that Puerto Rico offers its residents.
With the help of the Act 60 program, you can boost your income as well, if you decide to start a new life in Puerto Rico.
Moreover, being a U.S. territory, the island paradise also presents numerous practical advantages to U.S. citizens. You will neither need a passport to travel between the island and the mainland nor a visa to establish a livelihood there. This ease of access coupled with an overall lower cost of living and exciting island lifestyle makes Puerto Rico a very desirable place to live in.
Its thriving business culture and evolving tech industry also present a lot of promising opportunities for digital nomads and remote workers. In this article, we list a few things to consider when you prepare to move to this heaven on earth.
Lower Average Cost of Living – Puerto Rico VS. United States
In general, the average cost of living in Puerto Rico is much lower than in the rest of the United States.
According to Numbeo, a cost of living comparison service, consumer prices (including rent) are 25.7% lower than on the mainland, indicating an overall budget-friendly economic environment for those wishing to live on the island.
For a more precise understanding of how low the cost of living in Puerto Rico is in contrast to the United States, let us compare the most economically developed city and the financial center of Puerto Rico – San Juan – with three major cities in the United States.
The consumer prices (including rent) in San Juan are 40.76% lower than in New York City, 20.17% lower than in Los Angeles, and 11.53% lower than in Chicago.
Plenty of Housing Options
Puerto Rico is currently experiencing a real estate boom, and, since it also has a flourishing tourism industry, there are countless housing options available.
Renting in Puerto Rico
You can choose from one of the many short-term rentals such as vacation rentals or other independent rentals managed by various distribution channels like Airbnb or Vrbo.
If you wish to rent long-term, there are a lot of options to choose from, including one-bedroom or three-bedroom apartments.
Since the cost of living in Puerto Rico is generally lower than in the United States, the rent is cheaper as well.
A one-bedroom apartment in a city center will cost approximately $798.17 per month while a three-bedroom apartment will cost around $1392.22 per month, which is 52.43% and 49.58% cheaper, respectively, than on the mainland.
Meanwhile, outside the city center, a one-bedroom apartment will cost around $478.45 per month, making the rent 61.54% cheaper, and a three-bedroom apartment will cost about $942.30, which is 56.58% lower than in the United States.
The bottom line is that if you decide to rent anywhere in Puerto Rico, you will cut down your housing costs by an average of 50%.
Buying a Property in Puerto Rico
Homeownership has become a popular trend in recent years, with many high-net-worth individuals moving to the island, looking to capitalize on the island's tax benefits and surging real estate market.
Puerto Rico's luxury real estate industry has proven to be quite advantageous for investors and homeowners due to the multitude of cost benefits and unique lifestyle that property ownership brings with it. In fact, purchasing real estate property has been mandated for Act 60 decree holders, and this property must be the individual's primary residence throughout the term of the decree. This constitutes one of the tests that establish an individual's bona fide residency, as it helps prove their commitment to Puerto Rico.
If you are looking to buy a property in Puerto Rico or need help in getting a mortgage, our expert team at PRelocate would be more than happy to guide you.
Cheaper Food and Groceries
Puerto Rican cuisine is a force to be reckoned with, and the island boasts a vibrant food scene.
Dining and street food options are abundant, with restaurants, food trucks, and roadside sellers scattered all across the island.
If you prefer to order in, there are also several options when it comes to food delivery services. Uber Eats and Uva (a local delivery service) will make it easy for you to grab a meal in an instant.
According to Numbeo, restaurant prices are about 20.90% cheaper than in the United States, with a meal costing, on average, $12 in an inexpensive restaurant and $60 at a mid-range restaurant. The prices at high-end restaurants, on the other hand, are comparable to the U.S. or Europe, largely because imported goods are more expensive in Puerto Rico.
Supermarkets in Puerto Rico are very easy to access, but since most of the products are imported, groceries can be a bit more expensive. Some of the top supermarkets are Pueblo and Supermercados Selectos.
However, local grocery products are 7.32% cheaper overall than in the United States, so it is advised that you head to the local Mercado to satisfy your grocery needs at a reasonable price, especially for fresh fruits and vegetables.
Reliable Internet Connectivity
Even though parts of Puerto Rico are still trying to recover from the 2017 Hurricane Maria, the island's internet infrastructure has been reinforced and improved.
There are a total of 31 internet service providers and three 5G networks in Puerto Rico, guaranteeing island-wide connectivity and making the territory's average speed one of the fastest in the world.
Among the top internet service providers that provide fiber internet are Optico Fiber, Claro Net, and PR Wi-fi.
Cell service is also highly reliable all around the island, with Claro and Liberty (formerly AT&T) having the best coverage and the most antennas in rural areas. T-Mobile and Sprint also offer good connectivity in urban areas.
High Electricity Bills
Due to a series of natural disasters since 2017, Puerto Rico's power grid has taken serious damage and is still struggling to keep up with the needs of the island's residents.
Blackouts and power outages are frequent (at least once a week) and last for an average of one to two hours, even in highly developed urban areas like San Juan. Conditions are worse during hurricane season. The cost of electricity is much higher as well – nearly $225 for an 85 sq. meter apartment.
However, there has been immense progress recently in Puerto Rico's power system, so the situation is improving.
Nevertheless, there are quite a few options for backup solutions already available. Alongside the presence of fuel-burning generators, many residential areas and tourist spots have installed solar panels and inverters that provide a reasonably stable electric supply.
Easy Travel
The two main airports of Puerto Rico are San Juan International Airport (SJU) and Rafael Hernandez Airport (BQN) in Aguadilla, each of which has flight connections to over 50 destinations. When you fly in from the mainland, you will most likely arrive at one of these two airports.
To travel around the island, having a car at your disposal is the best option. You can choose to rent a car from one of the major companies such as Avis Car Rental or one of the several smaller local businesses like Charlie Car Rental. Rental rates for a compact car usually start from around $25.
Owning a car is probably the most convenient option, especially if you are planning on staying in Puerto Rico for a longer period, but it can be expensive. If you buy a car from a dealership in Puerto Rico, you will find that the cost will be $2000–$5000 more than the car's U.S. price.
Another option is to ship the car you already own from the mainland, but due to high import taxes, the process will likely be as expensive as buying a car on the island.
Traveling in metropolitan areas like San Juan or Ponce is very easy with the Publico System. The Autoridad Metropolitana de Autobuses, or the AMA bus system, offers access to many routes and is very cheap, with a single ride costing around $0.75.
Taxis and Ubers are also easy to find, but slightly more expensive with the normal tariff beginning at $5.
Accessible Healthcare
Puerto Rico's healthcare infrastructure is generally well managed and widespread, with over 90 hospitals on the island.
There are numerous Walgreens and CVS pharmacies as well, scattered all around, so it is fairly easy to get your prescription filled from anywhere. You will find that urban areas will have much better facilities than areas outside cities.
While the public healthcare system is underfunded and has a shortage of doctors, the private sector is of a high standard and has shorter waiting times.
To avail of private medical facilities, you are advised to buy appropriate medical insurance. There are many good options for health insurance in Puerto Rico, such as Triple-S, Humana, First Medical, and Plan de Socios Auxilio Mutuo.
For insurance that covers you in both Puerto Rico and the United States, you can opt for the HealthShare Plan from Liberty or MCS Puerto Rico. Private insurance is less expensive than on the mainland and gives you access to the same quality of care as you would get in any of the 50 states.
If you are a bona fide resident of Puerto Rico and a decree-holder of any one of the territory's many tax incentives, you can easily access a concierge doctor or a medical professional via in-person visits or online consultations.
Some of the top concierge doctors and healthcare providers are PR Concierge & Internal Medicine Services, Pravan Clinic, and Medical Concierge Puerto Rico.
High Standard of Education
If you are a parent, then education is of course an important consideration. Luckily living in Puerto Rico could prove quite valuable for your child as the territory boasts an impressive education system, which is evidenced by a literacy rate as high as 92%.
There are many public and private schools, international schools, and higher educational institutions to choose from. The Puerto Rico education system is based on the American model, and while the quality of public schools varies greatly from place to place, private schooling is generally of a high standard.
In Puerto Rico, public schooling is free for every resident on the island, but an important consideration to note before enrolling your child in one is that the principal language of instruction is Spanish. Among the top public schools are Carmen Bozello De Huyke in Barranquitas, University Gardens (Especializada) in San Juan, and Ramon Marin in Ponce.
Private school programs in Puerto Rico are some of the best in the world as all students complete high school equipped with all the credentials necessary to be in high demand at top-rated universities around the world. Some of the best private schools include Cupeyville School in San Juan, Saint John's School in Condado, and Baldwin School in Bayamón.
Higher education in Puerto Rico is also first-grade and well-funded, with almost all universities providing access to world-class coursework and well-equipped research facilities.
University of Puerto Rico, Sistema Universitario Ana G. Méndez, and the Polytechnic University of Puerto Rico are some of the best higher educational institutions in Puerto Rico.
The national average tuition fees is around $7,000 for in-state students and $9,000 for out-of-state students, which is much lower than the average $38,185 (private), $22,698 (public, out-of-state), and $10,338 (public, in-state) fees of American colleges.
Slow but Steady Banking Infrastructure
Banking in Puerto Rico can be quite an ordeal if you are not prepared beforehand and do not have the required patience to wait a week for something that takes one day on the mainland.
However, if you are moving to Puerto Rico, you may be able to keep your current accounts if there are branches on the island, but you should switch banks if there is none near you or if you are applying for an Act 60 tax decree. Opening a bank account shows Closer Connection and will help in establishing bona fide residency.
To open a personal bank account, you need to submit a form of ID, proof of address (utility bill), and a minimum deposit; the particulars may differ for different banks.
For a business account, you will need a Certificate of Incorporation issued by the Department of State, Merchant's Registry issued by the Department of Treasury (Hacienda), Articles of Incorporation or By-Laws, Identifications of all signers, and Evidence of taxpayer ID. You can send these documents to our PRelocate team to get the internal process started.
Puerto Rico is a very cash-oriented place, so it is advisable always to carry some cash. There are plenty of ATMs all over the island, most of which belong to Banco Popular and First Bank, two of the biggest banks in Puerto Rico.
All major credit cards are widely accepted as well, such as American Express, Visa, and Mastercard. You can also use your U.S. debit card to access your mainland account, but remember that banks in Puerto Rico charge a fee every time you withdraw money from an ATM.
Beautiful Weather
One of the most significant reasons for living in Puerto Rico is its warm tropical climate coupled with the exhilarating lifestyle that goes with it.
With many breathtaking beaches and lush rainforests, the island allows you to sit back and savor the most beautiful landscapes that nature has to offer. There is also a multitude of outdoor activities, such as hiking, fishing, and swimming, that will keep you pleasantly occupied.
The only concern is the hurricane season, which lasts from June 1 to November 30 every year, with September being the peak month.
Unless a hurricane directly affects the island, being in Puerto Rico is generally safe during this time. You will know about the possible impact five to six days in advance, so you have enough time to prepare. During this time, just remember to keep an eye on the local weather, have extra cash, know all local emergency numbers, and keep away from rivers and beaches.
The Bottom Line
Living in Puerto Rico is a dream come true for any U.S. citizen.
Despite the high electricity bills and expensive imported goods, the island has a lot of financial perks overall. The generally lower cost of living that results from cheaper housing, inexpensive food, affordable healthcare and education, and several lucrative tax incentives make the U.S. territory a very attractive place to live in.
The incredible weather and quality of life are just the cherry on top. Just reach out to our team at PRelocate if you are thinking of moving to Puerto Rico – we'll handle the rest.
Disclaimer: Neither PRelocate, LLC, nor any of its affiliates (together "PRelocate") are law firms, and this is not legal advice. You should use common sense and rely on your own legal counsel for a formal legal opinion on Puerto Rico's tax incentives, maintaining bona fide residence in Puerto Rico, and any other issues related to taxes or residency in Puerto Rico. PRelocate does not assume any responsibility for the contents of, or the consequences of using, any version of any real estate or other document templates or any spreadsheets found on our website (together, the "Materials"). Before using any Materials, you should consult with legal counsel licensed to practice in the relevant jurisdiction.