The Best Historic Sites to Visit in Puerto Rico
Posted:

August 17, 2021

Posted by:

Travis Lynk

Last Reviewed:

December 20, 2021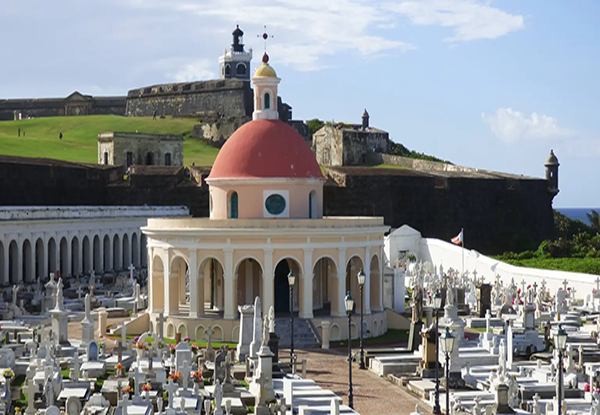 As the United States recovers from COVID-19 in August 2021, both federal and state governments seem in favor of imposing new taxes to make up for the governmental revenue loss brought on by the pandemic. Compounded by growing progressive tendencies in Congress and many state legislatures, these trends may be worrisome for high-net-worth Americans. Therefore, many of these individuals have opted to relocate elsewhere in search of lower taxes. One of the most popular destinations for low-tax living is Puerto Rico—a beautiful U.S. territory in the Caribbean sea that offers its residents all the benefits of U.S. citizenship as well as a charming lifestyle and rich history.
Relocating to Puerto Rico can result in numerous benefits. Most notably, individuals who relocate to Puerto Rico become eligible for the Act 60 tax incentives, which entitle investors to pay a 0% capital gains tax rate as well as a 4% corporate tax rate for their businesses.
This article discusses the most important historic sites in Puerto Rico. These appealing landmarks will no doubt motivate U.S. residents to consider relocating to Puerto Rico.
Old San Juan
Puerto Rico was a Spanish colonial territory until 1898, when Spain ceded the island to the United States in the aftermath of the Spanish-American War. After spending over 400 years under Spanish rule, Puerto Rico still prides itself in its abundance of remarkable historic landmarks.
Old San Juan—a UNESCO World Heritage Site—is Puerto Rico's oldest settlement. Old San Juan is now a district within the larger city of San Juan, which is located on the northern coast of the island. The area contains numerous historic attractions, including the ones listed below:
Capitolio de Puerto Rico
Built in 1929, the Capitol Building of Puerto Rico (or Capitolio de Puerto Rico in Spanish) has been serving as the seat of the Puerto Rican legislative assembly for almost a century. The structure sits right at the entrance to Old San Juan and is a jewel for those interested in history and politics. Designed in the Neoclassical style, the Capitol has a wide-ranging art collection alongside its display of the Puerto Rican constitution.
La Fortaleza
La Fortaleza is the official resident mansion of the governor of Puerto Rico. It was constructed in the 1500s and has been used for numerous purposes—the mansion had functioned as a prison, a fortress, and an arsenal before becoming the governor's residence. Since this building is still in operation as a governmental entity, tours are only offered during business hours. This landmark is definitely worth visiting by anyone interested in learning more about Puerto Rico.
Cuartel de Ballajá
Cuartel de Ballajá, or the Ballajá Barracks, is a military barracks situated just a few blocks away from Old San Juan. Built in 1864, the building hosted Spanish troops and their families prior to Puerto Rico's annexation by the United States. Now, it functions primarily as a museum and is also used as a fine arts school. The building's architecture is nothing less than stunning.
Castillo San Felipe del Morro
A UNESCO World Heritage Site, Castillo San Felipe del Morro is an impressive citadel built by the Spanish between the 16th and 18th centuries. The citadel is full of rich history and remarkably picturesque scenes.
Santa Maria Magdalena de Pazzis Cemetery
The Santa Maria Magdalena de Pazzis Cemetery is right next to Castillo San Felipe del Morro. Considered one of the world's most noteworthy cemeteries, you will find beautiful marble structures, sculptures, and other religious symbols here.
Castillo San Cristóbal
Castillo San Cristóbal is another fortress from Puerto Rico's colonial past. Unlike Castillo San Felipe del Morro, which was built to protect Puerto Rico from sea invasions, Castillo San Cristóbal was designed with land attacks in mind. Also a UNESCO World Heritage Site, Castillo San Cristóbal is a must-see for tourists.
Ponce
Located on the southern coast of Puerto Rico, Ponce is Puerto Rico's second-largest urban area. It also contains several important historic sites:
Plaza Las Delicias
Located right in the center of Ponce is Plaza Las Delicias. The Plaza is always full of life—it offers frequent events and tourist activities as well as numerous shops. You will also find phenomenal sculptures, statues, and charming fountains. Plaza Las Delicias is also home to the famous Parque de Bombas, an architecturally captivating fire station unique to Puerto Rico.
Catedral Nuestra Señora de Guadalupe
The Cathedral of Our Lady of Guadalupe (Catedral Nuestra Señora de Guadalupe) is also located in Plaza Las Delicias. This mesmerizing cathedral traces its history back to 1835, and its architecture combines Neoclassical and Gothic influences.
Serralles Castle
Overlooking Ponce's city center is a majestic mansion known as Serralles Castle. This mansion was built in the 1930s for the owners of Destilería Serrallés, a successful rum distillery. Today, Seralles Castle functions as a museum showcasing the Puerto Rican rum and sugar cane industries. Visitors to the museum will learn about Puerto Rico's fascinating economy and history.
Hacienda Buena Vista
Having served as one of the main producers of coffee in Puerto Rico throughout the 19th century, Hacienda Buena Vista is now a museum that helps preserve the island's ties to the coffee industry. This is a great place for tourists to learn more about Puerto Rican coffee production.
How to Relocate to Puerto Rico
Puerto Rico offers a rich history, modern luxury amenities, and a vibrant culture. If you are interested in relocating to Puerto Rico, feel free to contact PRelocate and schedule a call. As a licensed real estate brokerage firm (License C-21696), our mission is to make the relocation process as efficient as possible. Moreover, we offer many other professional services, such as guidance on how to apply for the Act 60 tax benefits.
Disclaimer: Neither PRelocate, LLC, nor any of its affiliates (together "PRelocate") are law firms, and this is not legal advice. You should use common sense and rely on your own legal counsel for a formal legal opinion on Puerto Rico's tax incentives, maintaining bona fide residence in Puerto Rico, and any other issues related to taxes or residency in Puerto Rico. PRelocate does not assume any responsibility for the contents of, or the consequences of using, any version of any real estate or other document templates or any spreadsheets found on our website (together, the "Materials"). Before using any Materials, you should consult with legal counsel licensed to practice in the relevant jurisdiction.