Five Spas Every Expat in Puerto Rico Should Experience
Posted:

January 21, 2022

Posted by:

Travis Lynk

Last Reviewed:

July 1, 2022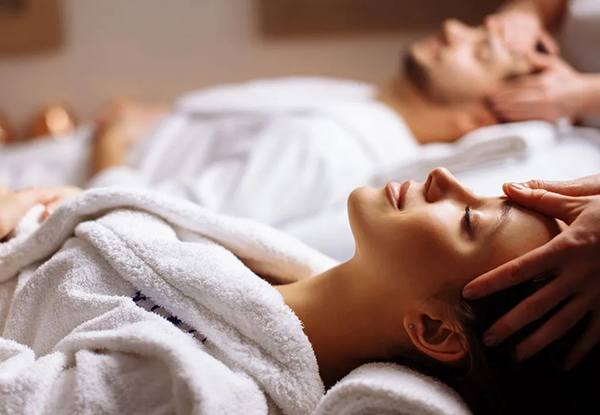 One of the most important aspects of adjusting to life in Puerto Rico is stress management. In our recent article on being homesick, we explained that regaining some routine and treating yourself to something extra special when you need it are two ways to help you feel your best. Now, we share the five top spas that every expat in Puerto Rico should experience to unwind and destress.
We've broken down these spa facilities into two categories based on your needs: the quick spa fix and the ultimate spa experience.
The Essential Quick Spa Fix
Admittedly, moving to Puerto Rico, or anywhere for that matter, can be somewhat stressful. It's common for expats to lose sight of the daily rituals that keep them feeling and looking their best. If this rings true for you, try thinking about your previous routines from before you relocated. Ask yourself what's missing.
What were some of your habitual beauty and wellness regimens that seem to have disappeared during the move to Puerto Rico? Regular massages and facials? Reflexology, sauna, or other healing treatments? Let's get you back to basics with Puerto Rico's three best spas (in our opinion) for that everyday quick spa fix!
CLOUD SPA: BEST MIND AND BODYWORK
Gallery Plaza (103 de Diego Ave), 5TH Floor, San Juan
https://www.cloudspa.cloud/
939.204.0496
At Cloud Spa, every treatment is rooted in the base elements—earth, water, air, and fire—and incorporates the latest in trending techniques. A couple of the most unique offerings to try out while you're there are the rainwater hallway and the on-site saltwater floatarium.
In any case, whether you're heading up for a monthly signature Cloud Massage or seeking out a regular restorative sleep therapy schedule, Cloud Spa is the perfect spot to reestablish some of your most important stress-relieving routines.
They also have hours every day of the week, so consider finding a standard time to let yourself float away for a while at Cloud Spa.
NOUVELLE D'SPA: TOP SPOT FOR SKINCARE TREATMENT
1000 Mall of San Juan Blvd, San Juan
https://nouvelledspa.com/
787.783.9492
Bringing you more than 40 years of innovation in body, facial, and other spa therapies, the spa professionals at Nouvelle know what they are doing.
This spa facility is exactly what you need if you're looking for that quick spa fix; Nouvelle offers exclusive lines of products and equipment as well as an extensive menu of rejuvenating and anti-aging treatments. This is a great spot to get back into some skincare habits while you settle into life in Puerto Rico.
Our favorite offering is the incorporation of thalassic therapies. This is the use of trace elements and minerals to maximize detox and stimulate cellular oxygenation. In other words, these guys know just how to wake up your skin! The bamboo therapy is another must-try.
LE CLINIQUE ESTHETIC: QUICK AND EASY MEDSPA FACILITIES
Suchville Gallería, Suite #217, Guaynabo
https://www.instagram.com/leclinique/
787.765.1835
Le Clinique does offer a wide variety of normal aesthetic salon and spa services, but when you are looking for a little more in your spa therapy sessions, this luxury facility can also offer specialized non-invasive MedSpa treatments as well.
Some of their most popular services include body contouring and skin tightening. Additionally, Le Clinique provides multi-polar radio frequency and electromagnetic field treatments. Reach out to them to learn more about specific MedSpa treatments. We think you'll find exactly what you're looking for!
The Ultimate Spa Experience
Once you have your regularly scheduled treatments squared away, you can begin thinking about the ultimate spa getaways. We now bring you our two best high-end spa facilities, and we think they are worth the splurge!
SPA BOTÁNICO DORADO BEACH: ANCIENT BOTANICAL HEALING
The Ritz Carlton, 100 Dorado Beach Drive, Dorado
https://www.doradobeach.com/spa-botanico
787.626.1100 | 787.278.7227
The Spa Botánico's full-sensory experience is everything you would expect from a Ritz Carlton property. The moment you lay eyes on the century-old Ficus trees, you'll be instantly transported into a state of wellness.
Set in a lush pineapple garden, this spa's indigenous tradition-based treatments are designed to provide a blissfully holistic and restorative break. One of the most unique aspects of this high-end spa experience is that your treatments take place outdoors. Additionally, this facility is separated into two separate naturally landscaped gardens—one for women and one for men.
Meander the paths to your private pavilion facial, book a signature massage in a treetop canopy, and enjoy a revitalizing blended drink afterward. These are only three of a seemingly endless treatment menu.
The spa uses locally-sourced botanical products and indigenous ingredients, blending its elixirs right in the spa's own kitchen! These soothing traditional treatments are a reflection of their embrace of and dedication to the cosmetic, esthetic, and medicinal import of local fauna. And they are worth every penny.
So for a pick-me-up like no other, invite a few friends, old and new, and share the ultimate head-to-toe pampering on your Puerto Rico spa weekend.
THE SPA AT THE CONDADO: HIGH-END TRENDS IN COUPLES RETREAT
The Vanderbilt Hotel, 1055 Ashford Ave, San Juan
www.condadovanderbilt.com/puerto-rico-spa-en.html
787.626.1100 | 787.278.7227
"An oasis of luxury." "Five-star treatment." "A timeless wellness retreat." These are the expressions you'll hear from others when talking about The Spa at the Condado. Catering to only the most prestigious and sophisticated clients, The Vanderbilt Hotel offers an upscale spa experience like no other.
Whereas other luxury spas are steeped in ancient tradition, this spa has infused old-world treatments with the ultimate modern spa technology. Expect unique treatment methods and the most carefully curated high-performance products.
Besides the wraps, facials, and massages typical of an amazing spa experience, Condado offers an array of trending experiences as well. Think cranial sacral work and shiatsu and reiki techniques, to name a few.
This combination of old- and new-world practices provides powerful results from a staff of highly-skilled therapists. They also have a treatment menu catering to the exclusive health and wellness challenges of men.
We especially recommend the Condado experience for extra-special occasions. They are known for their couples' specials, so why not book a little staycation the next time you and your other half could use a little "you" time? We promise it's worth it!
This is by no means the say-all, end-all of amazing spa options in Puerto Rico. What are you doing to pamper yourself during your Puerto Rico adventure? If you have a list of favorite spas of your own, feel free to share them with our PRelocate community! Or, if you have any questions about moving to Puerto Rico, feel free to ask. Our team is always ready and willing to help you; all you have to do is reach out.
Disclaimer: Neither PRelocate, LLC, nor any of its affiliates (together "PRelocate") are law firms, and this is not legal advice. You should use common sense and rely on your own legal counsel for a formal legal opinion on Puerto Rico's tax incentives, maintaining bona fide residence in Puerto Rico, and any other issues related to taxes or residency in Puerto Rico. PRelocate does not assume any responsibility for the contents of, or the consequences of using, any version of any real estate or other document templates or any spreadsheets found on our website (together, the "Materials"). Before using any Materials, you should consult with legal counsel licensed to practice in the relevant jurisdiction.