How to Combat Cabin Fever During Puerto Rico's COVID-19 Lockdown
Posted:

March 23, 2020

Posted by:

Travis Lynk

Last Reviewed:

May 25, 2021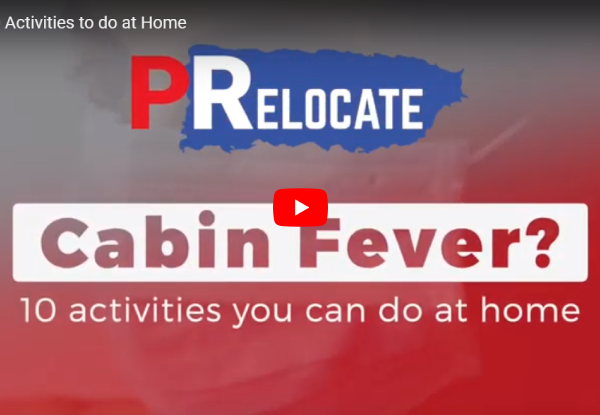 As COVID-19 runs rampant across the world, shutting down public life from Asia, to Europe, to North America, Puerto Rico too finds itself on lockdown. Starting March 15, 2020, at 6 p.m., all non-essential businesses were ordered to close until March 30, and all people living in Puerto Rico are on curfew, allowed out only to buy food and basic necessities; attend medical appointments; visit financial institutions; care for seniors, minors, or others who require care; and work, if their workplace has not been shut down.
This unprecedented situation has forced millions around the world, including those in Puerto Rico, into a new life of social isolation. If you're used to spending most of your time out, this might be a massive adjustment for you, and you might be at a loss as to how to spend your time. We're in the same boat as you. Here are our suggestions for fighting cabin fever in Puerto Rico.
Read
Whether you have a pile of books you've never gotten around to reading or a Kindle with access to all the books you could ever desire, Puerto Rico's lockdown is a great opportunity to catch up on your reading. Get lost in a great novel, read up on business techniques and other useful nonfiction information, or brush up on your Spanish skills by reading Spanish books.
Listen to Podcasts

Podcasts are especially great when you're doing other things, such as cooking. If you're stuck in your Puerto Rico home alone, it can help ease the loneliness in addition to providing some much-needed entertainment or useful information. Serial is essentially a TV drama in audio-only form, telling a story in episodes. Radiolab dives deep into the intricacies of our strange world and investigates them. Everything Iconic with Danny Pellegrino explores the world of celebrities and pop culture. Sovereign Man discusses finances and money, teaching listeners how to protect and multiply their wealth. Finally, Advanced Spanish Latino offers listeners a chance to practice their Spanish listening skills by presenting a normal-speed conversation in Latin American Spanish.

Watch Netflix
Use your time at home to catch up on all the Netflix series you otherwise haven't had time to watch. If you've never found the time to watch Netflix's major sci-fi thriller hit Stranger Things, you now have the time to enjoy all three seasons. If you prefer reality TV, try Love is Blind, a match-making show with a twist.
If you're more of a movie person, Netflix still has you covered. Try Spenser Confidential for an action-comedy crime movie, Lost Girls for a murder-mystery thriller based on true events, or Scott Pilgrim vs. the World for a truly creative modern masterpiece.
Netflix also offers a great opportunity to brush up on your Spanish. Elite is a murder-mystery thriller set at a posh Spanish high school, and La Casa de Papel focuses on a one-of-a-kind bank heist in Madrid. A Life of Speed: The Juan Manuel Fangio Story is a documentary that lets viewers practice their Spanish while diving into Latin American history. To optimize your language practice, you can add this Chrome extension to easily change the playback speed, audio and subtitle language, and more.
You don't even have to watch Netflix alone. Add the Netflix Party Chrome extension to sync your Netflix viewing experience with your friends across town or even across the world.
Play Board Games
If you're isolated with your family, it's a great time to break out the board games. If you don't have any, you won't be able to pick up any up from the store, but you may be able to order some games from Amazon. There's never been a better time to play Pandemic, for instance. Balderdash is a fun, creative game for two to six players where players try to fool each other by making up definitions for obscure English words. You could also play popular board game Settlers of Catan, where players work to grow civilizations.
Play Cards
If you prefer cards, why not play some classics, like poker or rummy? If you're playing with children, you can opt for family card games like Crazy Eights, Go Fish, or Old Maid. If you're bored of those and want to try something new, why not check out Forty-Fives, an East Coast hit? (Auction Forty-Fives is the best type.)
You can also ditch the classic card deck entirely and play a game like Monopoly Deal, a fun game that doesn't last forever, like the traditional Monopoly.
Finally, if there are no kids around, you can play a party classic: Cards Against Humanity. There's nothing like laughter to wait out a pandemic.
Work Out
Even though gyms are closed across Puerto Rico, you can still keep fit during COVID-19. Various gyms are offering virtual classes that you can follow along with from home. For example, Planet Fitness is live-streaming classes every day at 7 p.m. ET (also 7 p.m. in Puerto Rico). The workouts last 20 minutes and require no equipment, and if you miss them, you can always watch them on demand on Planet Fitness's Facebook page or YouTube channel.
YouTube offers a wealth of workout videos, so you can also work out individually with YouTube videos. Channels like Blogilates, HASfit, and POPSUGAR Fitness are excellent alternatives to a gym membership. Just remember, if you live in an apartment, to be considerate of your neighbors when working out.
Whatever path you choose, a good way to keep motivation high is to synchronize your workout schedule and routine with your friends. Even if you can't be together in person, knowing your friends are working out with you in spirit will help you avoid the temptation to skip your workouts.
Play "Veo Veo"
Live in an apartment complex (maybe in Condado or Miramar)? Get out on your balcony and hang out with your neighbors. With everyone stuck at home, you can all enjoy a classic, apartment-complex-wide game of "veo veo," or I Spy. A video of exactly that from Sevilla, Spain, is already making the rounds on the Internet.
Start a Side Business
Have an idea for an Internet business you've been toying with? Now's the perfect time to put things into action. Many online or remote businesses are even eligible for Puerto Rico's Export Services tax incentive, as long as the target demographic is not Puerto Rican residents. You can use this downtime to build a professional website with a website builder like Wix, work on promoting and advertising your services across the net, or simply brainstorm ideas.
Play Video Games
Thanks to the miracle of the Internet, you can still hang out with your friends even when you're all confined to your homes. For example, Trivia Crack is, as the name suggests, a trivia app you can play with friends. This might also be the ideal time to bring back Words with Friends.
If you're more into PC gaming, try Hearthstone, a popular card battle game from Blizzard. You might also be interested in massively multiplayer online games such as League of Legends.
Solo-gaming more your speed? Just download Steam, the world's largest digital marketplace for video games. From city-building games, to shooters, to point-and-click adventures, everyone's bound to find something. COVID-19 is also the ideal time to play the beloved strategy game Plague Inc.
Work on Creative Projects
If you have a creative project you've been wanting to work on, this is your opportunity. Sit down and write a book, paint some masterpieces, compose some songs, develop a video game or app, or make some crafts with your kids. Being shut in all day allows you to appreciate art—not only that created by others but also your own.
Learn a Language
As mentioned in previous sections, indulging in books, podcasts, movies, and series in Spanish offers a fantastic idea to hone your Spanish language skills. There are plenty more resources online, however, including Duolingo and Memrise. You can even practice your speaking skills during the lockdown with language lesson platforms such as italki. If you're already fluent in Spanish, you can use this downtime to pick up a new language, like German or Japanese.
Resources for Kids
The COVID-19 lockdown may be even more challenging for you if you have kids who need to be entertained. Fortunately, the Internet provides countless educational opportunities to keep your kids happy and entertained. Mystery Science offers engaging video lessons on a variety of science-related topics and teaches kids about the world in a fun way, and Cbeebies provides fun activities for children, from games, to shows, to songs. If you'd like to try some at-home experiments with your kids, check out these 50 recommendations on Mommy Poppins. Finally, Scholastic offers resources for fun grade-based lessons you can complete at home with your kids.
Disclaimer: Neither PRelocate, LLC, nor any of its affiliates (together "PRelocate") are law firms, and this is not legal advice. You should use common sense and rely on your own legal counsel for a formal legal opinion on Puerto Rico's tax incentives, maintaining bona fide residence in Puerto Rico, and any other issues related to taxes or residency in Puerto Rico. PRelocate does not assume any responsibility for the contents of, or the consequences of using, any version of any real estate or other document templates or any spreadsheets found on our website (together, the "Materials"). Before using any Materials, you should consult with legal counsel licensed to practice in the relevant jurisdiction.