Buying and Servicing a Car in Puerto Rico
Posted:

February 12, 2021

Posted by:

Travis Lynk

Last Reviewed:

October 20, 2021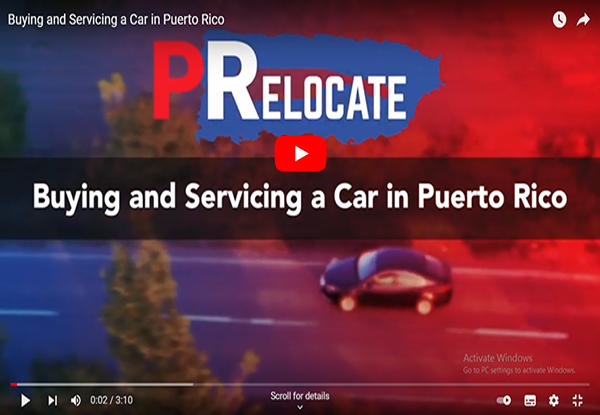 If you relocate to Puerto Rico to reap the benefits of the lucrative Act 60 tax incentives, you have to be prepared to commit fully to a new life on the island. The tax benefits of the ever-popular Act 60 Export Services and Individual Resident Investor decrees are only available to those who have established bona fide residency on the island, which entails spending more time in Puerto Rico than the mainland US, maintaining one's tax home in Puerto Rico, and holding closer ties to Puerto Rico than the mainland US.
A life in Puerto Rico is appealing even without the tax savings—year-round sun, gorgeous beaches, a fun Hispanic culture, scrumptious cuisine, and generally lower living costs than in the mainland US welcome Puerto Rico residents. So, Act 60 decree holders are encouraged to devote themselves to their new island lifestyle, and for many, that includes buying and servicing a car.
Buying a car on the island isn't necessary, of course—some may have their car shipped from the mainland. However, the process is complicated and expensive. Others may choose to forgo a car altogether, but even in this case, obtaining a Puerto Rican driver's license is recommended as a contribution to the "closer connection" bona fide residency test.
Where to Buy a Car in Puerto Rico
Prospective car buyers rejoice: car dealerships are abundant across Puerto Rico. Toyota, Hyundai, Honda, and Lincoln are popular brands, each with a number of dealerships spanning the island, so no matter where you live in Puerto Rico, you can likely find one of these dealerships near you. If you're in the market for luxury cars, you can also stop by the Jaguar or Porsche dealerships in San Juan. Lamborghini, BMW, Volkswagen, Chrysler, Mazda, Kia, and other makers also have a presence in Puerto Rico, allowing most car buyers ample resources to find the right car for them.
Of course, the number of car dealerships on the island is too high for us to list them all in this article. If you'd like address, website, and phone number of Puerto Rican car dealerships, reach out to us at info@relocatepuertorico.com for an Excel spreadsheet of the top dealerships on the island.
Where to Have a Car Serviced in Puerto Rico
Once you've found the right car, you'll need to take care of it, and that involves getting it serviced every now and then. In fact, you may need to have your car serviced more often in Puerto Rico than what you're used to in the mainland US—the natural result of the poor road conditions of certain areas combined with the dangerous driving behavior found across the island. On the upside, though, in sunny Puerto Rico, you don't have to change over to winter tires every year.
Mechanics populate all areas of the island, making it fairly easy to locate one. However, the easiest place to get new tires and car service is often Costco. Costco lets you buy tires as well as schedule them for installation at their premises, streamlining the process of obtaining new tires.
If you'd prefer to have your car serviced at a traditional mechanic instead, Puerto Rico offers plenty of choice. Below is a short list of some of the top-rated auto service shops in Puerto Rico.
San Juan
Ponce
Carolina
Arecibo
Aguadilla
Guaynabo
Jacob Wietz – 512-281-6588
Few Options for Teslas
Though it's generally straightforward to buy and have a car serviced in Puerto Rico, the outlook is not so rosy for Tesla lovers. Lacking even a single Tesla dealership, Puerto Rico offers scarce resources for servicing Teslas, so if you had yours shipped to the island, you'll be hard-pressed to get it the service it needs. There is, however, talk of a Tesla dealership coming to Puerto Rico in the future, so Act 60 decree holders may get to fully enjoy their Teslas again in the coming years.
Disclaimer: Neither PRelocate, LLC, nor any of its affiliates (together "PRelocate") are law firms, and this is not legal advice. You should use common sense and rely on your own legal counsel for a formal legal opinion on Puerto Rico's tax incentives, maintaining bona fide residence in Puerto Rico, and any other issues related to taxes or residency in Puerto Rico. PRelocate does not assume any responsibility for the contents of, or the consequences of using, any version of any real estate or other document templates or any spreadsheets found on our website (together, the "Materials"). Before using any Materials, you should consult with legal counsel licensed to practice in the relevant jurisdiction.