How to Make Friends in Puerto Rico Through WhatsApp Groups
Posted:

October 14, 2020

Posted by:

Travis Lynk

Last Reviewed:

January 13, 2021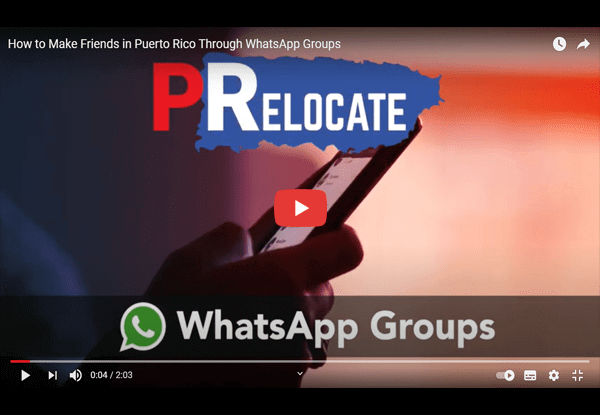 Moving to an entirely new territory can be intimidating because it often means you're leaving behind your friends and family and going to a new place where you don't know anyone. Living in a new, unfamiliar location with no friends or acquaintances can quickly get lonely, and sometimes it's not easy to know how to make new friends. The good news is that there are hundreds of thousands of friendly local Puerto Ricans and fellow expatriates all across the island waiting to strike up a friendship with you. But how do you meet them?
WhatsApp
Are you among the more than 25 million Americans who use WhatsApp, a cross-platform messaging application for mobile and desktop? If you aren't, go ahead and download it now to start making friends in Puerto Rico, as it's one of the most popular messaging apps on the island. The app allows you to call contacts in addition to messaging them, and you can post pictures, videos, and text that will be auto-deleted in 24 hours as your status, similar to stories on Instagram or Facebook.
One more important feature of WhatsApp is the ability to create chat groups. There are various public groups you can join, which is where WhatsApp can play a role in your budding social life in Puerto Rico.
The key to making new friends is finding people with the same interests and hobbies as you. Puerto Rican residents from all walks of life congregate in WhatsApp groups, so you're bound to find groups that appeal to you, no matter what you're interested in.
Sports
There are sports groups for bowling, golf, soccer, basketball, volleyball, tennis, and even foosball—and those are in addition to the various fitness and wellness groups, including for acrobatics, yoga, dance, hiking, kickboxing, running, and rock climbing.
Hobbies
Are you a musician or a photographer? If so, there's a Puerto Rican WhatsApp group for you, too. There are also groups for bookworms, techno and EDM fans, tech geeks, crypto lovers, and board game aficionados.
Food
Whether you're a foodie looking for a dinner club or a vegan or vegetarian looking to meet like-minded Puerto Ricans, you can use WhatsApp to find new friends to eat with.
Lifestyle
There are groups for all different types of lifestyles, too, even relatively niche ones. There are groups for Christians, for biohackers, and for people in open or polyamorous relationships.
Work
If you're a female boss or entrepreneur and want to socialize with other businesswomen in Puerto Rico, there's a group for you. You can also find a group for co-working.
Puerto Rico–related
You can also find various groups related to facilitating your life in Puerto Rico. There's a group for housing and subletting, as well as one for practicing your Spanish language skills.
Get Links to WhatsApp Groups in Puerto Rico
The important question you may be asking yourself now is how to join WhatsApp groups. You will need a link to the group, which, upon being clicked (or tapped, if you're on your phone), will lead you to a button to join the chat. We have prepared a long list of Puerto Rican WhatsApp groups for people from all walks of life that are sure to spark lifelong Puerto Rican friendships. If you'd like the full list of links, please email gisela@relocatepuertorico.com and request it. Have fun with your new friends in Puerto Rico!