How to Make Friends in Puerto Rico Through Chat Groups
Posted:

October 14, 2020

Posted by:

Travis Lynk

Last Reviewed:

May 21, 2021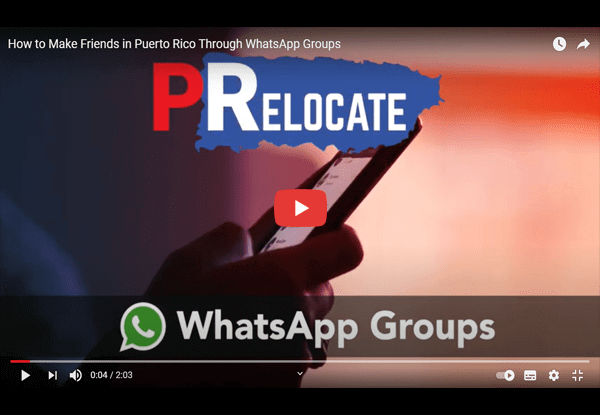 Moving to an entirely new territory can be intimidating because it often means you're leaving behind your friends and family and going to a new place where you don't know anyone. Living in a new, unfamiliar location with no friends or acquaintances can quickly get lonely, and sometimes it's not easy to know how to make new friends. The good news is that there are hundreds of thousands of friendly local Puerto Ricans and fellow expatriates all across the island waiting to strike up a friendship with you. But how do you meet them?
Chat Groups
Whether it's WhatsApp or Discord, Internet users from around the world congregate in interest-based chat groups across different platforms. With most apps available on mobile and desktop, it's easy to connect with new people in Puerto Rico and start building your new circle of friends. Depending on the app, you may also be able to post pictures, videos, and Instagram- or Facebook-esque "stories." Most chat apps furthermore allow calls, often possible in groups.
In terms of chat group features, Discord generally reigns supreme, with its ability to partition discussion of particular topics to channels within the group. Whereas a WhatsApp chat group can be chaotic, a Discord chat group (termed "server") is usually far more organized, allowing users to easily ask specific questions or discuss certain topics.
Another advantage of Discord is that it has no limit on the number of users who can join a chat group. WhatsApp puts a cap on participant numbers, so many WhatsApp groups cannot accept new members until some existing ones leave.
Chat groups in Puerto Rico cover any number of topics and fields. Below are just a few examples—there's something for everyone.
Sports
There are sports groups for bowling, golf, soccer, basketball, volleyball, tennis, and even foosball—and those are in addition to the various fitness and wellness groups, including for acrobatics, yoga, dance, hiking, kickboxing, running, and rock climbing.
Hobbies
Are you a musician or a photographer? If so, there's a Puerto Rican chat group for you, too. There are also groups for bookworms, techno and EDM fans, tech geeks, crypto lovers, and board game aficionados.
Food
Whether you're a foodie looking for a dinner club or a vegan or vegetarian looking to meet like-minded Puerto Ricans, you can use chat applications to find new friends to eat with.
Lifestyle
There are groups for all different types of lifestyles, too, even relatively niche ones. There are groups for Christians, for biohackers, and for people in open or polyamorous relationships.
Work
If you're a female boss or entrepreneur and want to socialize with other businesswomen in Puerto Rico, the Ladies of Puerto Rico Discord group is for you. Having received overwhelmingly positive feedback, the group's carefully organized topic channels allow for streamlined communication with empowered Puerto Rican businesswomen. You can also find a group for co-working.
Puerto Rico–related
You can also find various groups related to facilitating your life in Puerto Rico. There's a group for housing and subletting, as well as one for practicing your Spanish language skills.
Get Links to Chat Groups in Puerto Rico
The important question you may be asking yourself now is how to join Puerto Rican chat groups. For both WhatsApp and Discord, you will need a link to the group, which, upon being clicked (or tapped, if you're on your phone), will lead you to a button to join the chat. For Discord, you can also navigate to the "+" icon at the bottom of the server list in the left-hand column. Hit "Add a Server," select "Join a server," paste the invite link, and hit "Join." If you would like the link to a particular group, please email gisela@relocatepuertorico.com and request it. Have fun with your new friends in Puerto Rico!
Disclaimer: Neither PRelocate, LLC, nor any of its affiliates (together "PRelocate") are law firms, and this is not legal advice. You should use common sense and rely on your own legal counsel for a formal legal opinion on Puerto Rico's tax incentives, maintaining bona fide residence in Puerto Rico, and any other issues related to taxes or residency in Puerto Rico. PRelocate does not assume any responsibility for the contents of, or the consequences of using, any version of any real estate or other document templates or any spreadsheets found on our website (together, the "Materials"). Before using any Materials, you should consult with legal counsel licensed to practice in the relevant jurisdiction.