How to Register to Vote in Puerto Rico
Posted:

March 12, 2020

Posted by:

Travis Lynk

Last Reviewed:

May 21, 2021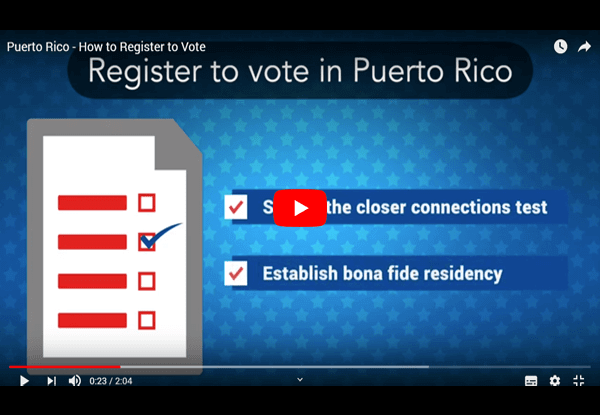 Even though Puerto Rico is a U.S. territory, Puerto Ricans don't vote in U.S. elections. The island has its own government, elected by the people of Puerto Rico. As a U.S. citizen from one of the 50 states, you retain the right to submit a ballot in U.S. elections even when abroad, but we recommend giving up your right to vote in the US and registering to vote in Puerto Rico instead, as that can help you pass the closer connections test needed to establish bona fide residency in Puerto Rico.
The Upcoming Puerto Rican Election
On Tuesday, November 3, 2020, Puerto Rico will hold an election to determine whether current governor Wanda Vázquez Garced, who holds her position not due to a vote but because the previous governor resigned, will remain Puerto Rico's top government official. Also running for the New Progressive Party is Pedro Pierluisi. On the opposition side, Carmen Yulín Cruz, Eduardo Bhatia, and Carlos Delgado Altieri are running for the Popular Democratic Party. Two candidates of smaller parties have also declared their intention to run: Alexandra Lúgaro of Movimiento Victoria Ciudadana and Juan Dalmau Ramírez of the Puerto Rican Independence Party.
To vote in the election, you will need to complete your voter registration by September 14, 2020. To register, you must visit the Junta De Inscripción Permanente (JIP) office in your municipality. Bring ID and your birth certificate or passport to prove that you are a U.S. citizen, and provide the last four digits of your Social Security number and your physical and postal address. Upon successful registration, you will receive your voter card. Use this directory to locate the closest JIP office to you.
Absentee Voting
Even if you plan to be away from Puerto Rico by the time the elections roll around, you might still be able to vote, as long as you register for absentee voting. To register, you have to present all the above mentioned information in person at your local JIP office or via email to the Absentee Vote Administrative Board before March 12, 2020. Use the absentee voting request form to apply.
Absentee voting privileges are only offered in specific cases—you will not be able to vote in Puerto Rican elections if you are simply vacationing abroad. The following people may vote via an absentee ballot:
People studying in full-time programs at an accredited university or college outside of Puerto Rico
Members of the United States Armed Forces, Coast Guard, Public Health Service, or the NOAA on active duty outside of Puerto Rico
Members of the National Guard of Puerto Rico on active duty outside of Puerto Rico
Contractors sponsored by the Puerto Rico Department of Labor Agriculture Employment Program who will be working outside of Puerto Rico on election day
People stationed outside of Puerto Rico in diplomatic service of the U.S. government
People stationed outside of Puerto Rico serving in U.S. foreign aid programs
People stationed outside of Puerto Rico in a personnel interchange program between the Puerto Rican government and a foreign government
Spouses, children, and other dependent relatives who live with an eligible absentee voter in any of the above categories and who are otherwise eligible to vote
Athletes and support personnel representing Puerto Rico in sports competitions on election day
Employees of the Puerto Rican government outside of Puerto Rico on an official trip
Commercial airline crew members working outside of Puerto Rico on election day
Professionals and their families who live in Puerto Rico but have been temporarily staying abroad for no more than 11 months for work or study
Inmates who have been referred to a penal institution out of Puerto Rico
Residents of Puerto Rico whose employer requires them to perform lawful work or services of any kind outside of Puerto Rico
People who are receiving medical treatment, or people who are accompanying relatives or others who are receiving medical treatment, outside of Puerto Rico on the election day
Disclaimer: Neither PRelocate, LLC, nor any of its affiliates (together "PRelocate") are law firms, and this is not legal advice. You should use common sense and rely on your own legal counsel for a formal legal opinion on Puerto Rico's tax incentives, maintaining bona fide residence in Puerto Rico, and any other issues related to taxes or residency in Puerto Rico. PRelocate does not assume any responsibility for the contents of, or the consequences of using, any version of any real estate or other document templates or any spreadsheets found on our website (together, the "Materials"). Before using any Materials, you should consult with legal counsel licensed to practice in the relevant jurisdiction.