The Best Puerto Rican Cities for Vacations and Retirement
Posted:

August 6, 2018

Posted by:

Travis Lynk

Last Reviewed:

June 19, 2021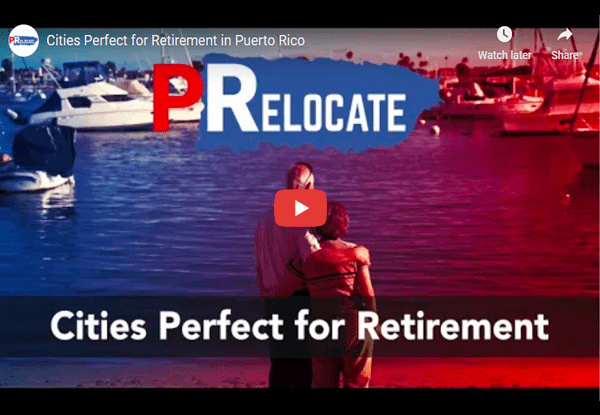 The Best Puerto Rican Cities for Vacations and Retirement
Puerto Rico is a popular vacation destination, welcoming between three to five million visitors each year. It's particularly beloved among U.S. vacationers, and it's no surprise why: As Puerto Rico is a U.S. territory, U.S. tourists can still use Medicaid and U.S. dollars (while enjoying Puerto Rico's much lower expenses!) and don't even need a passport.
Puerto Rico is not only popular among vacationers—there are also countless people who have or are planning to relocate to this Caribbean island paradise, whether it's for retirement or to take advantage of Puerto Rico's generous tax incentives under Act 60, like the Export Services and Individual Resident Investor tax incentives (or both!). If you're planning to come to Puerto Rico for a long-term stay, there are plenty of different cities to choose from to reside in. Here are some of the top Puerto Rican cities to live in, whether for retirement, a long vacation, or the Act 60 tax incentives.
San Juan
You just can't have a list of Puerto Rican cities without mentioning San Juan, Puerto Rico's beautiful capital. With a population of nearly 400,000, San Juan offers tons of excitement and attractions but is still relatively down-to-earth compared to major cities like New York City or Los Angeles. It's a great option for those seeking top entertainment venues, unique and high-quality restaurants, and exciting nightlife.
As with any city, it's also important to research the individual neighborhoods before actually relocating. Certain parts of San Juan can be dangerous at night, particularly lower-income areas. However, San Juan also boasts a variety of beautiful neighborhoods that are safe at any time of day. Old San Juan, Isla Verde, Miramar, and Condado are great options for anyone looking to spend a significant amount of time in San Juan. Everything is so accessible that many people who move to these neighborhoods simply walk or take an Uber to their favorite places instead of buying a car.

Rincón
Rincón is a beautiful beach town nestled on the northwestern tip of Puerto Rico. Its many beaches make it a popular destination for surfers, but even if you're not interested in riding the waves, this small town is a wonderful option for a slower, quieter life. With only 15,000 inhabitants, Rincón lets you escape the hustle and bustle of city life and enjoy a relaxed beach lifestyle.
The large number of tourists the town welcomes means that despite its size, it's well-equipped with high-quality restaurants, accommodations, and other entertainment venues. Nonetheless, it remains a remarkably affordable option, with a lower cost of living than San Juan or other popular vacation and retirement destinations, such as Dorado.
Dorado
Dorado isn't cheap, but in return for the relatively high cost of living, you get to enjoy a life of luxury—a true Caribbean paradise lifestyle. It's the go-to city for Puerto Rican politicians and celebrities, too. The entire town offers a resort-life lifestyle, with golf courses, shopping centers, and a water park, despite its low population of around 30,000. This luxurious town hugging the island's northern coast is also, naturally, endowed with countless beautiful beaches.
Dorado's popularity is also its downside, however. Since so many people, particularly Americans relocating to Puerto Rico under Act 60 tax incentives, want to make this luxurious beach paradise their home, finding real estate can be a challenge, and when you do find a suitable property, expect to pay a hefty sum for it.
Humacao
In the center of Puerto Rico's eastern coast, you'll find a cozy little beach resort town with a population of only 2,000 but all the facilities and amenities of a big city. If you want to enjoy the luxury and convenience of a big city with the peace and serenity of a small town, Palmas del Mar is the place for you. In addition to shopping centers, top-quality restaurants, and breathtaking beaches, the beach resort town also offers two golf courses, an equestrian center, and an astounding 20 tennis courts.
Sound too good to be true? You do have to bear in mind two downsides. First, life in Palmas del Mar is a bit on the pricy side. Second, it's a bit of a drive from San Juan, which can be inconvenient if you want to get to the airport or attend an event in Puerto Rico's bustling capital.
Ponce
Ponce, located on Puerto Rico's southern coast, is the island's second-biggest city, boasting a population of around 145,000. If you're looking for culture, Ponce may be a good city to check out, given its historical importance and numerous cultural assets, including museums, libraries, galleries, and parks. The city also hosts several festivals and cultural events each year, so life in Ponce never gets boring. As the locals say, "Ponce is Ponce; everything else is parking."
The biggest downside of Ponce is its relative isolation, located away from most other major cities and on the opposite side of the island from San Juan. Since Ponce is surrounded by the relatively rural and impoverished regions of the island's southwest, travel within Puerto Rico is a bit less convenient from Ponce.
Culebra
If you're looking for a true tropical island paradise, Culebra might be right for you. Culebra is a collection of sparsely populated islands off the eastern coast of Puerto Rico with a population of less than 2,000. The islands offer a laid-back lifestyle, and all the stores and restaurants are local and Puerto Rican—there are no major chains on the island. It's home to some of the nicest beaches in the country and perfect for anyone who loves swimming or snorkeling.
The obvious disadvantage to Culebra, however, is its isolation—18 miles off the coast of mainland Puerto Rico, getting to and from San Juan isn't that easy.
Cayey
Puerto Rico is renowned for its beautiful beaches, but that doesn't mean the island has nothing to offer inland. If you're more interested in the fresh air and beauty of the heart of Puerto Rico's mountains, Cayey might be the right place for you. It has cooler weather than the rest of famously hot Puerto Rico, making it ideal for people who wish to relocate to Puerto Rico for the Act 60 tax incentives but who don't particularly like the beach lifestyle. The 6,000-acre Carite Forest Reserve is perfect for nature lovers, featuring a dwarf forest and ample bird-watching opportunities.
Disclaimer: Neither PRelocate, LLC, nor any of its affiliates (together "PRelocate") are law firms, and this is not legal advice. You should use common sense and rely on your own legal counsel for a formal legal opinion on Puerto Rico's tax incentives, maintaining bona fide residence in Puerto Rico, and any other issues related to taxes or residency in Puerto Rico. PRelocate does not assume any responsibility for the contents of, or the consequences of using, any version of any real estate or other document templates or any spreadsheets found on our website (together, the "Materials"). Before using any Materials, you should consult with legal counsel licensed to practice in the relevant jurisdiction.
More Articles