Puerto Rico's Best Specialty Doctors
Posted:

December 17, 2022

Posted by:

Travis Lynk

Last Reviewed:

January 11, 2023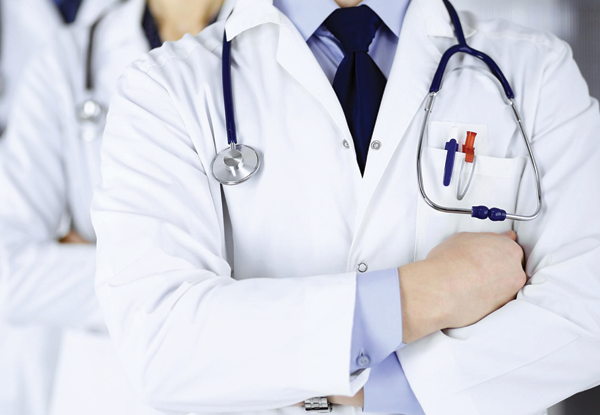 See where you can find top-quality doctors on the island.
Healthcare in Puerto Rico
No matter where you are in the world, having access to the right healthcare is imperative. Puerto Ricans have access to a medical infrastructure that is highly efficient and of a high standard, even though conditions may vary across the island.
For instance, metropolitan areas such as San Juan and Ponce have extensive resources of doctors, clinics, and hospitals. Finding immediate healthcare may be a little tricky in rural areas. That is why it is always a good idea to do your research beforehand on the doctors and health care centers available in the area that you are visiting.
Puerto Rico Health Insurance
Since Puerto Rico is a territory of the United States; your domestic health insurance plan should cover most of the services, such as getting your prescriptions filled, purchasing medical devices, and consultations with a doctor who is affiliated to your insurance company's network.
Your U.S. Medicaid, for example, will also transfer to the island. However, coverage usually depends on the particular policies of an area and may be limited.
The public health care system that most Puerto Ricans use can be unpredictable at times. In case you are planning an extended stay in Puerto Rico or are an Act 60 decree-holder who has relocated to the island, it is recommended that you buy a private health insurance plan.
Along with providing guaranteed access to top-quality healthcare and the best doctors Puerto Rico has in store, they cost half as much as U.S. insurance plans. The leading health insurance companies in Puerto Rico are Triple-S Salud, Humana, Medical Card System, and Mapfre.
What to Do in an Emergency
During an emergency, the rule of thumb is to call 911 immediately. The operators who receive 911 calls usually speak in Spanish, but they will transfer you to an English speaker if needed.
A private company manages ambulance services, requiring you to pay in advance. Usually, ambulances are not linked to any health care institution, so you should know the name of the specific hospital or clinic you prefer. El Presby in Condado and Centro Medico Emergency Care are some of the best urgent care and emergency rooms in San Juan.
List of Best Doctors and Health Centers in Puerto Rico
Puerto Rico has many medical specialists throughout the island. We have compiled a short list of the major cities' best specialty doctors and health centers.
General Practitioners and Family Medicine
In case you require urgent or primary health care, these Puerto Rico doctors will surely provide comprehensive treatment to you and your family.
San Juan:
Family Medical Center San Juan- Dr. José A. Avilés
(787) 312-0964
dravilesmaisonet@gmail.com.
168 Winston Churchill Ave.
San Juan, PR 00926
https://www.facebook.com/FamilyMedicalCenterSanJuanDrJoseAAviles/?ref=page_internal
Dr. Roberto F. Unda Gomez
(787) 726-0055
29 Washington St. Suite 106
Ashford Medical Center
San Juan, PR 00907
MEDChic
(787) 504-5005
(787) 721-5050
medchic@hotmail.com.
1022 Ashford Ave. Suite 4
San Juan, PR 00907
http://www.medchicpuertorico.com/home.html
Carolina:
Dr. Gladynette Rosario Pagan
(787) 579-6490
5725 Blvd. Media Luna Suite 5
Carolina, PR 00987
Dr. Lisette G Vasquez
(787) 998-2848
108 Roverto Clemente Ave.
Carolina, PR 00985
Caguas :
Dr. Orlando E Rivera Usera
(787) 747-6300
Suite 7 Centro Comercial Valle Tolima
285 Regimiento De Infanteria
Caguas, PR 00725
Dr. Liza Lumarie Matos-Lago
(787) 384-5723
J9 Parq De La Luz
Bairoa Park
Caguas, PR 00727
Dentists
For all your oral health and dental needs, here is a list of dentists and doctor centers that provide the best care.
San Juan:
Drs. Duran & Martinez
(787) 302-0863
info@drsduranmartinez.com.
131 Domenech Ave.
San Juan, PR 00918
https://www.drsduranmartinez.com/
Asford Dental
(787) 998-7778
ashforddentalpr@gmail.com
1018 Ashford Ave. Suite 201
San Juan, PR 00907
https://ashforddentalpr.com/
Ponce :
Dr. Edward Guzman Rivera
(787) 840-2153
(787) 651-3777
1238 Munoz Rivera Ave.
Ponce, PR 00717
https://www.instagram.com/dental_designerspsc/?hl=en
Health Dental Clinic
(787) 981-6998
Centro San Cristobal,
77 Calle Central, Coto Laurel
Ponce, PR 00780
Pediatricians
When travelling with children, it is always best to make sure that you have good pediatric care at your disposal. Below are some of the best pediatric doctors and clinics in Puerto Rico.
San Juan:
Pediatric Home Care Services
(787) 789-6712
info@phcspr.com
Urb Antonsantti
1502 Bori Street,
San Juan PR 00927
https://www.phcspr.com/
Dr. Sheyla Y. Calderon
(787) 721-2250
Suite 6
1452 Ashford Avenue,
San Juan, PR 00907
Guaynabo:
Dr. Richard Cortes
(787) 790-7393
52 Ave. Esmeralda,
Guaynabo, PR 00969
Dr. Maria T. Curet Salim
(787) 999-4800
5ta Ext Villa Caparra
G9 Calle Genova,
Guaynabo, PR 00966
Obstetricians-Gynecologists
If you are seeking reliable women's health care in Puerto Rico, then it is fairly easy to find proficient OBGYNs all around. Some of the best OBGYNs are listed below.
San Juan:
Dr. Annette Perez-Delboy
(787) 474-4800
1451 Ashford Avenue,
San Juan, PR 00907
https://drapd.com/
Dr. Antonio Dominguez Romero
(787) 692-5511
(787) 600-7798
1007 Luis Munoz Rivera Ave.,
San Juan, PR 00925
https://www.antoniodominguezmd.com/
Bayamon:
Dr. William Alemany
(787) 798-1250
(787) 798-1251
office@obgynpr.com
Carimed Plaza
Santa Cruz Street Building B1
Suite 500
Bayamon, PR 00960
https://www.alemanyfertility.com/
Dr. Mireily Rivera Rosado
(787) 955-6292
(787) 502-6292
riverarosadomd@gmail.com
Carimed Plaza
Suite 505
B1 Santa Cruz,
Bayamon, PR 00961
https://www.dramireilyrivera.com/
Dermatologists
It would be tragic to miss out on Puerto Rico's warm and sunny weather and all the outdoor activities that the island has to offer.
So, it would be a good idea to make sure your skin is prepared and receives the necessary care when needed. Here are a few top-quality dermatologists in Puerto Rico.
San Juan:
Skin by Brau
(787) 763-1310
info@skinbybrau.com
Clinica Las Americas
400 Av. Frankin Delano Roosevelt,
Suite 511,
San Juan, PR 00918
https://skinbybrau.com/
Beau Derm
(787) 314-4443
beauderm@gmail.com
286 Domenech Ave.,
San Juan, PR 00918
https://www.beaudermpr.com/
Bayamon:
Nova Derm
(787) 798-1993
servicioalcliente@novadermpr.com
Medical Gallery Building
Suite 108
Calle Santa Cruz 64
Bayamon, PR 00961
https://novadermpr.com/
Dr. Hiram Ruiz Santiago II
(787) 641-9585
Bayamon Medical Plaza
1845 Carr 2, Suite 907
Bayamon, PR 00959
Ophthalmologists
The Puerto Rico experience is nothing without its amazing sights. Hence, in the event that your eyes need medical assistance, these highly regarded doctors and clinics are a few of the many that can help.
San Juan:
Dr. Ernesto L. Collazo
(787) 728-3700
contact@collazoeye.com
1503 Profesor Augusto Rodriguez Street
Suite 201
Santurce, PR 00909
https://www.collazoeye.com/index.php
Dr. Jose Raul Montes
(787) 777-0003
(787) 777-0004
Mutual Aid Medical Tower
Suite 813
735 Ave. Ponce De Leon,
San Juan, PR 00917
https://jrmontes.com/
Carolina:
Instituto de Ojos
(787) 769-2477
11310 Ave. 65 Infantry,
KM 12.3
Carolina, PR 00985
https://institutoojospr.com/
Pearle Vision
(787) 750-6850
Plaza Carolina
Ave. Jesus M. Fragoso
Carolina, PR 00983
https://www.pearlevision.com/pv-us
Otolaryngologists
In case you have any health issues with your ear, nose, or throat, ENT doctors and health centers can be found all across Puerto Rico. These are a few of them.
San Juan:
Dr. Jose M. Bird Trilla
(787) 765-2563
Cond. Torre De Auxilio Mutuo
Suite 711
735 Ave. Ponce De Leon
San Juan, PR 00917
P.R. Nasal & Sinus Institute
(787) 722-3544
info@prnasal.com
299 Ave. Jusus T Pinero
San Juan, PR 00927
https://www.prnasal.com/
Guaynabo:
Guaynabo Eye & Ear Group
(787) 706-4334
guaynaboeeg@gmail.com
Edif. Triple-S Plaza
1510 Ave. Roosevelt Esq.
Ave. San Patricio
Mezzanine-Suite B
Guaynabo, PR 00968
https://www.eyeandeargroup.com/
The Voice and Swallowing Center of Puerto Rico
(787) 426-2554
(787) 426-2064
Galeria San Patricio
Suite 211
Guaynabo, PR 00968
https://voicecenterpr.com/
You are in Good Hands
In terms of health care, Puerto Rico is well-equipped and reliable. There are plenty of top-quality doctors, hospitals, and health centers all around the island that are ready to provide you with the best care and treatment.
The only thing you need to do is research thoroughly and make sure you know where the best doctors near you are. We hope that our list proves useful, and do not hesitate to contact our PRelocate team for more information.
Disclaimer: Neither PRelocate, LLC, nor any of its affiliates (together "PRelocate") are law firms, and this is not legal advice. You should use common sense and rely on your own legal counsel for a formal legal opinion on Puerto Rico's tax incentives, maintaining bona fide residence in Puerto Rico, and any other issues related to taxes or residency in Puerto Rico. PRelocate does not assume any responsibility for the contents of, or the consequences of using, any version of any real estate or other document templates or any spreadsheets found on our website (together, the "Materials"). Before using any Materials, you should consult with legal counsel licensed to practice in the relevant jurisdiction.
More Articles