The Requirements for the Act 22 and 60 Donation
Posted:

April 28, 2020

Posted by:

Travis Lynk

Last Reviewed:

December 15, 2022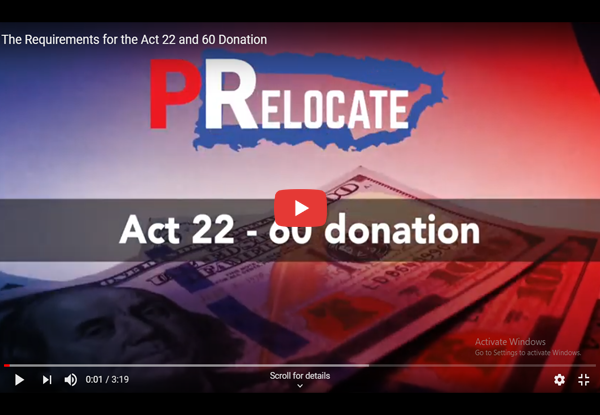 In addition to establishing bona fide residency in Puerto Rico, one of the requirements of the Act 22 (now Act 60 Individual Resident Investor) program is a yearly donation to a Puerto Rican charity or nonprofit organization. Under Act 22, the required donation amount was $5,000, but this has jumped to $10,000 under the newly enacted Act 60. While investors are more or less free to choose the organization they donate to, there are some rules they have to pay attention to.
Act 22 Investors
Anyone who holds an Act 22 decree must donate $5,000 to a Puerto Rican nonprofit entity of their choice each year to maintain their tax incentives. The organization must be certified under Section 1101.01 (a) (2) of the code Internal Revenue Code of Puerto Rico, and it cannot be controlled by the investor themselves nor by any of their relatives, their spouse, or their partner.
The organization the investor donates to must operate in Puerto Rico. To ensure the entity is compliant with Section 1101.01 (a) (2), it's recommended that investors request to see their IRS and Hacienda certification (Certificacion de Vigencia de Exencion Contributiva de Entidad sin Fines de Lucro). Another option to verify that your nonprofit organization of choice is properly certified is to contact Hacienda.
Act 22 investors must make their donation before December 31 of each year and must present proof of their donation in the annual report they are required to submit each May.
Act 60 Investors
The above instructions apply to people who have already applied for Puerto Rico tax incentives under Act 22. Going forward, all applicants will be subject to the new Act 60 rules, which are similar but introduce a few important changes.
Act 60 investors are required to donate double the amount that Act 22 decree holders donate, but the donation is split into two parts—a donation of $5,000 to two different organizations is required under Act 60. Like with Act 22 donations, the nonprofit entities must operate in Puerto Rico and not be run by the investor or their family, spouse, or partner. Act 60 investors must also submit their donation before December 31 and present proof in their annual report in May.
The first $5,000 must go to a nonprofit organization listed by Comisión Especial Conjunta de Fondos Legislativos para Impacto Comunitario (CECFL), which publishes an annual list with approved organizations. The list for 2022 has been published and will continue to be updated until December 16.
The second $5,000 can go to any Puerto Rican nonprofit entity of the investor's choice, as long as it falls under Section 1101.01 of the Puerto Rico Internal Revenue Code. This allows for a broader pool than Act 22's restriction of donations to Section 1101.01 (a) (2)–certified nonprofits.
Nonprofits Certified Under Section 1101.01 (a) (2)
To facilitate the donation process for Act 22 and 60 investors, we've created a list of nonprofits certified under Section 1101.01 (a) (2) that qualify as a recipient for your required yearly donation. All these organizations have certification from both the Puerto Rican government and IRS, which we have collected and can present to clients upon request.
The HERA Institute
The HERA Institute was founded by female entrepreneurs and business professionals whose mission is to promote female entrepreneurship through education, mentoring, and community. The nonprofit works with local women and their communities to provide educational, financial, and social support, along with career and business advancement courses and programs at no cost to our students. Donations go towards funding scholarships, seminars, small female-owned business funding, job fairs, and much more.
Website: www.herainstitute.org
Email: info@herainstitute.org
Caribbean Thoroughbred Aftercare, Inc.
Thoroughbred racehorses from the US are regularly shipped to Puerto Rico and other Caribbean islands to partake in races. Caribbean Thoroughbred Aftercare's mission is to ensure these horses continue to enjoy a safe, healthy life after retirement, including by repatriating them to the US.
Website: https://www.ctahorse.com
Email: caribbeanottb@gmail.com
ProTechos
ProTechos rebuilds damaged roofs in Puerto Rico for communities and individuals in need. The nonprofit works with grassroots organizations to identify and prioritize the most urgent cases, and as they work to restore roofs, they teach local volunteers construction skills to help address the shortage of construction workers in Puerto Rico. The volunteers are paid minimum wage for their time spent working and learning.
Website: https://www.protechos.org/
Email: info@protechos.org
Defensa Animal de Rincon, Inc.
Across Puerto Rico, thousands of cats, dogs, and horses suffer injury or illness from abuse and neglect or are starving on the streets. Defensa Animal de Rincon endeavors to save as many of these animals as possible, caring for and finding homes for unlucky animals. The organization covers necessary veterinary fees for sick and injured animals as well as sterilization or castration procedures.
Website: http://defensarincon.org/
Email: defensarincon@gmail.com
Save a Gato (SAG)
Save a Gato works to save the many abused or neglected stray gatos (cats) in Old San Juan by trapping them, sending them to the vet to be vaccinated, spayed, and de-wormed, and releasing them back into their original colonies, a process known as T/N/R (trap, neuter, release). Although Save a Gato is not a shelter due to a lack of space and resources, the organization does offer adoption for cats going through the T/N/R process. Those who don't find a home are released into their original colonies, which are monitored by volunteers to ensure the health of the cats.
Website: https://www.saveagato.com/
Email: saveagatopr@gmail.com
Love the Nations, Inc.
Unexpected pregnancies are a problem that plague women and families all around the world. Love the Nations offers 100% free services to support women who find themselves unexpectedly pregnant, including pregnancy tests, ultrasounds, domestic abuse care, doctor referrals, and more. The nonprofit also offers courses and education opportunities to teach mothers-to-be about parenting, relationships, and budgeting, among other topics.
Website: https://www.lovethenations.com/documents/
Email: joseph@lovethenations.com
The 20/22 Act Society
The 20/22 Act Society was formed by one of the first individuals to take advantage of Puerto Rico's tax incentives as a way to unify those interested in relocating to the island and those who have already made the move. The Society works to show the positive impact these acts can have in Puerto Rico's nonprofit sector, supporting and working with local charities to help Puerto Rico's children, elderly, homeless, and animals, among others.
Website: https://www.the2022actsociety.org/
Email: info@the2022actsociety.org
Caribbean 12 Step, Inc.
Across Puerto Rico and the Caribbean, countless individuals are working through various 12-step programs to fight alcohol addiction and substance abuse and work toward a better future. Caribbean 12 Step, Inc. was formed to provide these individuals and their families with a safe and supportive environment and helpful services to facilitate their journey. The organization provides services in both English and Spanish.
Website: http://www.caribbean12step.org/home.html
Email: merribeth@caribbean12step.org
The Rain & Rose Charitable Fund, LLC
Over 40% of Puerto Rico's population lives below the poverty line, making the fight against poverty a major battle for various charities and nonprofit organizations. One such nonprofit is The Rain & Rose Charitable Fund, which is dedicated to providing Puerto Ricans with the tools and education they need to lift themselves out of poverty and propel themselves toward a brighter future.
Website: https://www.rainandrosefund.org/
Email: info@rainandrosefund.org
Rescate Playas Borinquen
Punta Borinquen is a rocky region in Puerto Rico's northwest, and Rescate Playas Borinquen's mission is to build up and preserve its natural beauty by picking up trash, mowing wild grass, and building trails and recreational areas, among other actions. The organization is dedicated to environmental protection and promotes recreational activities in the restored Punta Borinquen areas.
Website: http://rescateplayasborinquen.com/
Email: rescateplayasbqn@gmail.com
Museo de los Santos
Carved saints have been a tradition of Puerto Rico since the island was settled by Europeans. Museo de los Santos (Museum of the Saints) was originally founded in 1999 to provide information on Dr. José Torres Melendez's collection in English to tourists. Since then, the museum has grown significantly, to the point that it needed to be upgraded to a nonprofit corporation. The organization envisions becoming a self-sustaining museum, research institute, and exhibition space.
Website: http://museodelossantos.org/
Email: rholm@caribbeanconsulting.com
Karma Honey Project
Bees are arguably the most important insect on the planet, pollinating more than 70% of the crops the world needs for food. However, the bee population around the world has been rapidly declining in recent years. Karma Honey Project's mission is to revitalize the bee population in Puerto Rico through a variety of methods, including hosting beehives on local farmers' land and helping them sell the honey they produce locally, educating Puerto Rican children on the importance of bees, and rehoming misplaced bee colonies, thereby saving them from extermination.
Website: https://karmahoneyproject.com/
Email: karmahoneyproject@gmail.com
San Juan Community Library at Bucaplaa, Inc.
The benefits of reading are manifold for children and adults alike. The mission of the San Juan Community Library at Bucaplaa is to foster a love of reading within the community, as well as research and cultural enrichment. It is the only lending library in San Juan open to the general public.
Website: https://www.facebook.com/sanjuancommunitylibrary/
Email: c_estades@yahoo.com
Vitrina Solidaria, Inc.
Vitrina Solidaria (Solidarity Showcase) is a nonprofit dedicated to lifting up local sustainable and socially responsible Puerto Rican startups and small businesses, thereby promoting improved welfare locally across the island. The nonprofit helps small enterprises reach new markets by giving them the tools and education to succeed, particularly in digital marketing. In this way, Vitrina Solidaria enhances the wellbeing and prosperity of Puerto Rican communities while simultaneously boosting their local economies.
Website: http://www.vitrinasolidaria.org/
Email: info@vitrinasolidaria.org
Proyecto Esparciendo Amor
Proyecto Esparciendo Amor (Spreading Love Project) is a nonprofit organization whose mission is to help Puerto Rican youth and their families living in difficult situations. The entity focuses on youth in homes, shelters, and institutions with health conditions and/or mental or physical disabilities, as well as on youth and their families living in extreme poverty. It provides aid by covering benefactors' material needs or offering emotional support.
Website: https://www.facebook.com/pages/category/Nonprofit-Organization/Proyecto-Esparciendo-AMOR-2128952600665334/
Email: proyectoesparciendoamor@gmail.com
ConPRmetidos
The primary mission of ConPRmetidos is to work toward a sustainable, stable, productive, and bright future in Puerto Rico, where residents have access to opportunities and enjoy a high quality of life. It works toward its mission by implementing development projects to rethink essential industries such as fishing and coffee-making, and it dedicates significant funds to rebuilding communities in the aftermath of disasters such as Hurricanes Irma and Maria in 2017 or the recent and ongoing earthquakes. It is also known for connecting Puerto Ricans on the island with Puerto Ricans living in the US and other countries.
Website: https://www.conprmetidos.org/
Email: clay@conprmetidos.org
Boys & Girls Clubs of Puerto Rico, Inc.
Countless youth in Puerto Rico live in poverty. Children growing up in poverty miss out on important opportunities to gain a high-quality education and lift themselves up, thus reinforcing the cycle of poverty. The Boys & Girls Clubs of Puerto Rico works to empower in-need Puerto Rican youth to develop their skills and achieve their academic, professional, and personal goals. In this way, the nonprofit propels Puerto Rican youth toward a better and brighter future for themselves and the island.
Website: http://bgcpr.org/en/
Email: patricia.delatorre@bgcpr.org
Disclaimer: Neither PRelocate, LLC, nor any of its affiliates (together "PRelocate") are law firms, and this is not legal advice. You should use common sense and rely on your own legal counsel for a formal legal opinion on Puerto Rico's tax incentives, maintaining bona fide residence in Puerto Rico, and any other issues related to taxes or residency in Puerto Rico. PRelocate does not assume any responsibility for the contents of, or the consequences of using, any version of any real estate or other document templates or any spreadsheets found on our website (together, the "Materials"). Before using any Materials, you should consult with legal counsel licensed to practice in the relevant jurisdiction.