Travel to Puerto Rico during COVID
Posted:

November 2, 2020

Posted by:

Travis Lynk

Last Reviewed:

July 14, 2023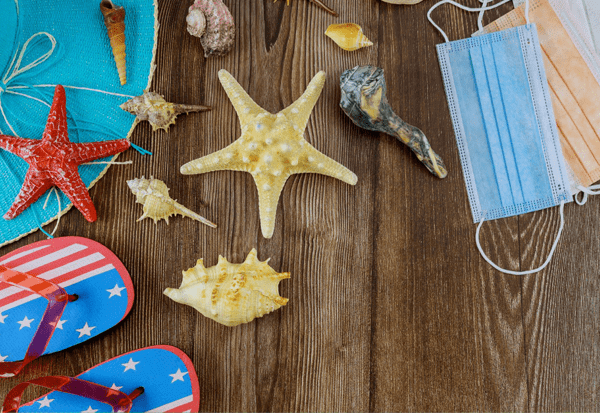 Puerto Rico is starting to open up for visitors and travel restrictions are expiring. After months of lockdown, businesses are reopening and ready for visitors with island wide safety protocols.
When planning your trip, here is what you need to know about traveling to and exploring Puerto Rico during COVID.
Due to capacity limitations, be sure to book tour and excursions ahead of time, as well as restaurant reservations.
Travel restrictions can and do change frequently in response to outbreaks and public safety, be sure to check the latest restrictions prior to arrival at the PR Government Travel Safe site.
Current COVID Restrictions
Puerto Rico has been under curfew since mid-March, current curfew is 10pm until 5am daily. There are limited services available after curfew hours, such as Hotel front desk, taxi cabs, and (some) 24 hour pharmacies.
Masks covering mouth & nose, as well as social distancing, are mandatory in public, with exceptions for eating and drinking when seated at restaurants. Bars are still closed. There is a $100 fine for not wearing mask. Masks can be purchased on most retailers including gas stations and grocery stores.
Most businesses will require hand washing or spritz of hand sanitizer and check temperatures prior to entering the establishment.
Standing or sitting, all customers should remain 6 feet apart in public or private businesses.
Private parties should be limited to small groups of 10 or less people. Police are issuing tickets and issuing fines as they break up large parties.
Festivals and large group activities are cancelled.
What is Open on the Island
Beaches and Marinas are open daily. Groups are required to stay 6 feet minimum distance apart on the beach and in the water, boats must anchor individually.
Private boats and island hopper flights are available to both Culebra and Vieques islands, as well as popular snorkeling and day sail excursions to the many cayos of Puerto Rico. Due to limited capacity, these may sell out quick or be cancelled if they do not reach minimum capacity. Be flexible with the excursion and tour operators, they are excited to get back to business while still following the safety protocols from the Governor's Executive Orders.
Restaurants are allowed to operate every day at limited capacity, but bars and night clubs are closed. Alcohol sales are permitted 7 days/week until 10pm, and many restaurants are starting last call at 9:30pm to ensure compliance with the 10pm curfew. Some restaurants are not seating customers after 9 pm, so night owls may need to adjust their eating schedule.
Retail Stores, businesses, casinos, gyms, movie theaters, banks, pharmacies, and gas stations may be open 7 days/week at limited capacity for any indoor spaces. There are usually visual reminders on the floor and lines will extend out the front door to maintain limited capacity inside. Business are getting creative having customers wait in cars and calling customers when it is their turn to enter.
Pools and common areas in hotels/resorts may be open at limited capacity with strict cleaning protocols. Hotels are enforcing appointments and time restrictions for pool time within curfew hours.
Ferry service is operating for residents and tourists to Culebra island. The Vieques ferry is limited to residents & emergency personnel only at this time. Private boats and charter planes are flying into Vieques as alternative for visitors. Влияние онлайн казино России на молодежь вызывает определенные опасения. Прежде всего, онлайн казино может создать привыкание у молодых людей. Возможность быстро выиграть деньги может стать привлекательной для неконтролируемого участия в азартных играх. Молодые люди, особенно те, которые подвержены влиянию плохой компании или неблагоприятной среды, могут проводить много времени в рейтинге Топ казино онлайн в России, пытаясь выиграть больше денег. Это может привести к финансовым проблемам и серьезным последствиям. Чтобы избежать таких проблем, следует правильно относиться к казино России и развлечениям.
Public Transportation including AMA buses and Tren Urbano are operating limited routes.
El Yunque National Forest is open, and reservations are required for entry (available at Recreation.gov). Guests can reserve morning or afternoon entry for the specified day. Tickets are $2 per vehicle to enter the rainforest.
Tour groups and tourism activities are operating and eager for your business!
Arrival process for visitors during COVID
Travelers arriving to Puerto Rico airport in San Juan (SJU) require a travel declaration, negative COVID-19 molecular-based (PCR) test. Negative test results (less than 72 hours after arrival) are required for all passengers. Arriving passengers without a negative COVID test must self-quarantine for 14 days, or the length of their stay (whichever is shorter).
Health personal are abundant at the airport to assist with the Travel Declaration form, collect your information, and answer any questions that you may have. They are easily identified in PPE protective "bunny suits" with identification.
All arriving passengers will receive a daily text to check on your health. The text will be sent in English or Spanish depending on the which language you choose when completing the form. The text will ask if you have any symptoms, including fever or cough. Simply respond Yes or No to the text every day for 14 days. Failure to respond to the texts after 3 days will prompt a phone call and check up from health professionals.
Travel Declaration for SJU arrivals are available in English and Spanish.
The travel declaration form is required upon arrival at the airport and for hotel check in.
Guests are required to complete a contract tracing form (1 per group) upon Hotel check in. There are separate contact forms for PR Residents and Visitors. It is fast and easy to be COVID compliant on the island.
Certain tour operators may request proof of a COVID negative test during check in, as well. Other activities and check in may ask where you are visiting from and when you arrived in addition to your COVID test status.
Hotels can assist with self-quarantine and provide resources for food delivery. Uber Eats, Door Dash, and other food delivery services are available within the curfew hours (up to 10pm).
Hotel staff are ready and enthusiastic to assist with the forms or to clarify any travel restrictions and limitations.
Travel Declaration/Contact Tracing for PR Residents (local guests)
Travel Declaration/Contact Tracing for Visitors
Remember Puerto Rico is an island with an aging population, limited supplies and medical equipment. Safety protocols are not a political statement here, they are a matter of health to protect our residents and guests.
Disclaimer: Neither PRelocate, LLC, nor any of its affiliates (together "PRelocate") are law firms, and this is not legal advice. You should use common sense and rely on your own legal counsel for a formal legal opinion on Puerto Rico's tax incentives, maintaining bona fide residence in Puerto Rico, and any other issues related to taxes or residency in Puerto Rico. PRelocate does not assume any responsibility for the contents of, or the consequences of using, any version of any real estate or other document templates or any spreadsheets found on our website (together, the "Materials"). Before using any Materials, you should consult with legal counsel licensed to practice in the relevant jurisdiction.