Where to Eat in San Juan Spring 2018
Posted:

May 18, 2018

Posted by:

Travis Lynk

Last Reviewed:

May 21, 2021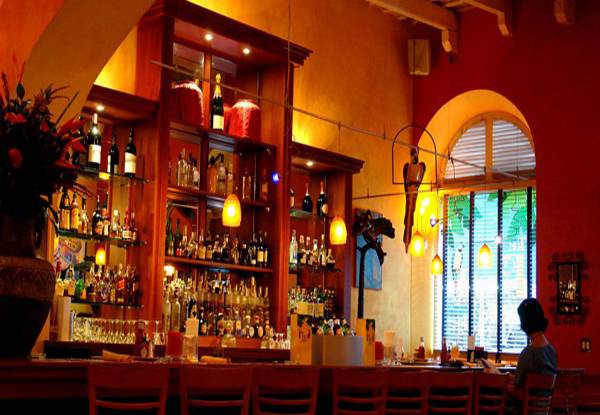 Where to Eat in San Juan Spring 2018
It should come as no surprise that San Juan makes for a great weekend getaway. While there is always plenty to do and see when in PR, make your culinary experience especially unique and memorable by following this friendly epicurean itinerary, which begins with a Friday lunch and ends with a Sunday dinner.
FRIDAY – Lunch
A great start to your weekend, 1919 Restaurant sports a beautiful northern ocean view along with their special Friday fixe prix lunch menu at a set price of $45 per diner for a two-course meal. Set inside the popular and classy Condado Vanderbilt Hotel, patrons can park themselves in front of spacious, tall glass windows and watch boats scuttling across the ocean waves while sipping wine selected from an extensive list.
The first course of this New American fare tempts the diner with eight dishes. Although you cannot go wrong with any selection, consider either the lentil soup, creamy black beluga lentils blended with grilled quail, or their fresh and healthy organic grilled romaine salad topped with Parmesan, lemon, Serrano chilli, mint and panko croutons.
Your second course presents five entree  options, each equally alluring. An excellent pair to the lentil soup is their Local Fish with shiitake mushrooms, organic grains, local kale, Salmorejo jus, and shellfish. If you choose the organic grilled romaine salad, the Vanderbilt burger on a brioche bun with Amarillo chutney, gorgonzola dulce, and house-made fries is an ideal companion.
If you find yourself with extra room and want to give your sweet tooth a treat, order their baba rum cake, which comes with black sesame ice cream along with tropical and passion fruit.
Address: 1055 Avenida Doctor Ashford, San Juan, 00907, Puerto Rico
Telephone: 1-787-724-1919
Hours: Mon.: closed; Tues. – Thurs.: 6:00 pm – 10:00 pm; Fri.: 11:30 am – 2:30 pm & 6:00 pm – 11:00 pm; Sat.: 6:00 pm – 11:00 pm
FRIDAY – Dinner
Diners who appreciate the art of preparation must experience an evening at (or should we say with?) José Enrique, both the name of the restaurant and the master chef creating incredibly delectable dishes. Do not expect a set menu or plan on making reservations. Neither of those restaurant standards apply at José Enrique.
What you can expect and will enjoy is a memorable dining experience that earns consistent rave reviews, both locally and internationally. José Enrique works with a menu that is personalized each day based on the fresh, local organic products available, creating inspirations that are too tempting for the eyes alone to feast upon.
Although native born, José Enrique has worked in New York, Florida, and Louisiana, garnering impressive culinary awards, including an appearance in CondeNast Traveler Magazine as one of the top 105 new restaurants in 2008. Enrique was also selected as a semifinalist for Best Chef South in the 2013 James Beard Foundation Awards, an accomplishment no other Puerto Rican chef has ever achieved.
While each day's menu is a mouthwatering surprise, certain dishes tend to reappear on a regular basis. The crab appetizer is always in demand and sells out quickly, so come early to see if tonight is the night to get a taste. They are also known for their special homemade pork sausage for starters and the coffee flan is a superb dessert to finish off an amazing meal. From start to finish, José Enrique is artfully prepared and gastronomically gratifying.
Once fully sated, take advantage of its location next to La Placita and get a taste of the San Juan nightlife at its best and brightest. Enjoy live music, dancing, bar hopping, and rubbing elbows with the local crowd.
Address: La Placita, Duffaut St. 176, San Juan, Puerto Rico
Telephone: 1-787-725-3518
Hours: Tue. – Fri.: 11:30 am – 10:30 pm; Sat.: 6:30 pm – 10:30 pm; Sun. – Mon.: closed
SATURDAY – Lunch
There are plenty of reasons to experience the Stuffed Avocado Shop. First, the Stuffed Avocado Shop is definitely casual – they even offer takeout so you can munch and stroll. Second, it is located in Old San Juan, so there is plenty to do and see all around the place. Finally, it is easier on the pocketbook than the other recommendations in this guide yet just as tasty as anything else you will eat this weekend.
Their menu is both simple and elaborate because they offer six standard signature avocado dishes, like Mango Tuna and Chipotle Chicken, along with a Stuffed of the Week special or the choice to build your own stuffed avocado.
With the build-your-own option, the possible combinations are nearly endless. You start with one of four bases: white rice, kale, baby greens, or mamposteao (a Puerto Rican staple consisting of yellow rice and pink beans). Next, you pick a protein for your dish: beef, chipotle chicken, pulled pork, salmon, or tuna. Now, add your preferred sauce: cilantro cream, ponzu, spicy mayo, spicy shoyu, or wasabi cream. Finally, treat yourself to any of the 15 toppings that will make it your perfect stuffed avocado. Toppings include edamame, corn, mango, seaweed salad, sesame seeds, chickpeas, and pineapple, to name a few.
Experience what an avocado can really do at the Stuffed Avocado Shop. And do not forget to try their chocolate avocado mousse and grab your own avocado hat before you leave.
Address: Calle San Francisco 209 Ste. 3 San Juan, Puerto Rico 00901
Telephone: 1-787-303-1111
Hours: Mon. – Fri.: 11:00 am – 6:00 pm; Sat. – Sun.: 11:00 am – 9:00 pm
SATURDAY – Dinner
Marmalade is owned and operated by Peter Schintler, a chef who grew up in Iowa with a love of food and cooking. He graduated at the top of his class in 1992 from the Baltimore International Culinary College and headed to Ireland to work under Master Chef Peter Timmons for the next six years, fine tuning his craft all the while.
After stints at leading restaurants in New York, England, Italy, Singapore, and other culinary capitals of the world, Peter finally decided to bring his knowledge and extraordinary skills to his own venue. He discovered the beauty and fantastic foods of PR during an executive consultation and knew where to build his own restaurant. Marmalade prepares unique fare with a distinct Puerto Rican influence that springs from Schintler's creative mind.
Diners can choose from the a la carte menu or opt in for a four-, five-, or six-course meal, with or without a wine pairing. The always popular Pacific Yellowtail Poke (sashimi grade raw west coast fish served island style with ginger, lemongrass, and organic soy mixed with compressed watermelon) or equally popular Popcorn Shrimp (cilantro and garlic grilled shrimp lacquered with anejo tequila atop pablano guacamole and heirloom ancho-chili spiced popcorn) are outstanding appetizers to begin your meal.
Next comes soups, salads, pastas, and risotto choices. You cannot go wrong with the Tiny White Bean Soup with scallions, black truffle oil, and pancetta "dust," or the Hand Rolled Black Truffle Pappardelle Pasta with wilted spinach, summer truffle, and marsala butter.
The main course brings the greatest challenge in selecting a dish. Two stand out choices are Snapper ("Spanish Cassoulet" with chorizo and little neck clam stew spiked with organic white butter beans and a red pepper-paprika broth) and Niman Ranch Natural Hormone-Free Lamb Tagíne (Moroccan-French style braised lamb with ras el hanout organic chick peas, marcona almond pomegranates, and harissa spiced green olives).
When it comes to fine libations, Marmalade is once more at the top of its game. There are more than two dozen wines by the glass from which to choose, representing quality wineries from across the globe. If you prefer a bottle of wine with dinner, their six-page wine menu is certain to offer excellent choices to match your meal.
Cocktail lovers are not forgotten either. With 11 different blends, each cocktail has its own story to tell. Two popular drinks on this list which you will likely not find anywhere else are the Cereal Killer (organic granola soaked in almond milk, mixed with local oranges, lavender honey, and good doses of Templeton rye and Bulleit bourbon) and the Jimi Hendrick's (sliced jalapenos and muddled mint in fresh cucumber juice with Hendrick's gin and a quick lime squeeze).
Finally, do not miss out on Chef Schintler's Marmalade Cookbook that is due out later this year. You can preorder your copy and learn firsthand how to create the incredible dishes that originated from the imagination of a world class chef.
Address: Calle Fortaleza 317 San Juan, Puerto Rico
Telephone: 1-787-724-3969
Hours: Open every day of the week from 5:00 pm to 10:00 pm
SUNDAY – Lunch
Now that you have had a couple of days to get the feel of life in San Juan, it is time to immerse yourself in a truly local spot. Kasalta is a popular bakery that offers perhaps the widest variety of authentic Puerto Rican dishes you will find in San Juan, at prices that will let your wallet sigh a breath of relief.
Be prepared to do a lot of pointing and nodding, as the menus are in Spanish. This does not pose that much of a problem because there are plenty of images for the many dishes they display, all of which are fresh and delicious, plus, the staff speaks English.
First and foremost, Kasalta does not hesitate to proudly lay claim to being President Barack Obama's "favorite restaurant in PR," and offers their Presidente sandwich in homage to that famous visitor. Of course, every other kind of Puerto Rican sandwich can be ordered, including tuna, ham, chicken, roast beef, Cubano, mortadella, salami…the list is endless.
In addition to sandwiches, they have a tapas menu and full plate dishes. You can also order wine from an impressive list of both local and international wines in all varietals.
Whatever true Puerto Rican fare you are in the mood for or want to try for the first time, and however much or little you wish to eat, you will find it at Kasalta for an affordable price.
Address: Calle McLeary 1966, San Juan, Puerto Rico 00911
Telephone: +1 787-727-7340
Hours: Open every day of the week from 6:00 am to 10:00 pm
SUNDAY – Dinner
Punto de Vista Rooftop Restaurant
If this itinerary is leaving you feeling on top of the world, there is no better place to end your dream weekend than at the Punto de Vista Rooftop Restaurant where you can gaze upon a sweeping vista of the entire city you just ate your way through over the past three days.
Treat yourself one last time to some genuine, delicious Puerto Rican food. Locals and tourists alike rave over both the chicken and steak mofongo (fried green plantains mashed with oil, garlic, and salt). Another winner is their pork in garlic sauce, which leaves some visitors dreaming of when they can return again. Equally popular are the many local side dishes, including their staple rice and beans.
If you time your visit right, tip your drink to the setting sun as it winks good night and bid farewell to an unforgettable time in San Juan.
Address: Hotel Milano, Calle Fortaleza 307, San Juan, Puerto Rico 00901
Telephone: 1-787-307-2970
Hours: Sun. & Mon.: 12:00 pm – 9:30 pm; Tues. & Wed.: 11:30 am – 9:30 pm; Thurs. & Fri.: 11:30 am – 10:00 pm; Sat.: 12:00 pm – 10:00 pm
Disclaimer: Neither PRelocate, LLC, nor any of its affiliates (together "PRelocate") are law firms, and this is not legal advice. You should use common sense and rely on your own legal counsel for a formal legal opinion on Puerto Rico's tax incentives, maintaining bona fide residence in Puerto Rico, and any other issues related to taxes or residency in Puerto Rico. PRelocate does not assume any responsibility for the contents of, or the consequences of using, any version of any real estate or other document templates or any spreadsheets found on our website (together, the "Materials"). Before using any Materials, you should consult with legal counsel licensed to practice in the relevant jurisdiction.