Why You Need A Virtual Address to Protect Your Privacy
Posted:

February 21, 2020

Posted by:

Travis Lynk

Last Reviewed:

May 21, 2021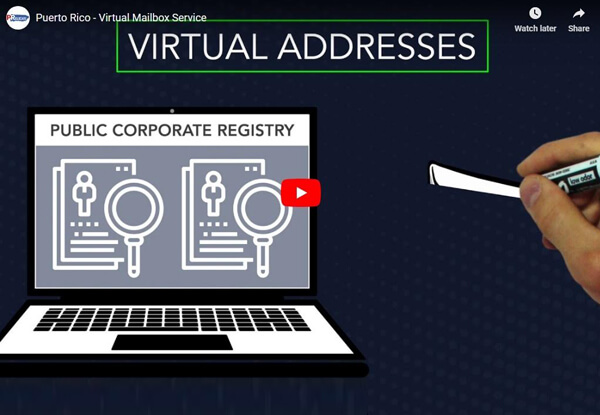 Virtual addresses are a service any Export Services business under Act 60 ought to consider. Not only do they provide you with a physical and bona fide location in Puerto Rico, but they also serve to protect your privacy and allow you to monitor your physical mail even when you're away.
What Is a Virtual Mailbox?
A virtual address provides your business with a physical street address in the real world as well as a digital mailbox. It allows you to check and monitor your physical mail from your computer, tablet, or phone, and you can instruct your provider to physically forward the mail to you, open it and scan the contents, shred it, or store it for you to physically pick up. Besides the obvious convenience of managing your physical mail digitally, virtual addresses offer numerous perks, including an address in another jurisdiction and privacy protection.
A large number of Export Services businesses use a virtual address service. Getting a virtual address can allow you to secure a Puerto Rican address for your business before you even move to Puerto Rico, and if you would otherwise use your home address as your business address, it allows you to separate your private and business mail. Virtual mailboxes are superior to PO boxes in this regard because they can receive packages from all couriers, not just USPS, and they can be recognized as a commercial business address, whereas PO boxes cannot. Additionally, business permits cannot be issued for the addresses of PO boxes, as well as boxes with UPS or FedEx.
Why Tax Incentives Decree Holders Should Have a Virtual Mailbox
For tax incentives decree holders, there's a distinct advantage to having a virtual address: privacy. In line with new regulations, at the end of January 2020, the Department of Economic Development and Commerce (DDEC) published the names of the more than 8,000 companies and individuals who enjoy the incentives of Acts 20, 22, 14, 273, and 27. On the registry, the names of grantees, as well as the type of grant they have received and its issuance date, are visible. Going forward, all Export Services businesses and Individual Resident Investors will also be added to the registry.
The DDEC holds that this move will promote accountability and transparency, but the problem for tax incentive decree holders is that many use their home address as their commercial address. This means that many grantees now have their home addresses publicly available on the government's Registry of Corporations and Entities, which is a serious privacy concern.
Tax incentive decree holders can easily establish a new commercial address to publish on the database if they subscribe to a virtual address, such as the one offered by PRelocate. We can help you protect your privacy while also giving you an easy and reliable way to monitor your mail when you are traveling. If you have questions about our virtual mailbox service, email us at info@relocatepuertorico.com.
Disclaimer: Neither PRelocate, LLC, nor any of its affiliates (together "PRelocate") are law firms, and this is not legal advice. You should use common sense and rely on your own legal counsel for a formal legal opinion on Puerto Rico's tax incentives, maintaining bona fide residence in Puerto Rico, and any other issues related to taxes or residency in Puerto Rico. PRelocate does not assume any responsibility for the contents of, or the consequences of using, any version of any real estate or other document templates or any spreadsheets found on our website (together, the "Materials"). Before using any Materials, you should consult with legal counsel licensed to practice in the relevant jurisdiction.