Spend Thanksgiving 2021 in Puerto Rico!
Posted:

October 28, 2021

Posted by:

Travis Lynk

Last Reviewed:

December 20, 2021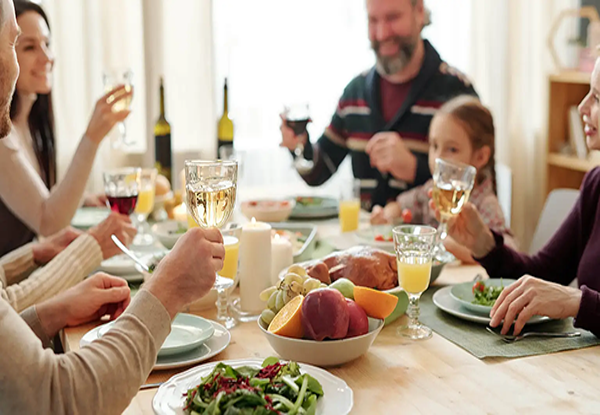 Still on the fence about where to spend Thanksgiving week this year? Consider a visit to Puerto Rico. There are plenty of reasons to make the trip–find out some of our favorites below.
Skip the Stress of Hosting an Event
A menu to plan, a turkey to order, a potluck to coordinate, seating to arrange, and entertainment to consider. These are just some of the stressful issues you have to deal with when planning Thanksgiving Dinner at your place. If you haven't already etched your seating charts in stone, chances are good that hosting a stress-free holiday at home isn't in the cards. But that's okay. Trading in your Turkey Day coordinator (or referee) hat for tickets to the beach sounds like a trade up, doesn't it?
Watch the Islands Transform for the Holidays
The time between el Día de Acción de Gracias (Thanksgiving Day) and la Navidad (Christmas)–and even all the way through to January 6, el Día de Reyes or Three Kings' Day–is a magical one across Puerto Rico. And it all begins over the Thanksgiving holiday weekend. Come get a sneak peek of Christmas in Puerto Rico as the lights begin to go up and transform the islands for the holidays!
Make Christmas Gift-Giving a Breeze
Ease family and friends' disappointment that you won't be spending the holiday with them. Promise something special upon your return. It won't be hard to find unique gifts on your trip for everyone in your life! Why? Because art abounds in Puerto Rico. From old-world cigar rolling techniques to intricate detailing in Mundillo lace, the hands of Puerto Riqueños bring forth some of the most beautiful–and iconic–works of functional art in the world. Besides, spending one of the biggest shopping days of the year searching the cobblestone streets of Puerto Rico for your loved ones' gifts doesn't sound half-bad, does it?
Speaking of giving, we have on extra special reason you should consider a last-minute trip to Puerto Rico this year. We want to formally invite you and yours to come celebrate at our pre-holiday dinner table!
Enjoy an Exclusive PRe-Thanksgiving Dinner Gathering with Us!
Our "Friendsgiving" feast will be hosted the evening before Thanksgiving Day, and will be held at the home of Sam Silverman, founder of PRelocate. PRelocate is one of only a handful of certified organizations designed to help individuals like you streamline moving themselves, their families, and their businesses to Puerto Rico.
The food will be as amazing as the people you will meet. So come enjoy an open bar and plenty of opportunities to forge new friendships with other Act 20, 22, and 60 decree holders as well as the whole PRelocate team.
The best part? Your celebration is more than just good company and a full belly. Proceeds from PRelocate's First Annual Thanksgiving Party will directly support local children and their families through the Puerto Rico Pediatric Hospital Foundation.
So why not shake up your November holiday plans this year? Make it a long-weekend adventure. Give thanks in one of the most beautiful places on earth, all while giving back to the local PR community. Space is limited so make your reservations today–we're just a few weeks away!
Disclaimer: Neither PRelocate, LLC, nor any of its affiliates (together "PRelocate") are law firms, and this is not legal advice. You should use common sense and rely on your own legal counsel for a formal legal opinion on Puerto Rico's tax incentives, maintaining bona fide residence in Puerto Rico, and any other issues related to taxes or residency in Puerto Rico. PRelocate does not assume any responsibility for the contents of, or the consequences of using, any version of any real estate or other document templates or any spreadsheets found on our website (together, the "Materials"). Before using any Materials, you should consult with legal counsel licensed to practice in the relevant jurisdiction.