9 Amazing Hiking Trails in Puerto Rico
Posted:

December 30, 2022

Posted by:

Travis Lynk

Last Reviewed:

January 10, 2023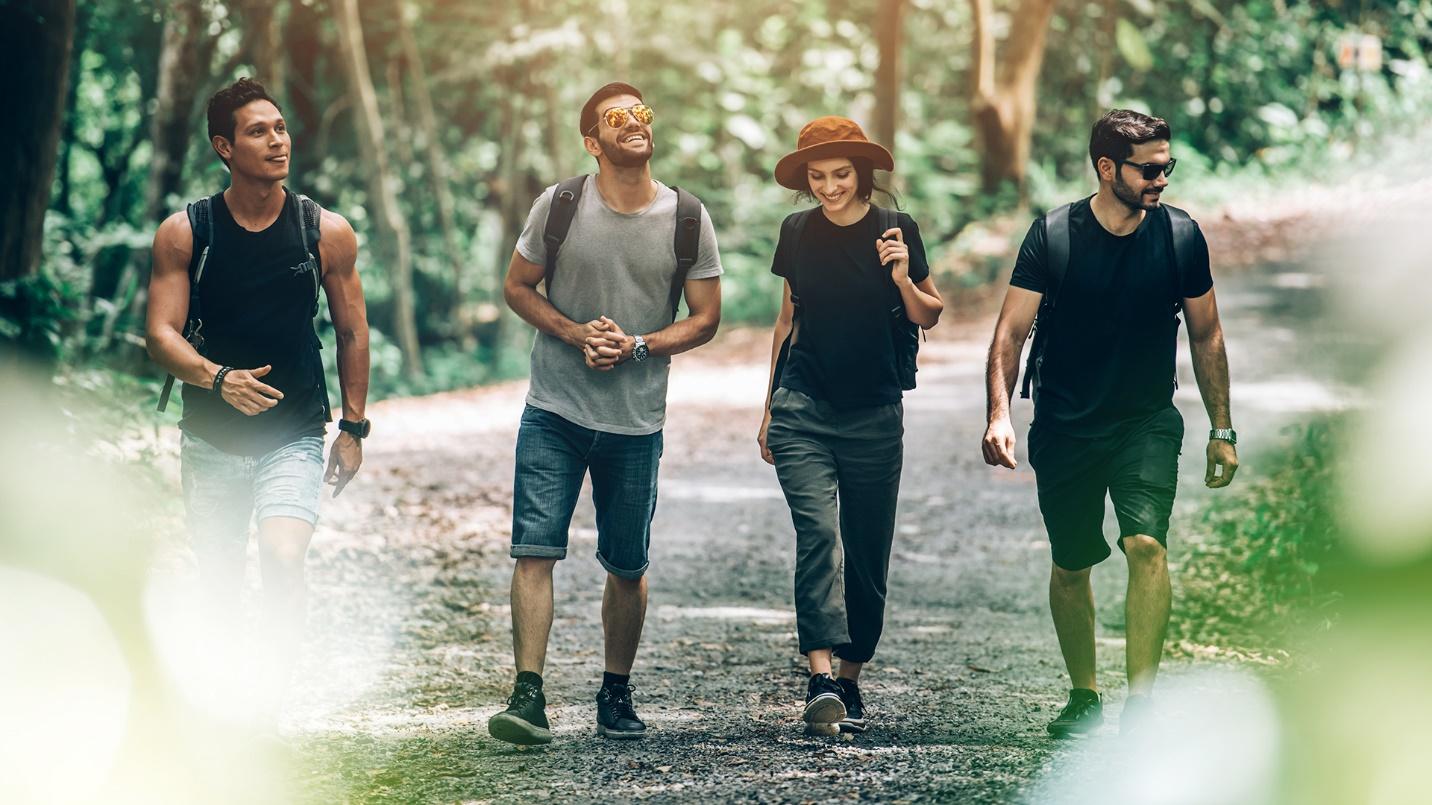 Explore the scenic beauty of Puerto Rico's terrain with these hiking trails.
Hiking in Puerto Rico
There is a reason why Puerto Rico is called an island paradise. With breathtaking landscapes, warm and sunny weather, exhilarating beaches, and host of exotic and magical flora and fauna, the island is the place to be if you are looking for nature's most beautiful sights.
Such scenic marvels are best experienced by hiking along the many trails Puerto Rico offers. Places like the El Yunque National Forest and the Guánica State Forest and Biosphere (Bosque Estatal de Guánica) are home to some of the most captivating hiking trails in Puerto Rico.
6 Beautiful Trails in the El Yunque National Forest
Hiking is the best way to explore the El Yunque National Forest, but there are plenty of trails to choose from. So, if you want to find the best hiking trail for you, we have curated a list of the best hiking trails in the forest. So put on your hiking shoes, grab a map, and let us guide you through the forest.
El Yunque Trail
The most popular and most traveled hiking trail in the El Yunque National Forest, is the El Yunque Trail. You will start at the Palo Colorado Forest, the home to various rare trees, including the Palo Colorado tree. As you rise across different levels of the forest, you will pass through the Sierra Palm Forest, where you will notice exquisite palm trees that are unique to the Caribbean. The journey ends when you reach the mystical Dwarf Forest at the peak of the El Yunque Mountain.
Distance
The entire trail is 2.4 miles long and lasts approximately two to two-and-a-half hours each way. As you walk upwards, there will be an elevation change of 1,378 feet.
Difficulty
Because the trail can be quite steep and muddy in a few places, with many parts not being paved, this trail has a difficulty rating of moderate to challenging.
Things to Do
At the peak, there is an observation deck at the top of a small stone tower. You can catch the most amazing forest and coastline views from here.
In the middle of the trail, at the junction of the El Yunque, Mount Britton Spur, and Los Picachos trails, there is an old hut made out of stone. This provides shelter for hikers when it is raining or to eat lunch or just to savor the beautiful surroundings.
Mount Britton Trail
A beautiful trail that passes through the palm tree-filled Sierra Palm forest and leads to the top of Mount Britton, the Mount Britton trail is colored with the richest greenery you can imagine. Once you have reached the top, you will find yourself amidst the magical Cloud Forest, a place straight out of your wildest dreams.
Distance
With a rise in altitude of 594 feet, this is a short hike of 0.8 miles one-way and takes around 45 minutes.
Difficulty
Although short and paved, this is a more challenging trail as it is steep and slippery in certain spots.
Things to Do
The summit hosts the historic Mount Britton Tower, built in 1937-38 by the Civilian Conservation Corps. The tower is made out of stone and its observation deck is the perfect place to catch a panoramic view of the forest, the Atlantic Ocean, the Caribbean Sea, and the eastern coastal plain, but only on a clear day.
La Mina Trail
The La Mina Trail is an enchanting walk that follows the La Mina River. A trip through a fairyland, you will be accompanied by the most breathtaking tropical trees, shrubs, flowers, and the mesmerizing music of flowing water until you finally reach La Mina Falls.
Distance
This is a short 0.7-mile trail but with a sharp elevation change of 492 feet, taking 30 to 40 minutes each way.
Difficulty
The steep elevation and the winding concrete stairs at several parts give this trail a difficulty rating of challenging.
Things to Do
The trailhead has numerous shelters equipped with picnic tables, barbeques, and running water taps for everyone to have a great time outdoors. At the end of the journey, La Mina Falls also offers hikers a chance to swim in the rejuvenating pool beside the waterfall.
Big Tree Trail
For outdoor fanatics eager to learn about the natural world, the Big Tree Trail is a self-guided interpretive trail that ends at La Mina Falls. Along the way, you will come across some of the largest trees in the El Yunque National Forest, including the mighty Tabonuco trees, from which this trail gets its name.
Distance
This is another short 0.7-mile trail leading downwards with an elevation change of 164 feet and a one-way hiking time of 40 minutes.
Difficulty
Rated moderate in difficulty due to some steep places, this trail is much easier than the La Mina trail and the path is paved with asphalt.
Things to Do
Being an interpretive trail, hikers get a chance to learn about the flora and the ecology of the forest as they walk. Just like the La Mina trail, this one is filled with many shelters and picnic spots, and refreshing pools in the end at La Mina Falls.
Caimitillo Trail
The Caimitillo Trail is perfect for those looking for a short and sweet experience of the El Yunque National Forest. The trail starts amidst native tree ferns and Sierra palm trees, leading upwards across Giant Tree Ferns and the rare Caimitillo Verde trees until you reach the junction of the El Yunque Trail. From here, you turn and continue to the beautiful Bao Grande pool, where the trail ends.
Distance
This is a very short trail that is 0.2 miles in length and rises through 360 feet. Hiking time is around 15 to 20 minutes each way.
Difficulty
You will be walking effortlessly, mostly along asphalt-paved or graveled surfaces, so the trail has a difficulty rating of easy to moderate.
Things to Do
In the middle of the trail, you will find the Caimitillo picnic area, that has numerous native stone picnic huts with tables, barbeques, and running water taps. This space usually attracts many tourists as it is a pleasant place to relax and picnic with your family and friends.
El Angelito Trail
Another short and easy hiking trail, the El Angelito Trail takes you through Tabonuco trees in the lower montane forest until you reach the Mameyes River. This is a good trail for families with younger children and school groups.
Distance
The trail goes on for 0.2 miles each way with a descent of 132 feet. It will take around 20 minutes to complete a trip one way.
Difficulty
With a difficulty rating of easy, this trail is breezy and laid-back.
Things to Do
The Mayemes River is a federally designated "Wild and Scenic River", where you will find a popular natural swimming spot, Las Damas Pool.
3 Fabulous Hikes outside of the El Yunque National Forest
Meseta Trail
Located in the Guánica State Forest & Biosphere Reserve, the Meseta Trail is a coastal trail begins at Tamarindo Beach. It takes you through the Guánica Dry Forest, offering excellent views of the coastline. Even though it is a dry forest, not everything is monochromatic as you will find different types of flowering plants, cacti, shrubs, and birds along the way.
Distance
This is a three-mile trip one way along the south/western coast of Puerto Rico that takes an average of one and a half hours to complete each way.
Difficulty
Even though the trail is labeled as moderately difficult, walking may be tricky at a few places because of sharp rocks and thorny plants along the path.
Things to Do
There are small paths that lead down to the coast which lead to sandy coves, caves, arches, and magnificent cliffs. This trail is also ripe with incredible species of birds, so it is frequented by birdwatchers as well.
This area is also filled with loads of mountain biking trails, and after the first half-mile of the Meseta Trail, the trail is regularly used by mountain bikers.
Ballena Trail
The Ballena Trail along with the Lluberas Trail are two of the most challenging trails in the subtropical Guánica Dry Forest. This trail leads you to Punta Ballenas, where you can continue along the beach while savoring the breathtaking beach views until you reach the mangrove area at the end.
Distance
This is a short trip of 2.3 miles each way and takes around one hour to complete.
Difficulty
The trail is a straightforward path, but the heat makes it challenging. So, carry lots of water!
Things to Do
This exciting path offers many photo opportunities with awe-inspiring views of the forest fauna and the remote beach at Ballena Bay.
There are many side trails for you to explore, including one which will take you to the Guayacán Centenario, a Guayacan tree many centuries old.
Lluberas Trail
If you are looking for a trail that lets you fully discover the Guánica State Forest and Biosphere Reserve, then the Lluberas Trail is for you. During the hike, you will be able to see all the types of vegetation—from dry to evergreen—that the forest is home to.
Distance
This is the longest trail in the dry forest that is nearly 5 miles one way and takes about two and a half hours to complete.
Difficulty
The trail is one of the most challenging in Puerto Rico due to its length and conditions of the dry forest—extreme heat and dry rocks.
Nevertheless, walking down this trail will still be a pleasure.
Things to Do
Since this trail gives access to all the rarest and most exquisite plants in the region, this is the perfect opportunity to explore the fauna of the dry forest completely. The birds that inhabit the place also make this a hub for birdwatchers.
There are also plenty of side trails leading out of this trail, some of which reach the bottom of the mountain and one, the Cueva Trail, ends at a spot with many dazzling limestone caves.
Walk amidst Beauty in Puerto Rico
Hike along any of these picturesque paths and experience your soul becoming closer and closer to nature. There is a hiking trail just for you, whether you seek a short and comfortable trip or a challenging one.
So, go ahead and satiate your wanderlust as soon as possible. Contact PRelocate for any advice you may need regarding your journey. Once you have walked in paradise, do not forget to share your experience with our PRelocate community.
Disclaimer: Neither PRelocate, LLC, nor any of its affiliates (together "PRelocate") are law firms, and this is not legal advice. You should use common sense and rely on your own legal counsel for a formal legal opinion on Puerto Rico's tax incentives, maintaining bona fide residence in Puerto Rico, and any other issues related to taxes or residency in Puerto Rico. PRelocate does not assume any responsibility for the contents of, or the consequences of using, any version of any real estate or other document templates or any spreadsheets found on our website (together, the "Materials"). Before using any Materials, you should consult with legal counsel licensed to practice in the relevant jurisdiction.
More Articles