Insurance Providers in Puerto Rico
Posted:

October 19, 2022

Posted by:

Travis Lynk

Last Reviewed:

January 11, 2023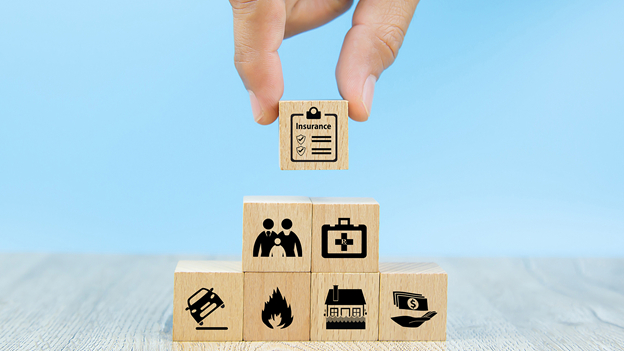 Read on for the answers to your questions about insurance in Puerto Rico.
Types of Insurance
If you're planning a move to sunny Puerto Rico, you'll want to set aside some time to figure out which types of insurance will best fit your needs here. As a new resident, getting appropriate health insurance as soon as possible is essential. Consider life insurance and insurance for your home, personal property, and business as well.
The Healthcare System and Health Insurance in Puerto Rico
There's an old saying: "Health is not everything. But without health, everything is nothing."
So let's start with an overview of the healthcare system and health insurance in Puerto Rico.
Overview of Puerto Rico's Healthcare System
Overall, Puerto Rico's healthcare system is similar to what you'll find on the mainland. It's one of the best in the Caribbean. You'll find the highest-quality medical facilities, the most modern equipment, and a great number of English-speaking staff in big cities, especially San Juan and Ponce. Doctors and dentists are more likely to speak English than nurses, hygienists, and receptionists.
Auxilio Mutuo Hospital, Ashford Hospital, and Hospital Pavia Santurce—all in the San Juan area—are among the top hospitals in Puerto Rico. Most cities and towns have clinics and hospitals as well. We'd recommend that you do some research in advance on the best hospitals near your new intended home.
In contrast to hospitals on the mainland, hospitals here are likely to require that patients or their families provide toiletries and other supplies like blankets and pillows during the patient's stay. This helps to keep medical costs down.
The cost of health care in Puerto Rico is lower than you might expect. As of 2020, healthcare costs on the island were more than 30% cheaper than the U.S. average.
Health Insurance in Puerto Rico
Prospective residents of Puerto Rico often ask, "Does my health insurance cover me in Puerto Rico? Does U.S. health insurance work in Puerto Rico?"
We have good news and bad news. First, the bad.
Unfortunately, the insurance you have in your home state won't necessarily cover you in Puerto Rico. That's because the island is not a U.S. state. It's a territory, so not all of the rules on the mainland apply here. Healthcare providers here are different, so insurance providers are different too.
You may need to terminate your current health insurance policy and purchase a new one for Puerto Rico upon moving here. That means spending time and effort to research the best health insurance choices for yourself and your loved ones.
Save Money and Get Closer to Residency
The good news is that switching to a Puerto Rican health insurance provider can pay off for you in several ways.
The island offers plenty of excellent value health insurance options you can choose from while enjoying life as a bona fide Puerto Rican resident. Many American expats have been delighted to discover that their new health insurance policies on the island offer better coverage at lower rates.
In addition, changing your current insurance provider and doctors to those based on the island can get you a step closer to fulfilling the requirements connected to bona fide residency. You'll need that status to take advantage of Puerto Rico's generous tax incentives, which can save you vast sums of money. To be considered a bona fide resident, you must pass the closer connection test, which means convincing the IRS that you have stronger ties to Puerto Rico than to the rest of the United States.
Check What Health Insurance Covers
When shopping around for health insurance options, you'll want to study which medical expenses and pre-existing conditions are covered carefully. For each option that interests you, check what it charges for doctor visit co-pays and prescription drugs. Try to estimate your out-of-pocket costs. What will be your deductible and health coverage limits under such a policy?
Note that some insurance policies do not cover the cost of an ambulance (and the cost will vary, depending on your health insurance) during a medical emergency. If you choose a policy that lacks such coverage, be sure to keep a few hundred dollars in extra cash on hand to pay for the ambulance's services should the need arise.
Public Health Insurance in Puerto Rico
One option is to pursue public health insurance. Puerto Rico's special Medicaid program provides free or low-cost health services for low-income individuals. About half of Puerto Rico's population qualifies for Medicaid, which is somewhat different from the mainland's. The Puerto Rico Department of Health and the Puerto Rico Health Insurance Administration jointly implement this program for the island with substantial financial support from the U.S. federal government.
You can see the monthly income eligibility requirements here. If you're wealthy like most U.S. expats who relocate to the island, you probably won't qualify to receive benefits under Puerto Rico's Medicaid services. Nevertheless, it's useful to be aware of the program, especially if you fall on hard times during this era of great economic volatility.
Private Health Insurance in Puerto Rico
Many American expats opt for private health insurance coverage in Puerto Rico, which provides a higher standard of care and greater convenience. Many private Puerto Rican insurers are also open to covering pre-existing conditions.
Overall, the cost of private health insurance in Puerto Rico is lower than on the mainland, so it's generally an affordable choice. Here you might pay around half of the premium rate you're used to on the mainland. However, prices will vary depending on your health plan and provider.
Health Insurance Options Compared
If you're looking for health insurance, here are four good options to consider.
Each provider offers different plans and services, so it's worth it to take a look through their websites. Triple-S, for example, covers many healthcare procedures in their direct plan. The provider also offers an app called TeleConsultaMD that allows users to connect with a medical professional for an online consultation any day of the week between 6 a.m. and 10 p.m.
In 2020, Triple-S launched a prescription medication delivery app to allow users to easily and conveniently receive their medication without leaving the house. Triple-S members can have their prescription medications delivered directly to their homes at no cost. That's an especially appealing option for some in light of the ongoing pandemic.
The four health insurance providers listed above are only valid for Puerto Rico, although Triple-S does offer emergency services coverage in the United States, as long as the U.S. provider is part of the Blue Cross Blue Shield group.
Health Insurance Options That Cover the Island and Mainland
If you're looking for health insurance that can cover you in both Puerto Rico and the 50 states, you have two options.
The first is the HealthShare plan from Liberty, a community-based health insurance plan where members cover each other's medical expenses. Plans are relatively cheap, but there are limits on how much a member can claim.
The second option for health insurance valid in both Puerto Rico and the US is MCS Puerto Rico. This is a health insurance plan from the 20/22 Act Society, a society created by and for the recipients of Puerto Rico's many tax incentives. You don't need to join the 20/22 Act Society to sign up for the MCS health insurance plan, but membership does come with several additional benefits for decree holders of Puerto Rico tax incentives. In addition to health insurance, membership offers guidance through any troubles you may encounter in Puerto Rico.
Health Insurance Options for Employers
Furthermore, if you are an employer looking for a reliable Puerto Rican health insurance plan for your employees, Humana, Triple-S, and MCS are good options.
Pharmacies and Medications in Puerto Rico
It's easy to find convenient pharmacies you recognize in Puerto Rico. You can choose from among CVS, Walgreens, Walmart, and other pharmacies on the island. The San Juan area has 18 CVS pharmacies, some open 24 hours a day.
CVS pharmacies in San Juan can even save you the trouble of picking up your medicine in person by delivering it to your doorstep in 1-2 days. Some can even deliver the same day if you're in a rush. However, check with your pharmacy to be on the safe side, as delivery may not be possible for certain controlled substances and medications that require refrigeration.
If you take a medication regularly, you can transfer your mainland prescription to a CVS pharmacy on the island using this form.
Emergency Medical Services
Puerto Rico also has its own dedicated agency responsible for handling medical emergencies, called the Medical Emergency Bureau. It can provide first aid or transport to an adequate medical facility for those who need such assistance.
Call 911 if you have a medical emergency. If you live in a gated community, be sure to inform security so they'll let the ambulance in. The ambulance will ask you where to go, so it's a good idea to familiarize yourself with the best hospitals in the area ahead of time. In addition, ambulances may expect you to pay for transport to the medical facility in advance and in cash. Again, it's wise to keep some extra cash on hand for an emergency situation like this one.
We'd also recommend that you prepare an emergency bag filled with toiletries, slippers, and other essential items to grab before going to the hospital. You may not have time to collect everything you need when you're experiencing a medical emergency, and Puerto Rico's hospitals do not provide these items.
Other Types of Insurance
Why You Need Disaster Insurance
Puerto Rico's location means that you'll need to be prepared for natural disasters, including earthquakes, flooding, and hurricanes that strike the island from time to time. Federal disaster assistance can help, but it's probably not sufficient in itself for you to make a full recovery. Investing in disaster insurance can go a long way toward helping you and your family recover from your losses in the wake of a catastrophe.
Consider insurance policies for your life and personal property, such as your home, vehicle, and other belongings. You might also want to look into an insurance policy for your business and employees.
When Hurricanes Irma and Maria struck the island in 2017, only around half of Puerto Rican households had insurance policies to protect against wind damage. Homeowners insurance doesn't always cover flood damage, either—look into the FEMA-managed National Flood Insurance Program to see if additional protection is right for you. Not investing in the right homeowners insurance policy may be a costly mistake when the next natural disaster occurs.
Auto Insurance Is the Law in Puerto Rico
In accordance with the Puerto Rico Motor Vehicle Compulsory Liability Insurance Law, you must purchase liability insurance coverage of at least $3,000 for your vehicle on the island. This should cost around $99.
Many residents of Puerto Rico would advise purchasing greater coverage than this minimum requirement. A full coverage policy is likely to cost somewhere between $800 and $1,500 each year, and the price will vary depending on your age, value of your vehicle, and other factors.
Insurance Providers in Puerto Rico
No matter what type of insurance you need, Puerto Rican insurance providers are here to help. Here are three Puerto Rican providers that offer various types of insurance, depending on your needs:
How to Keep Insurance Costs Low
If you'd like to save money on your homeowners' insurance, you may be able to do so by purchasing smoke detectors and fire extinguishers or implementing other safety measures. Shop around and get several quotes before you buy an insurance policy.
To lower your costs even further, consider bundling your policies—many companies will offer you a discount if you purchase two or more policies from them. You can also increase your policy's deductible. The higher your deductible, the lower your premium.
Getting the right insurance is important to ensure that even if disaster strikes, you have the necessary resources and support to get back up on your feet.
Be Sure to Talk with the Experts on Puerto Rico
That's a broad overview of the main issues you should be aware of concerning insurance in Puerto Rico.
If you were wondering about private health insurance options in Puerto Rico, whether U.S. health insurance works here, and the cost of health insurance in Puerto Rico, now you have a better sense of what to expect. Health insurance is perhaps the most important type to be aware of, but give serious thought to purchasing other types of insurance, such as disaster insurance for your personal property or business as well.
Don't hesitate to reach out to our knowledgeable expert team at PRelocate. We will be happy to answer any questions you may have about insurance or other issues related to relocating to Puerto Rico.
We are dedicated to providing you with the necessary resources and information to make your move to Puerto Rico a successful one. We'll save you time and money with a hassle-free move, as we have done with countless other American expats who are now loving their new lives on the island.
Contact us today to learn more. Follow us on social media too so you don't miss anything.
Disclaimer: Neither PRelocate, LLC, nor any of its affiliates (together "PRelocate") are law firms, and this is not legal advice. You should use common sense and rely on your own legal counsel for a formal legal opinion on Puerto Rico's tax incentives, maintaining bona fide residence in Puerto Rico, and any other issues related to taxes or residency in Puerto Rico. PRelocate does not assume any responsibility for the contents of, or the consequences of using, any version of any real estate or other document templates or any spreadsheets found on our website (together, the "Materials"). Before using any Materials, you should consult with legal counsel licensed to practice in the relevant jurisdiction.
More Articles