New Services and Transactions on the SURI Portal
Posted:

March 26, 2020

Posted by:

Travis Lynk

Last Reviewed:

May 25, 2021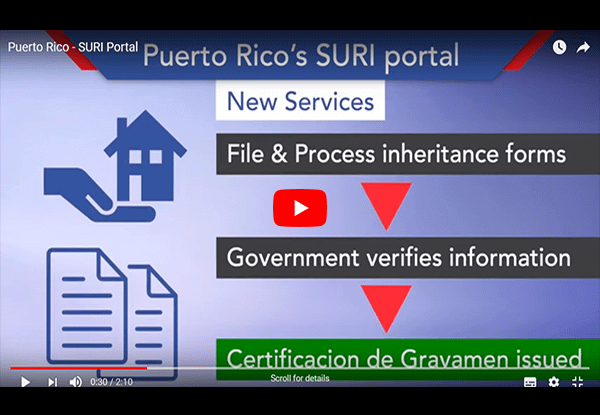 The SURI portal is a digital platform from Puerto Rico's Department of Treasury that streamlines the processing of all matters related to tax and income in Puerto Rico. Already, residents and business owners in Puerto Rico can use the platform to apply for certificates and licenses, file reports, obtain information, and more. The Puerto Rican government is continuously working to upgrade and improve the system, which has resulted in the release of new services on the platform on December 10, 2019.
Herencia (Inheritance Form)
It is now possible to process inheritance forms through the SURI portal. The inheritance form is used to report the assets of the deceased at the time of death, including movable and immovable property, and applies to deceased individuals who were Puerto Rican residents or owned property in Puerto Rico at the time of their death.
The form is to be submitted by the inheritor(s) or the deceased's representative or attorney within nine months of the death. Upon receipt and verification of the information, the Department of Treasury issues a certificate called Certificacion de Gravamen, which is used to process the changing of ownership, sale, or refinancing of property. The certificate is also necessary to access the deceased's bank account information and monetary assets.
Donations
Any person in Puerto Rico, regardless of resident status, who makes a donation in excess of $10,000 during the calendar year must file a donation tax return (Spanish: Contribucion Sobre Donaciones) through the SURI portal. Holders—or future holders—of the Individual Resident Investor decree under Act 60 should take note of this, since a yearly $10,000 donation split between two Puerto Rican nonprofits is a requirement of the decree.
The donation tax return is due through SURI by the end of the calendar year following the year in which the donation was made.
Retentions, Deposits, and Declarations
A number of additional transactions related to retentions, deposits, and declarations have also been introduced to the SURI portal. Here is a list of some of the forms that are now processible through SURI:
Forms 499R-2 and W-2PR (income tax and withholding statement for Puerto Rican resident employees)
Forms 480.6C and 480.30 (income tax and withholding statement for nonresident service providers)
Retentions and deposits for independent contractors
Additional Changes From February 24, 2020
In addition to the new services and transactions added to the SURI portal on December 10, 2019, some new tax transactions were added on February 24, 2020.
Income Tax
The new features allow users to:
file individual and corporate income tax returns starting from the tax year 2018
submit informative returns for pass-through entities starting from the tax year 2019
file automatic extensions for income tax returns
make payments, both for the return and for any requested extensions
submit any required evidence along with the income tax return
check their refund status
request and receive the automatic approval of payment plans if less than $50,000 in debt
complete other transactions
Additional Services
Return specialists can now register and renew their Return Specialist Number and conduct authorized
personnel management.
Users can now file the return and monthly deposit voucher for Special Tax (Act 154–2010).
Controlled groups can now file Form SC 2652 to manage related entity groups.
Notaries can now file returns for the segregation, merging, or transfer of real estate.
Users can now file Form SC 2222 (Environmental Protection Deposit Return).
Exempt entities can now file an Exemption Request for Non-Profit Entities and Hospitals
Disclaimer: Neither PRelocate, LLC, nor any of its affiliates (together "PRelocate") are law firms, and this is not legal advice. You should use common sense and rely on your own legal counsel for a formal legal opinion on Puerto Rico's tax incentives, maintaining bona fide residence in Puerto Rico, and any other issues related to taxes or residency in Puerto Rico. PRelocate does not assume any responsibility for the contents of, or the consequences of using, any version of any real estate or other document templates or any spreadsheets found on our website (together, the "Materials"). Before using any Materials, you should consult with legal counsel licensed to practice in the relevant jurisdiction.