Things to Do in Puerto Rico: For Every Kind of Trip
Posted:

April 6, 2023

Posted by:

Travis Lynk

Last Reviewed:

April 13, 2023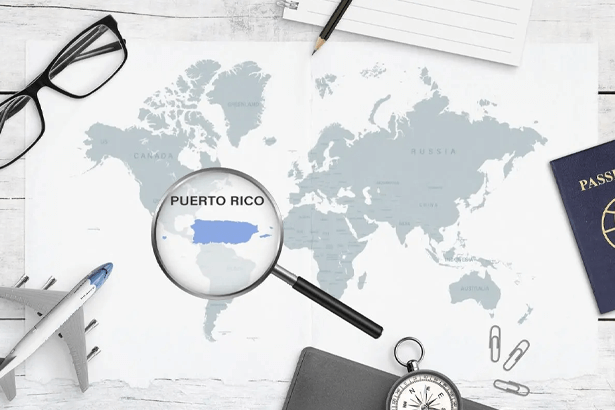 Keep reading for our guide to many of the best activities in Puerto Rico for business or pleasure.
Contents
Things to Do in Puerto Rico
The number of worthwhile things to do in Puerto Rico is as varied as the pebbles on the beach. Regardless of your interests, you'll find plenty of fun activities to make for a memorable trip to the Island of Enchantment.
No wonder The New York Times named Puerto Rico its number one travel destination in 2019.
Let's dive into a series of remarkable Puerto Rican sightseeing opportunities, from family vacations to business trips and everything in between.
Things to Do on a Family Trip in Puerto Rico
Explore El Yunque National Rainforest
If you and your family like nature and adventure, you'll love Puerto Rico. The island offers countless natural wonders for you to explore. Drive to the east of San Juan, which is Puerto Rico's capital, and you'll soon find more than 28,000 acres of tropical rainforest at El Yunque National Forest. El Yunque has the distinction of being the only tropical rainforest in the United States.
There's fun for the whole family on the miles of nature trails at El Yunque National Forest. We'd recommend focusing on the north side of the forest if you're visiting with family; this area has mostly paved trails suitable for people of varying fitness levels.
Astounding scenery and rare plants and animals await. At El Yunque Rainforest, you might see rare creatures, including colorful Puerto Rican parrots, iridescent Puerto Rican emeralds (hummingbirds), and Puerto Rican boas. Along the trails, you may also see tiny frogs called coquí. The coquí is the unofficial mascot of Puerto Rico, though you can also find these frogs in Hawaii and the U.S. Virgin Islands.
To promote public health and safety, visitor capacities are limited at El Yunque National Forest. Be sure to reserve your spot in advance here before visiting this one-of-a-kind national treasure.
Visit El Portal Visitor Center
In 2022, the visitor center of El Yunque National Forest reopened for the first time since Hurricane Maria struck Puerto Rico in 2017. This state-of-the-art facility showcases interactive exhibits with local wildlife, multimedia artistic displays, and a powerful documentary narrated by famed Puerto Rican actor Benicio del Toro. A new walking trail from the visitor center is the first of many accessible paths available at the forest.
We've profiled three additional family-friendly nature trails below. Each can be enjoyed in under an hour. Note that some trails are still being restored after damage from Hurricane Maria in 2017.
Angelito Trail
Perfect for families with small kids, Angelito Trail is an easy, mostly flat 0.2-mile trek that passes a river, Tabonuco trees, and several waterfalls. You'll find swimming spots like Las Damas Pool in the Mameyes River.
You won't be alone on this trail—it's one of the most popular in the forest. Consider walking this one early in the morning if you'd prefer fewer and smaller crowds.
Caimitillo Trail
Caimitillo Trail is a short 0.5-mile walk on paved ground that the little ones should be able to handle with ease. You'll find abundant picnic tables, flowers, ferns, and streams along the path. It was closed for repairs at the time of writing, but it'll be an excellent easy hike when it reopens.
Los Picachos Trail
Like the Angelito Trail, this trail is only 0.2 miles long. However, it's a bit more difficult. Los Picachos Trail takes you through Elfin Woodland Cloud Forest to a stone platform, providing amazing panoramic countryside views.
Discover a Whole New World at Night
El Yunque National Forest isn't just a daytime excursion; you can also come back at night to experience a completely different nighttime world. In fact, most of the forest's creatures are nocturnal, so the sights, sounds, feel, and even smells will make El Yunque seem like an entirely different place from the one you visited during the day.
A highlight is the forest's glow-in-the-dark fungi. You may also see flying bats and hear the Puerto Rican screech owl as well as the calls of many species of tree frogs.
Don't go alone. Be sure to take a guided tour with a reliable tour operator like El Yunque Tours. The 3-hour nighttime walk should cost $55 per person. The tour group will meet at Angelito Trail at around 5:30 p.m. If you need transportation to the site, earlier pickups from hotels in San Juan, Carolina – Isla Verde, and Rio Grande are available.
Kayak through a Bioluminescent Bay
Is your family craving an extraordinary experience on the water?
Then spend a magical evening visiting one of the island's three bioluminescent bays. Laguna Grande in eastern Puerto Rico's Fajardo is the most convenient to those visiting the capital area.
After the sun sets, you'll kayak through a mangrove forest in total darkness. When your oar strikes the water, you'll be astounded by bursts of ghostly blue-green light caused by harmless aquatic dinoflagellates.
Look into one of the reputable kayaking companies, such as Kayaking Puerto Rico or Pure Adventure, for a bio bay experience in Puerto Rico.
Each guided tour will last around two hours. Each participant should be at least six years old.
The excursion should cost around $70 per person. The price includes taxes, fees, equipment, instruction, insect repellent, and food and drink. If you don't want to drive yourself, there will be an additional fee if you need transport to and from the meeting point.
Have Fun at the Beach
Are you part of a beach-loving family? Well, you're in luck. The 270 miles of coastline in Puerto Rico holds close to 300 beautiful beaches adjoining the Caribbean Sea. That's almost enough to visit a different one on each day of the year.
It gets even better. In Puerto Rico, daytime temperatures remain balmy at around 80 degrees throughout most of the year, making almost any day the right day to spend time at the beach.
You don't even have to leave the capital area to find pristine stretches of sand and vivid blue seas. Pick up some snorkeling equipment to see colorful fish, coral reefs, and other marine life.
Even the most discerning beach lovers will be delighted with what Puerto Rico offers.
Balneario El Escambrón
Balneario El Escambrón is a top beach in the San Juan area. Choose from a variety of fun activities at Escambrón. Thanks to the tranquil waters, you can swim, snorkel, or go scuba diving safely and easily. Snorkeling at Escambrón was selected as one of the "Top Overall Experiences in the Caribbean," according to TripAdvisor's Traveler's Choice Awards.
Family-friendly Balneario El Escambrón offers quiet spaces away from the crowds on the beach's west end. It's also the only public beach in San Juan with restrooms.
Ocean Park Beach
Ocean Park Beach is another great beach located in the capital area. It's easily accessible and a favorite place among locals, but on most days, it doesn't get too crowded.
Whether you seek dining and entertainment or solitude, you can find it on this vast beach. Here you can walk or jog along soft light sand framed by sea grape and palm trees. Or find a quiet spot to relax in the shade with a view of the Atlantic Ocean.
If you'd like to be more active and play a game of tennis or volleyball, you can do so using the provided nets. Or get into the water and enjoy a fun swim. Just be aware that the currents here are stronger than those at Balneario El Escambrón.
You can even enjoy a meal or a drink at one of the beachfront restaurants or bars.
Condado Beach
Located between Balneario El Escambrón and Ocean Park Beach, the popular Condado Beach in San Juan also has much to offer. Surrounded by amenities for tourists, it's not hard to find an upscale beach resort or a quality dining establishment lining the fine sands here.
It's pretty to look at this beach, but be forewarned: the waves and currents can be rougher at Condado Beach than at some of the other beaches in Puerto Rico. If you're looking to spend some time swimming and have small children, another one of the beaches on this list may be more suitable for your family.
Dorado Beach
Located further to the west of San Juan but still on Puerto Rico's north coast, Dorado Beach is another fine beach well-suited to families. Wave breaks keep the waters mostly calm, so there's no need to worry about the kids' safety when they're in the water.
Luquillo Beach
You don't have to confine your family to the San Juan area on your Puerto Rico trip. If you venture 30 miles to the east, you'll find family-friendly Luquillo Beach on Puerto Rico's east coast.
This is another beach that's safe for young children, thanks to the coral reefs that shelter it from large waves. Luquillo Beach is also convenient, with helpful amenities like locker rooms and showers available.
Visit an Aquatic Park
For all-day family fun, it's tough to find a better option in Puerto Rico than the Watermill Aquatic Park, a $12 million state-of-the-art waterpark located at Dorado Beach. Designed to look like a traditional Puerto Rican sugar mill, Watermill features 30-foot water slides, a lazy river with a wave machine, bumper boats, and more. Open every weekend, parents can enjoy the bar and grill while lifeguards watch the children.
Sample the Cuisine of Puerto Rico
No family vacation in Puerto Rico is complete without tasting some of the fine food and drink the island has to offer. Some of the signature dishes (all of which are easy to find in the San Juan area) include the following:
Mofongo: mashed plantains mixed with garlic and meat.
Lechón asado: soft and juicy slow-roasted pork cooked with spices.
Frituras: deep-fried fritters made with beef, chicken, cornmeal, crab, or fish.
Piña colada: a sweet and refreshing drink is made from coconut cream, ice, pineapple, and rum.
Tropical Taste
If your family will be spending time in Old San Juan, a conveniently located and high-quality dining option is Tropical Taste. This restaurant serves a variety of authentic Puerto Rican food at reasonable prices. Choose from among 10 different types of mofongo, or mix and match a few of them.
If you're in the mood for something else, take your pick among one of the other dishes based on chicken, crab, fish, pork, shrimp, or steak. In addition to your main course, you can select two sides: fries, plantains, rice and beans, salad, vegetables, or yucca.
Craving something a bit more exotic during your travels in Puerto Rico? You can also order grouper, octopus, or conch at Tropical Taste.
Planning Your Family Vacation
Plan your family's travel out far in advance to get the best rates on flights, a rental car, and accommodations in Puerto Rico. You're especially likely to secure low prices on your hotel if you book during Puerto Rico's off season, which runs roughly from June through November.
You can probably find a Puerto Rico vacation package at a competitive price using online travel agencies. For example, Expedia Group Company, Travelocity, CheapCaribbean.com, and Costco Travel are a few vendors known for offering deals on vacation packages in Puerto Rico.
Where to Stay in Puerto Rico
Of course, you'll need a place to stay as part of your family's Puerto Rico vacation package. Consider one of the following reputable hotels for your visit if you'll be staying in the San Juan area.
Sheraton Old San Juan Hotel
The popular Sheraton Old San Juan Hotel offers fun and luxury for the entire family. It's conveniently located on the waterfront near top-notch shopping, dining, and entertainment. You can't find a bad view from the wondrous suites, each of which is loaded with luxurious amenities. Some spacious suites offer four beds each. The Sheraton also offers free WiFi.
Nightly rates start at around $205, and you may be eligible for special discounts if you pay in advance.
Hyatt Residence Club Dorado
How about something a bit further out from the heart of the bustling city of San Juan? At Hyatt Residence Club Dorado, your family will find peace along a quiet stretch of pristine Dorado Beach, about 25 miles from Old San Juan. The spacious two-bedroom condominium retreats offer ocean, garden, or pool views, a full kitchen, and washer and dryer.
Rooms at the Hyatt Residence Club Dorado can fill up far in advance. The nightly rate can range from $229 for a studio to $467 for a two-bedroom condo, plus fees.
Things to Do on a Business Trip in Puerto Rico
Stay at a Business-Friendly Hotel in Puerto Rico
If you're in Puerto Rico for business, you'll probably want to ensure that your accommodations strike the right balance between comfort and pragmatism. The hotels below have won plaudits for being well-suited to business travelers.
Sheraton Puerto Rico Hotel and Casino
The four-star Sheraton Puerto Rico Hotel and Casino, which is located within minutes of the international airport and Old San Juan, consistently ranks as one of the top hotels in the capital area. Rooms are comfortable and impeccably clean. You'll be able to look and feel your best thanks to the on-site full-service spa and fitness center.
At the Sheraton, it's easy to stay connected for work, as the hotel offers free WiFi, modern meeting spaces, and a business center with a photocopier and fax machine.
Rates start at $273 per night, plus fees.
Condado Vanderbilt Hotel
The five-star Condado Vanderbilt Hotel is another outstanding choice for business travel, located in San Juan amid prime beaches and restaurants. Exquisite on-site dining options and indulgent spa treatments await.
The hotel offers conference rooms with next-generation technology, a 24-hour business center, and free WiFi for any work-related needs.
Rates start at around $639 per night, plus taxes and fees.
Boost Your Energy with Coffee
Downing at least one cup of fresh, hot coffee is a vital part of the morning routine for many business travelers. Fortunately, outstanding Puerto Rican coffee is easy to find and of excellent quality. Puerto Rico is known for many smooth and flavorful brands, such as Alto Grande, Café Hacienda San Pedro, and Yaucono.
Experience Top-Notch Golfing
Visiting one of the premier golf courses in Puerto Rico can be an excellent way to build rapport with your business partners. You'll get some exercise, fresh air, and natural light, to boot.
Visit Dorado Beach to golf at one or two of the greatest PGA courses in the world. Designed by Robert Trent Jones, "the father of modern golf course architecture," each 18-hole course offers a variety of landscapes.
East Course weaves along a two-mile beach and a tropical nature reserve. Golf Digest recently voted it the #1 Golf Course in Puerto Rico.
Sugarcane Course is a bit more challenging, and offers breathtaking views of huge mountains and hidden rivers.
Meet for a Business Lunch or Dinner
If you're in Puerto Rico for business, you and your clients will have to eat. Fortunately, you have a wide range of excellent restaurants to choose from for a business lunch or dinner. Each of the following restaurants has won acclaim from satisfied customers who conducted business meetings there.
Vianda
You're sure to impress any business associates at Vianda, which offers a menu with delicious and locally sourced farm-to-table food. The New York Times and The Wall Street Journal have recommended dining here, and the James Beard Foundation recently selected Vianda as one of the 20 Best New Restaurants in America.
Vianda artfully prepares and presents its gourmet dishes, and service is friendly and attentive. Lately, diners have raved about the quality of Vianda's duck legs, Tom Kha pork belly, pan-seared halibut, and pistachio cake.
The restaurant is open Wednesday through Sunday from 5:00 p.m. until 11:00 p.m. Each main dish typically costs somewhere between $14 and $28.
Entrevinos
Entrevinos, a wine bar and steak house with a Caribbean twist, is another excellent choice. Diners who have met for business lunches and dinners here have raved about its convenient location in Isla Verde close to the airport, within walking distance of Embassy Suites by Hilton, and the classy atmosphere in a wine cellar.
The wait staff at Entrevinos deliver large portions of beautifully presented cuisine. The wine list is extensive. Entrevinos is also vegetarian-friendly and offers vegan and gluten-free dishes.
Entrevinos is open Tuesday through Friday from 11:30 a.m. until 10:00 p.m. and Saturdays and Sundays from 10:30 a.m. until 10:00 p.m. The price of each main dish ranges from about $10 to $50.
Things to Do on a Solo Trip in Puerto Rico
You'll get to call all of the shots on a fun solo trip to Puerto Rico. Enjoy—the island is your oyster!
Breakfast at Pannes
You'll need plenty of fuel for your adventures, so eat a hearty breakfast.
Located in Condado not far from Old San Juan, Pannes has won widespread acclaim for the quality of its breakfasts. At Pannes, you'll experience fast service, fresh ingredients, and tasty dishes served in portions that are as generous as the island's tax incentives.
Some of the popular selections from the restaurant's menu include Royal French Toast, omelettes, and breakfast tacos. Pannes also offers vegetarian, vegan, and gluten-friendly options.
Wash it all down with a café con leche or a glass of freshly squeezed fruit juice.
Visit Historic Old San Juan
Founded more than 500 years ago, San Juan is not only the oldest city in the United States, but is also the only walled city in the country. The district of Old San Juan contains some of the island's best historical sites. It's a great place to start exploring and frequently appears near the top of Puerto Rico things to do lists.
Spend some time soaking up the old-world ambience and rich history of the island on a walk through cobblestone streets. One such street is Calle del Cristo, lined with pastel-colored Spanish colonial historic buildings.
San Juan National Historic Site
Delve into Puerto Rico's history in the shade of historic forts at San Juan National Historic Site, a renowned tourist attraction. You'll enjoy panoramic views overlooking cliffs and crashing waves here beside weathered limestone walls.
The entrance fee of $10 for each adult grants you access for up to 24 hours to a bevy of historic sites, including the ones below.
Castillo San Felipe del Morro
Castillo San Felipe del Morro ("El Morro") adjoins the entrance to San Juan Bay. By the time it was finished in the 18th century, it was among the most imposing Spanish forts in Puerto Rico and throughout the New World.
Inside, you can explore the fort's six levels of intriguing features, including barracks, dungeons, and storerooms. Check out the views of the Atlantic Ocean from the ramparts.
It'll take at least an hour or two to explore the highlights of this fort.
Castillo San Cristobal
Castillo San Cristobal is another must-visit place if you're a history buff. The largest fortress in the Americas, San Cristobal sprawls across three levels and more than 27 acres. Here you'll find tunnels, a main plaza, and gigantic cisterns.
A visit to San Cristobal is worth at least one or two hours of your time.
City Walls and San Juan Gate
San Juan National Historic Site also includes most of the city walls. These were built in 1630 and stretch for about three miles around much of the western end of the Islet of San Juan. Averaging around 40 feet tall, they protected the city from foreign invasion for centuries. The walls include San Juan Gate, the only surviving city gate among the original five.
Casa Blanca Museum
Built in 1521, Casa Blanca was the first fortification to be built in San Juan and was once home to Spanish conquistador Juan Ponce de Leon. It's the oldest residence in San Juan and a museum that houses a collection of historical artifacts from the 16th and 17th centuries.
Zip Lining among the Trees
An exhilarating zip lining ride above the tree tops can provide thrills like nothing else.
Rocaliza Adventure Tours
Rocaliza Adventure Tours is known for the quality and safety of its zip lines, which are part of the itinerary in their most popular tour: El Salto Waterfall Adventure tour.
Participating in this six-hour adventure means traveling to the Carite Rainforest, which is located to the south of San Juan. Besides experiencing a series of different zip lines, you'll hike through the rainforest via secured ropes, rappel down El Salto waterfall into a canyon, and have some time to swim in pools and a waterfall.
Your tour will wrap up with a genuine Puerto Rican home-cooked meal with a local family. You'll have a grand view of the mountains as the backdrop there too.
The price of a full-day tour is $135 per person.
Toro Verde
You can find The Monster—the longest zip line in the world, with a cable that's about 28 football fields long—at Toro Verde, the largest adventure park in San Juan and throughout the Americas.
In addition to experiencing The Monster, you can take the 2.5-hour Ziplines tour, where you'll try seven different zip lines at varying speeds while seated. Or strap on a special harness and fly horizontally like a bird at speeds nearing 60 miles per hour on The Beast.
The Toro Bikes tour will allow you to ride a bike connected to a zip line cable, in the world's longest cable bike circuit.
Prices for Toro Verde tours range from $40 to ride the bikes to about $150 for a Day Pass that covers four adventures.
Travel to Vieques Island
Vieques, an offshore island of Puerto Rico, is home to several must-see natural wonders and is worth at least a couple of days on your Puerto Rico itinerary.
You can take a commuter flight or ferry from the main island to get there. Options for rental cars are limited and can be pricey, but the experiences here are worth the cost.
Vieques Island hosts Vieques National Wildlife Refuge, which is the biggest natural wildlife refuge in the Caribbean. The nearly 18,000-acre refuge protects beaches, forested uplands, lagoons, and wetlands. Vieques National Wildlife Refuge also hosts animal species such as the Antillean manatee, brown pelican, and roseate tern.
At Vieques, you'll also find what locals claim is the brightest bioluminescent bay in the world at Mosquito Bay. Go kayaking there after sunset during the new moon to get the full bioluminescent experience from the dinoflagellates in the water.
While you're on Vieques, don't miss Playa Caracas (also known as Red Beach) on the island's south side. You're sure to be pleased by the white sands, crystal-clear blue and green water, and perfect snorkeling spots.
Also on the southern coast of Vieques, you can go horseback riding with Esperanza Riding Company or Sailh's Paradise Horse Riding. Prices start at $80 per person for a 1.5-hour ride.
Things to Do on a Romantic Trip in Puerto Rico
Puerto Rico is a great destination for a romantic getaway. Whether you're looking for the ideal hidden beach, a full-service spa, world-class shopping, or fine dining, Puerto Rico has you covered.
See World-Class Beaches on Culebra Island
Spending time together on a picturesque, remote beach can be a great way to disconnect from the world and reconnect as a couple.
Flamenco Beach
It's easy to forget that Puerto Rico is actually an archipelago, and you don't have to stay put on the main island. Take a break from the hustle and bustle of San Juan. Journey to Puerto Rico's island of Culebra, situated between the east coast of the main island and the Virgin Islands, to find a truly special romantic treasure you two won't soon forget—Flamenco Beach.
Picture-perfect Flamenco Beach is not simply one of the best beaches in Puerto Rico. It's one of the most renowned beaches in the entire world. Here you'll find supremely soft white sand framed by turquoise waters that are calm and waveless.
The beach is loaded with amenities like food stalls, showers, changing rooms, but is never too crowded with tourists.
Zoni Beach
If you'd like a change of scenery during your visit to Culebra, check out Zoni Beach on the northeastern coast. It's even less crowded than Flamenco Beach, but keep in mind that Zoni Beach offers less in terms of amenities.
Zoni Beach is an excellent choice if you and your loved one seek more seclusion in Puerto Rico.
Tamarindo Beach
Tamarindo Beach is a third spectacular beach on Culebra. Located on the west coast of the island, Tamarindo Beach offers pristine golden and white sands with pebbles of rich green, black, and white hues. It's ideal for snorkeling and kayaking, thanks to its peaceful waters. You can spot exotic marine fauna, such as sea turtles and manta rays, at this beach.
Be aware that there are no significant facilities, restaurants, or lifeguards at Tamarindo Beach.
Stay at a Next-Level Beach Resort
Consider spoiling the love of your life with an exceptional treat in Puerto Rico—a few nights at a premier retreat, such as St. Regis Bahia Beach Resort. This splendid beach resort features a wide range of stunning accommodations and exclusive amenities on its 483 acres, located on the northeastern coast. It's the only AAA Five Diamond Resort on the island.
The full-service spa at St. Regis Bahia Beach Resort will pamper you with top-notch massage treatments and facilities. Here you can also enjoy a well-equipped fitness center, tennis courts, and an outdoor pool steps from the Atlantic Ocean.
Each room at this luxury retreat provides garden or oceanfront views. Go for a stroll and enjoy first-rate views of the Atlantic Ocean on the two miles of secluded beach.
Nightly rates before taxes and fees range from $1,116 in a room with a king-sized bed to $30,000 for the five-bedroom 14,000-square foot Estancia Residence, which comes with a full kitchen and your own personal butler service.
Raíces Fountain
In Old San Juan, you'll find a tree-lined promenade called Paseo de la Princesa. First built in 1853, this popular walkway has been meticulously restored.
Don't miss Raices Fountain, widely regarded as one of the most romantic spots in Old San Juan. You can find it where the western edge of Paseo de la Princesa adjoins San Juan harbor. Unveiled in 1992, it commemorates the 500th anniversary of Columbus' voyage to the Americas. The sculpture is filled with symbolism; for example, the fountain's statues of three figures honor the island's Taino, Spanish, and African heritage.
Go Shopping
If you and your significant other enjoy shopping, we know just the place for shopaholics: Plaza las Americas. It's the biggest shopping mall in Puerto Rico and the Caribbean and the second biggest in Latin America.
Regardless of whether you seek beauty products, books, clothing, electronics, or sporting goods, you'll almost certainly find what you're looking for at this shopping mecca in Puerto Rico. You can even catch a movie at the mall's 15-screen Caribbean Cinemas.
Plaza las Americas is located in San Juan and is open daily. Hours are from 9 a.m. until 9 p.m. except on Sundays, when the mall is open from 11 a.m. until 7 p.m.
Dine at a Fancy Restaurant
A candle-lit dinner is a must-do on many romantic escape itineraries.
Marmalade Restaurant & Wine Bar
A meal at Marmalade Restaurant & Bar in Old San Juan could very well be the greatest romantic dinner you've ever had. Winner of the TripAdvisor Travelers' Choice Best of the Best Award in 2022, Marmalade offers a dining experience with exquisite flavors and textures that you two won't soon forget.
Recent visitors to Marmalade have raved about its beautifully presented gourmet dishes, including the white bean truffle soup, organic beef tartar, and halibut with cornbread crumble.
The price of mains ranges from $30 to $109.
Now Take The Best Trip of All with PRelocate
We hope you love one or more of these Puerto Rico trips. However, these itineraries only scratch the surface of life in Puerto Rico. The cities of the west coast and southern Puerto Rico offer additional wonders to explore with more time during your visit.
If you think visiting Puerto Rico on one of these short adventures is appealing, why not move yourself and your business to this island paradise?
Here, you can mix business and pleasure while enjoying a vacation-like lifestyle year-round. Puerto Rico offers much more than beautiful beaches. Every year, Americans choose to relocate to Puerto Rico for its tax benefits and enticing lifestyle.
Puerto Rico's Act 60 provides some of the most generous tax benefits of all to qualified recipients through its Export Services Tax Incentive and the Individual Resident Investor Tax Incentive.
PRelocate can save you and your business time and money when you decide to make your move to Puerto Rico.
Contact us today to learn more.
Disclaimer: Neither PRelocate, LLC, nor any of its affiliates (together "PRelocate") are law firms, and this is not legal advice. You should use common sense and rely on your own legal counsel for a formal legal opinion on Puerto Rico's tax incentives, maintaining bona fide residence in Puerto Rico, and any other issues related to taxes or residency in Puerto Rico. PRelocate does not assume any responsibility for the contents of, or the consequences of using, any version of any real estate or other document templates or any spreadsheets found on our website (together, the "Materials"). Before using any Materials, you should consult with legal counsel licensed to practice in the relevant jurisdiction.
More Articles