Understanding the Act 60 Investor Resident Individual Incentive
Posted:

May 17, 2021

Posted by:

Travis Lynk

Last Reviewed:

November 17, 2021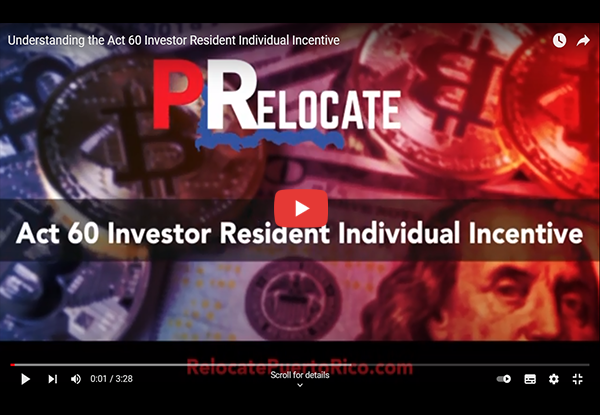 To accelerate its economic recovery, Puerto Rico enacted the Individual Investors Act (commonly referred to as Act 22) in January 2012. The goal of the legislation was to attract investors, empty nesters, retirees, and other high-net-worth individuals to the territory.
The Act removed all capital gains taxes on gains realized after a decree holder had relocated to Puerto Rico. The key stipulation to the tax incentive was that new residents had to be able to satisfy the residency requirements determined by the U.S. Internal Revenue Service code.
January 2020 marked the replacement of Act 22 (as well as the separate business tax incentive legislation, Act 20) by Act 60. With the shift have also come some requirement changes to take advantage of the Individual Resident Investor tax incentive. Learn more below.
Tax Benefits for Puerto Rico's Individual Resident Investors
Those currently considering relocation or who have recently moved to Puerto Rico and meet eligibility requirements can receive a 100% tax exemption on all gains realized on the following while they are a bonafide Puerto Rican resident:
Income from investment dividends and interest
Income from short- and long-term capital gains
Income from cryptocurrency and other crypto-based assets
Only Bona Fide Puerto Rico Residents Qualify for Act 60 Tax Benefits
The operative term for this tax incentive is "bonafide Puerto Rican resident." There are three qualifying tests to determine whether someone holds bona fide residency in Puerto Rico:
The Presence Test
The first question the IRS asks is whether an individual has been physically present on Puerto Rican soil for at least 183 days during the taxable year. Note that there are additional methods for satisfying this requirement. If you need advice on fulfilling the presence test requirements, don't hesitate to reach out to us.
The Tax Home Test
The next question is whether an individual maintains a "tax home" outside of Puerto Rico at any point during the taxable year. The IRS defines a "tax home" as the general place of business, employment, or post of duty, regardless of where the individual maintains their family home.
The Closer Connection Test
Although this test is somewhat subjective, the IRS does consider whether an individual has closer connections to the U.S. than to Puerto Rico. Evidence includes but is not limited to how you designate your country of residence, the location of your permanent home and family, and where your current social, cultural, and religious affiliations are.
The Newest "Test" Outlined in Act 60
Puerto Rico now requires the purchase of real estate property within two years of obtaining your tax exemption degree. Two years should be plenty of time to decide where to live in Puerto Rico. The property must also remain the individual's primary residence throughout the validity of the decree.
Caveats on Various Types of Income
There are also some caveats associated with various types of income. Stocks are taxed as personal property, for instance, so qualifying returns are taxed as capital gains. Your tax basis is established by the date you begin the process of becoming a bonafide resident. If you do not meet the Act 60 requirements by the end of the calendar year, you are taxed by the U.S. government.
Because dividends and interest are not reliant on an initial capital expenditure, they are not viewed as capital gains. Instead, they are considered investment income. Under U.S. tax law, the source of this "income" is said to be wherever the payer (company) is located.
Securing the Tax Exemption Decree
To secure a tax exemption decree, the individual resident investor must apply through Puerto Rico's Office of Industrial Tax Exemption (OITE). This decree will provide all pertinent tax rates and conditions mandated under Act 60. This contract is binding and supersedes any changes to Puerto Rico tax laws during the term of the agreement – initially a 15-year term, which can be further extended for another 15 years.
Costs Associated with the Tax Exemption Decree
Accompanying the application should be a one-time fee of $750. Besides that, there are a handful of additional costs associated with securing and maintaining an Individual Resident Investor tax decree:
There is also an annual donation requirement of $10,000 split between two certified nonprofits not owned or controlled by the individual investor or their relatives.
Disclaimer: Neither PRelocate, LLC, nor any of its affiliates (together "PRelocate") are law firms, and this is not legal advice. You should use common sense and rely on your own legal counsel for a formal legal opinion on Puerto Rico's tax incentives, maintaining bona fide residence in Puerto Rico, and any other issues related to taxes or residency in Puerto Rico. PRelocate does not assume any responsibility for the contents of, or the consequences of using, any version of any real estate or other document templates or any spreadsheets found on our website (together, the "Materials"). Before using any Materials, you should consult with legal counsel licensed to practice in the relevant jurisdiction.