Using Notary Services in Puerto Rico
Posted:

October 12, 2020

Posted by:

Travis Lynk

Last Reviewed:

April 5, 2021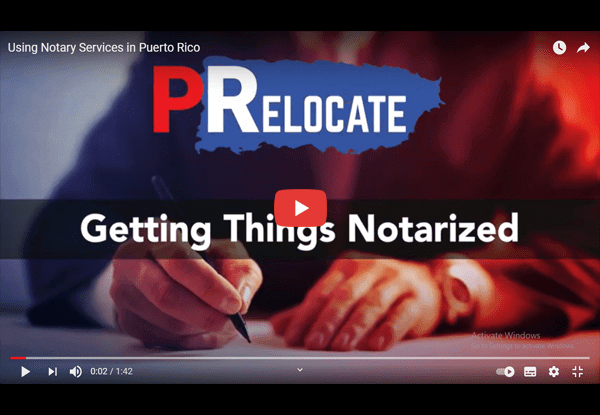 There are numerous processes involved in making the move to Puerto Rico to take advantage of the island's generous Act 60 tax incentives, and your dealings with the government certainly won't end just because you hold a tax incentive decree in Puerto Rico. This is especially true if you choose to open an Export Services business on the island. Many Act 60 decree holders require the services of a notary for various purposes in both Puerto Rico and the US, and if you require notary services for a document to be used in the US, there's a useful "notary hack" you can use.
The Hassle of Obtaining Notary Services
Notary services are a necessary evil—no one likes the burdensome process of obtaining them, but they are often necessary for interactions with the government and other legal entities. The first difficulty comes in securing an appointment, since notaries, as legal professionals, typically have their hands full with other responsibilities and may not have the time or desire to notarize your document. Once you find a notary with enough time to give you an appointment in a reasonable amount of time, prepare the necessary fee in cash—most notaries only accept cash.
If you're looking for a U.S. notary, the challenges are amplified in Puerto Rico, as U.S. notaries are extremely difficult to find locally. This can turn the seemingly simple task of having your document notarized into a never-ending journey.
Online Notary Services
If you're in Puerto Rico (or even if you're in the US), the easiest way to notarize a document for use in the US is through an online notary service like Notarize.
The process is easy. Users simply upload their document to the website or mobile app and fill it out using Notarize's user-friendly form completion tool. Upon completion, they must undergo an identity verification process that involves entering the last four digits of their Social Security number and answering several security questions. After that, users must submit a photograph of their ID, and once Notarize verifies it, users are connected with a Notarize agent who conducts a visual verification test by comparing the photographed ID with the person in the call. The notary asks a few questions to ensure the user is of sound mind, and after only a few minutes, the notarization is complete.
Using online notary services makes notarization quicker and easier than ever. Instead of spending hours looking for a notary, getting an appointment, and driving out to the notary's location, you can have your documents notarized in the comfort of your own home in less than 10 minutes.
Keep in mind that your Puerto Rico address will not work with Notarize—you must use a recent U.S. address. Notarize's knowledge-based authentication system uses the submitted name, address, date of birth, and last four digits of a Social Security number to generate security questions based on information from public records, and the system only works with state addresses.
Notarization in Puerto Rico
While online notary services can be a godsend for anyone who needs to quickly notarize a document for use in the United States, in general, Puerto Rico does not recognize online notarizations. Notarize allows users to easily notarize documents for use in the US from Puerto Rico, but if you need to notarize a document for use in Puerto Rico, you will often have to find a local notary for an in-person notarization. If you're ever unsure, call the institution beforehand to confirm.
Disclaimer: PRelocate, LLC is not a law firm, and this is not legal advice. You should use common sense and rely on your own legal counsel for a formal legal opinion on Puerto Rico tax incentives, maintaining bona fide residence in Puerto Rico, and any other Puerto Rico tax or residency related issues.