Puerto Rico Relocation Checklist: What to Do Before Your Move
Posted:

January 31, 2020

Posted by:

Travis Lynk

Last Reviewed:

June 19, 2021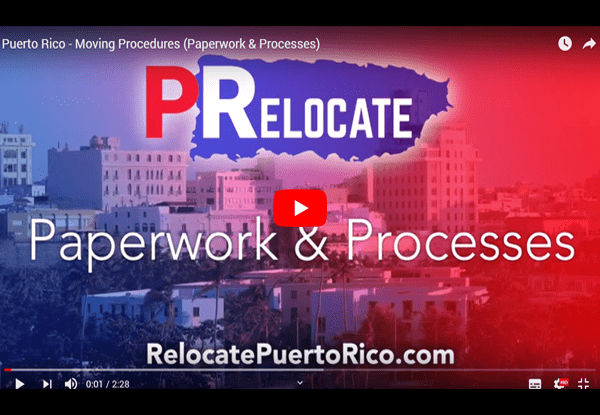 Opting to relocate to Puerto Rico to take advantage of the generous tax benefits of Act 60 is a big decision. It offers lucrative benefits and a comfortable Caribbean island life, but there are many processes you have to undertake before you make the move. Use this post as a checklist to make sure you do not forget any essential moving procedures.
Gather Your Birth Certificate and Social Security Card
Make sure you have your birth certificate and Social Security card ready, because you will need them to complete various procedures. Your Social Security card is necessary to apply for the IRI tax grant and to put utilities in your name. You will also need to make sure they are originals—copies will not suffice. Once you have your birth certificate and Social Security card, you can start with the more involved procedures.
Request a Background Check From Your State
Puerto Rico wants to make sure you are not a criminal before you set off to reside on its shores, so requesting a criminal background check from your state is a must. The procedure varies from state to state, so be sure to read up on the requirements for your particular state. Notably, some states, such as California, New York, and Oregon, require fingerprinting, while others, such as Florida, Texas, and Michigan, do not. For the states that require fingerprinting, the background check typically takes longer, and you may have to wait a while to receive the results.
Request an Official Copy of Your State Driving Record
In order to apply for a Puerto Rican driver's license, you need to present a copy of your state driving record, and the easiest course of action is to obtain the record before you move. You can simply request a driving record at your local DMV for a small fee, which varies from state to state.
Apply for the Tax Incentive
Finally, it's time to apply for the tax incentives that have motivated you to move to Puerto Rico in the first place. We can help you apply for these incentives and advise you on what is best for you—just reach out to us.
Move to Puerto Rico!
Finally, board a plane and make the physical trip to Puerto Rico! Your move is finally here!
Give Up Your U.S. Voter Registration
Unfortunately, the bureaucracy does not stop once you have arrived in Puerto Rico. After you arrive on the island, make sure to give up your U.S. voter registration, as you will not be allowed to vote in U.S. elections as a Puerto Rican resident. Download and use the Election Directory for Cancellation Notices to determine the address to send your cancellation notice to.
Get a Puerto Rican Driver's License
Getting a Puerto Rican driver's license is recommended to help satisfy the closer connections test and prove bona fide residency in Puerto Rico. The process can be somewhat complicated, so check out our comprehensive guide to how to get a Puerto Rican driver's license. You will be required to surrender your U.S. driver's license, as you are not allowed to have two different licenses.
Submit a Declaration of Non-Domicile
Finally, when you have a Puerto Rican address and have settled into your new home, submit a declaration of non-domicile to the Office of the Clerk in your current state of domicile. The declaration of non-domicile is necessary to cancel your domicile in your previous state and, depending on the state, void your income tax status there. Declaring non-domicile is also necessary to declare domicile in Puerto Rico, which you should do to indicate your intention to reside on the island long-term. Templates for both declarations are available for download on our blog.
Other Recommended Steps for Relocating to Puerto Rico
We have already covered all the key bureaucratic procedures you need to complete for your move to Puerto Rico, but there are a number of other procedures we strongly recommend to prepare for your new Caribbean life.
Get a Medical Checkup in the US
Once you are in Puerto Rico, you will have to switch your medical insurance and find a new doctor, so it is wise to get all your checkups out of the way while you are still in the US.
Join the Act 20/22 Resource Group on Facebook
Some of the best sources of information on relocation to Puerto Rico are the people who have already gone through the process themselves. In the "Puerto Rico Act 20/22 – Resource Group" on Facebook, members can communicate with others who have already moved to Puerto Rico under Act 20 or 22 or are in the process of doing so. The community is large and friendly, and members post polls and referrals as well as share events.
Brush Up on Your Spanish
Most Puerto Ricans can communicate in English, but they are still more comfortable with Spanish, and a working knowledge of Spanish can go a long way in Puerto Rico. If you can speak Spanish, you will have a leg up in official procedures and business matters, and it will allow you to develop deeper connections with the locals in your community.
While you could enroll in a class, it is often more effective to study independently, which you can do for free with resources like Duolingo. If you prefer the guidance of a teacher, private lessons, such as on italki, are more effective than group classes. From roughly an intermediate level, it is highly recommended that you watch Spanish movies, read Spanish books, and do other activities in Spanish to enhance your language skills.
Sell or Rent Your Home in the US
The Puerto Rican government wants to be sure that you intend to reside long-term in Puerto Rico, in which case you certainly do not need a house in the US. If you keep your U.S. home without renting it, the government may fear that you are not as committed to Puerto Rico as you claim, making it more difficult to satisfy the closer connections test. Additionally, selling or renting your home will give you some extra cash to help fund your new life in Puerto Rico or to invest in your business.
Research Puerto Rican Locations
Since you will be moving your entire life to Puerto Rico, including your family, it is important to consider the location to which you are moving. Puerto Rico features many unique areas, so whether you are looking for a family-friendly neighborhood, a cozy beachside town, or a place with a lively nightlife scene, if you do your research, you are bound to find the right Puerto Rican neighborhood for you.
Research Puerto Rico Schools
If you have school-aged children, schools will also be an important consideration in your move to Puerto Rico. The island features an array of international schools where children are taught in English, although enrollment in regular Spanish-speaking schools is also possible if your children have the necessary language skills. As an alternative, you can look into homeschooling options.
Throw a Going-Away Party
While your move to Puerto Rico is exciting, don't get so caught up in moving procedures that you forget to spend quality time with your loved ones. Throwing a going-away party before your move is a good way to say goodbye to the people in your life in the US and close that chapter of your life before opening a new one in Puerto Rico.
Disclaimer: Neither PRelocate, LLC, nor any of its affiliates (together "PRelocate") are law firms, and this is not legal advice. You should use common sense and rely on your own legal counsel for a formal legal opinion on Puerto Rico's tax incentives, maintaining bona fide residence in Puerto Rico, and any other issues related to taxes or residency in Puerto Rico. PRelocate does not assume any responsibility for the contents of, or the consequences of using, any version of any real estate or other document templates or any spreadsheets found on our website (together, the "Materials"). Before using any Materials, you should consult with legal counsel licensed to practice in the relevant jurisdiction.
More Articles