How to Ship Items to Puerto Rico
Posted:

November 7, 2021

Posted by:

Travis Lynk

Last Reviewed:

March 21, 2022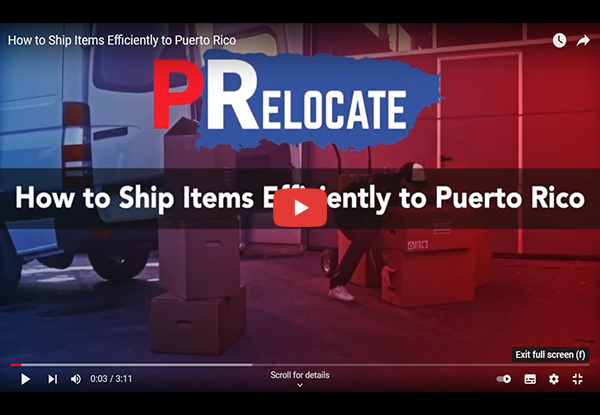 Even though Puerto Rico is primarily known for its wonderful beaches, year-round tropical weather, and unique culture, the island also offers 0% capital gains and 4% corporate tax rates under the lucrative Act 60 tax incentive program. Since their inception in 2012, the Act 60 incentives have attracted thousands of mainland U.S. residents to Puerto Rico.
However, to qualify for the tax incentives, Act 60 decree holders must fully commit to living on the island, which can require making several adjustments. In this article, we provide tips on how to ship items to Puerto Rico cost effectively.
Entering Your Shipping Address
Although Puerto Rico is part of the United States, the "country" or "state" in the address section will vary depending on the shipping agent. When using USPS, list "PR" as the state and "US" as the country. However, when using UPS or FedEx, list "PR" as both the city and the country.
When providing an address, you may also need to include the urbanization code. This code serves to identify an area, sector, or residential development, such as a gated community. Urbanization codes precede the rest of the shipping address and are generally the main indicators used to identify a location in Puerto Rico.
It is also important to be aware of your "set location" on websites like Amazon. If you find that an item cannot ship to Puerto Rico, you can change your shipping destination to a U.S. address while searching for that item. Then, once you add it to the cart, change the shipping destination back to your Puerto Rico address. You should now be able to order the item. This approach may not always work, but it is a useful strategy to keep in mind.
Choosing Between USPS, FedEx, and UPS
The decision to select a shipping agent will vary depending on factors such as the weight of the package and the delivery time. For small packages under 70 pounds, USPS will generally be the most cost-effective option. For packages between 70 and 150 pounds, UPS and FedEx are best. The decision to choose between UPS and FedEx will depend on how fast you need the package to be delivered.
If you need a package delivered on a shorter timeline, FedEx may be the best alternative. However, FedEx considers Puerto Rico an "international" location, making UPS a generally cheaper option. Of course, UPS may take longer to ship your package.
Use a Freight Forwarder
Many U.S. businesses ship goods to Puerto Rico (you can access a list of these businesses here). However, many items, especially large packages, cannot be shipped to Puerto Rico.
If your item does not ship to Puerto Rico, you will need to use a freight forwarder. We recommend using Send to Puerto Rico; this service ships users' items to Puerto Rico from its warehouse in Florida. Then, the items are delivered to the users' homes. Once an item arrives at the company's warehouse, the shipping process typically takes about 10–14 days.
The cost of the service varies based on the dimensions and weight of the item. You can use this online tool to estimate the cost or email the company to get a quote. Send to Puerto Rico can be a great solution for larger items that exceed Amazon Prime's weight or size limits.
Do Research, Plan Ahead, and Use a Virtual Mailbox
Shipping some items to Puerto Rico may require doing additional research. Moreover, it is important to factor in the additional lead time for shipments to Puerto Rico. For instance, Amazon Prime typically takes 2–3 days to deliver an item in the mainland U.S., but deliveries to Puerto Rico can take 7–10 days. Using a virtual mailbox service will ensure that all your packages and mail arrive smoothly, are signed for, and remain in storage until you are ready to pick them up.
Disclaimer: Neither PRelocate, LLC, nor any of its affiliates (together "PRelocate") are law firms, and this is not legal advice. You should use common sense and rely on your own legal counsel for a formal legal opinion on Puerto Rico's tax incentives, maintaining bona fide residence in Puerto Rico, and any other issues related to taxes or residency in Puerto Rico. PRelocate does not assume any responsibility for the contents of, or the consequences of using, any version of any real estate or other document templates or any spreadsheets found on our website (together, the "Materials"). Before using any Materials, you should consult with legal counsel licensed to practice in the relevant jurisdiction.
More Articles