The Best Puerto Rico Landmarks and Historic Sites
Posted:

August 3, 2023

Posted by:

Travis Lynk

Last Reviewed:

August 3, 2023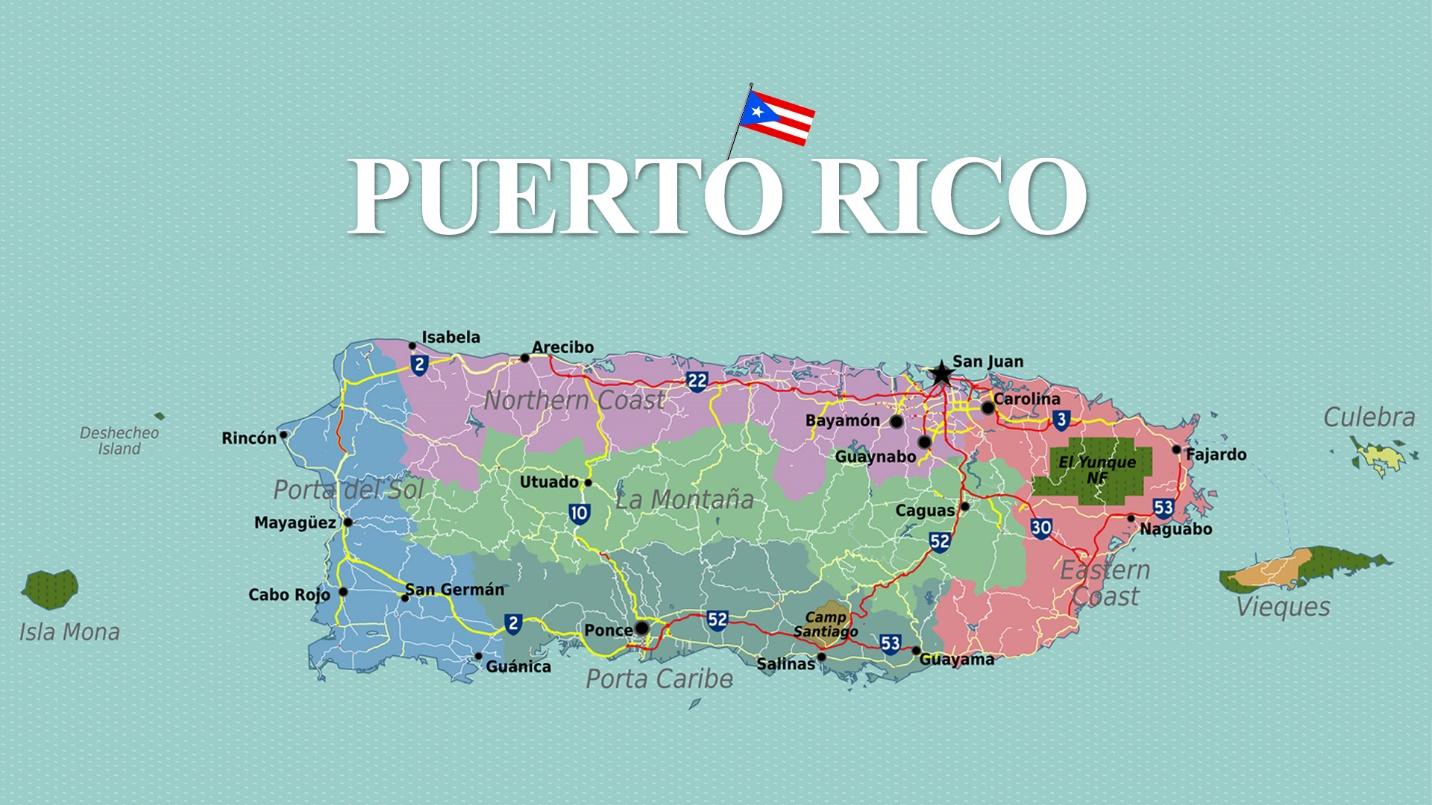 Read on for our overview of Puerto Rico's greatest historic places.
More Than Just a Tax Haven
Between sky-high inflation and the broad array of taxes on the mainland, it's easy to see why so many high-net-worth Americans are searching for new homes with lower tax burdens.
One of the most popular destinations for low-cost living is Puerto Rico—a beautiful U.S. territory in the Caribbean Sea that offers residents the benefits of U.S. citizenship and a charming lifestyle.
Relocating to Puerto Rico can improve your life enormously. Most notably, individuals who relocate to Puerto Rico become eligible for the Act 60 tax incentives, which entitle investors to pay a 0% capital gains tax rate as well as a 4% corporate tax rate for their businesses.
However, Puerto Rico offers more than riches in the financial sense. Cultural treasures abound in a place fittingly dubbed the Island of Enchantment. It's hard for history lovers not to find an intriguing Puerto Rico historical site while strolling the cobblestone streets of Old San Juan. San Juan boasts some of the most impressive forts in the New World, such as El Morro and Castillo San Cristobal.
You'll also find one of the oldest nature reserves in the hemisphere at El Yunque National Forest, the only tropical rainforest in the United States.
Let's take a look at the most important historic sites and famous landmarks in Puerto Rico. These appealing places offer just a taste of the delights awaiting U.S. residents who decide to relocate to Puerto Rico.
An Introduction to Puerto Rico and Old San Juan
Puerto Rico was a Spanish colonial territory until 1898 when Spain ceded the island to the United States in the aftermath of the Spanish-American War. After spending centuries under Spanish rule, Puerto Rico still prides itself on its remarkable historic landmarks, particularly within the capital of San Juan.
Founded more than 500 years ago by Spanish explorer Juan Ponce de Leon, San Juan is the oldest city in the United States and the second oldest city in the Western Hemisphere. The district of Old San Juan—which contains Puerto Rico's only UNESCO World Heritage Site—is the island's oldest settlement.
Many of Puerto Rico's grandest examples of Gothic, Baroque, and Renaissance architectural styles, a legacy of Spanish colonization, can be found in this corner of Puerto Rico.
Famous Landmarks in and around Old San Juan
Old San Juan, often at the top of must-see destinations in Puerto Rico, is the perfect place to start exploring the island. The district contains numerous historic attractions, including the ones below.
Capitolio de Puerto Rico
The Capitol Building of Puerto Rico (Capitolio de Puerto Rico in Spanish), was completed in 1929 and has been the seat of the Puerto Rican legislative assembly for almost a century. One of the iconic Puerto Rico landmarks, this three-story marble structure sits at the entrance to Old San Juan.
Designed in the Neoclassical style by Puerto Rican architect Rafael Carmoega, the domed and columned capitol building has a wide-ranging art collection alongside its display of the Constitution of Puerto Rico in the rotonda. Famous Puerto Rican artists, including Rafael Rios Rey and Jorge Rechani decorated the building's interior, which features stunning mosaics and murals detailing the history of Puerto Rico.
Visitors, including children, can visit the Capitol for free. Call the tour office at 787-721-5200, ext. 301 for reservations.
La Fortaleza
Completed in 1533, La Fortaleza (also known as Palacio de Santa Catalina) is located in Old San Juan overlooking San Juan Bay. It houses the official resident mansion and offices of the governor of Puerto Rico.
La Fortaleza has been used for numerous purposes over the centuries; constructed initially as a fort to defend San Juan Bay, the building also functioned as a prison and an arsenal before becoming the full-time residence of the governor in 1846. It is the oldest continuously occupied executive mansion in the Western Hemisphere.
You can see remains of the fort, a tower, walls, and gardens during your visit. This historic landmark is definitely worth visiting for anyone interested in learning more about Puerto Rico.
Entry and tours of La Fortaleza are free of charge. Tours are typically available Monday to Friday between 8:00 a.m. and 5:00 p.m. Kids are welcome but must be accompanied by an adult.
Cuartel de Ballaja
Cuartel de Ballajá, or the Ballajá Barracks, is just a few blocks away from Old San Juan. Used between 1864 and 1898 as an infantry barracks, this three-story complex on three acres hosted Spanish troops and their families until the United States annexed Puerto Rico. This was the last big construction project to be completed in Puerto Rico under Spanish rule. Wander through its vast central courtyard, arches, and officers' quarters.
Today Cuartel de Ballajá is also home to Museo de las Americas. Located on the second floor, this museum features exhibits on popular arts, African culture, and the history of Puerto Rico dating back to the Spanish colonization of the island. You'll also find a music school and a dance studio on the grounds.
Cuartel de Ballajá itself is open 24/7. The associated museum is open most Wednesdays through Sundays and may be closed or have special hours on holidays. Tickets are $6 per adult and $4 per child and senior citizen.
San Juan National Historic Site
One of the star historic attractions in Puerto Rico, San Juan National Historic Site is the only one on the island to be recognized as a UNESCO World Heritage Site.
The entry fee of $10 for each adult grants visitors access to the site for 24 hours. Kids are welcome, and children under 16 can enter for free.
Two of the can't-miss attractions at San Juan National Historic Site are the fortresses of Castillo San Felipe del Morro and Castillo San Cristobal.
Castillo San Felipe del Morro
Castillo San Felipe del Morro ("El Morro") is easily one of the most distinctive Puerto Rico landmarks. It adjoins the entrance to San Juan Bay. Finished in the 18th century, Castillo San Felipe del Morro was one of the most imposing Spanish forts in Puerto Rico and the New World.
Built to protect San Juan from an attack coming from the Atlantic Ocean, Castillo San Felipe del Morro is a must-visit place for military history buffs. You can explore the fort's six levels, wandering through old passageways connecting dungeons, barracks, and storerooms. Stand at the ramparts of Castillo San Felipe del Morro to enjoy panoramic views of the Atlantic Ocean and the esplanade.
Castillo San Cristobal
Castillo San Cristobal isn't just one of the Puerto Rico landmarks from the island's colonial past—it's also the largest fortress in the Western Hemisphere. San Cristobal Castle occupies over 27 acres of land.
Unlike El Morro, San Cristobal Castle was designed to defend San Juan against a land-based attack. Here you'll find a series of tunnels, a plaza, dungeon, and giant cisterns.
Don't miss the film about the history of Castillo San Cristóbal in the Visitor Center.
Santa Maria Magdalena de Pazzis Cemetery
Located on the northern coast between El Morro and San Cristobal is Santa Maria Magdalena de Pazzis, perhaps the most renowned cemetery in Puerto Rico. Many regard it as one of the most noteworthy cemeteries in the world.
Opened in 1814, Santa Maria Magdalena de Pazzis allows you to escape the sometimes noisy atmosphere of Old San Juan. A quiet and picturesque setting holds the graves of many of Puerto Rico's famous residents, including political leaders, entertainers, and other notable figures.
Beyond its wrought iron gate, you will see ornate marble structures, sculptures, and other religious symbols. Among the beautifully crafted angel statues, you'll find a chapel with an unmistakable red dome that is dedicated to Saint Magdalene of Pazzis.
However, be warned that the cemetery is located in a rough neighborhood called La Perla. We recommend minimizing your time in La Perla during the day and avoiding it entirely at night.
The cemetery is open to all from 7:00 a.m. until 3:00 p.m daily.
Casa Blanca Museum
Built in 1521, Casa Blanca was the first fortification to be built in San Juan and was once owned by Spanish conquistador Juan Ponce de Leon, though he died before it was completed.
Today Casa Blanca is another museum located in the western portion of Old San Juan. It's also the oldest residence that remains in the old city. Inside, you'll find historical artifacts from the 16th and 17th centuries.
Casa Blanca Museum is usually open to adults and children from Wednesday through Sunday.
San Juan Cathedral
San Juan Cathedral is another one of the major Puerto Rico landmarks, and is located just a couple of blocks to the southeast of Casa Blanca Museum. The second oldest cathedral in the Americas, the current structure dates back to 1540 and is a splendid example of Gothic and Renaissance Revival architecture. A previous wooden version of the cathedral was destroyed by a hurricane in 1529.
Inside you'll find the marble tomb of Juan Ponce de Leon. The cathedral also contains the mummified remains of St. Pio the martyr.
There is no admission fee for adults or children, though donations for ongoing restoration are accepted. Mass typically takes place on Sundays at 9:00 a.m. and 11:00 a.m. and on Mondays, Tuesdays, and Fridays at 12:15 p.m. San Juan Cathedral also conducts weddings and baptisms regularly.
Capilla del Cristo
A few blocks to the south of San Juan Cathedral on one of the city's cobblestone streets, you'll find Capilla del Cristo (also known as Chapel of Christ and Capilla del Santo Cristo de la Salud).
According to a Puerto Rico legend, this 18th-century chapel was built after a young rider nearly plunged to his death during a horse race, but was miraculously saved at the last moment; this chapel was built on the spot to honor the fateful event.
From the outside, the chapel is a modest one-story brick and stone building. However, inside you'll find an altar made of silver and gold. Paintings by Jose Campeche and Jorge Sen adorn the interior.
The chapel is typically open to all visitors on Saturday and Sunday afternoons.
Paseo de la Princesa
A short walk south of the San Juan Gate, you'll find a tree-lined promenade known as Paseo de la Princesa. Built in 1853, this walkway has been meticulously restored.
The western edge of Paseo de la Princesa holds another famous Old San Juan landmark: Raices Fountain. It commemorates the 500th anniversary of Columbus' voyage to the Americas. Three statues here honor the island's Taino, Spanish, and African heritage.
A romantic spot, Raices Fountain is also one of the most famous landmarks in Old San Juan and Puerto Rico for couples to visit.
You'll probably see artwork, food, and live music as you stroll along Paseo de la Princesa. Another notable landmark on Paseo de la Princesa is a historic building that once held a prison but is now home to an art gallery and tourism center.
La Placita de Santurce
A few miles to the southeast of Old San Juan lies the historic district of La Placita de Santurce. When it was first opened more than a century ago, La Placita de Santurce was a popular two-level marketplace for the sale of produce, meat, and other goods and services.
Today, La Placita de Santurce is a bustling hotspot for dining and nightlife in Puerto Rico. Go during the day to see its farmer's market, filled with typical Puerto Rican fruits and vegetables. Come back at night to enjoy its bars and restaurants, or go salsa dancing in one of its dance clubs.
The plaza is open to all at any time, but is at its most lively (and crowded) in the evenings between Thursday and Sunday.
Eastern Puerto Rico
El Yunque National Forest
Don't forget about natural history; Puerto Rico offers breathtaking nature for you to explore. Located east of San Juan is a tropical rainforest that is also the oldest nature reserve in the Americas: El Yunque National Forest. A unique historical and natural wonder, El Yunque is the only tropical rainforest in Puerto Rico and the United States.
Visitor capacities are limited at El Yunque National Forest. Make sure to reserve your spot here before traveling out to this one-of-a-kind natural wonder.
Here are a few of the trails to remember during your visit to El Yunque.
Mt. Britton Trail
Hiking Mt. Britton Trail will take you through Sierra Palms, streams, and cloud forest to one of Puerto Rico's stone towers or El Yunque Peak. The historic stone Mt. Britton Tower was built in 1938 by the Civilian Conservation Corps.
La Mina Trail
At the time of writing, the superb La Mina Trail was closed. However, don't miss the delightful Cascada La Mina when it reopens. The trail winds along a river and through lush vegetation to this picturesque 35-foot waterfall, where you can also take a refreshing dip in the cool waters of a pool that surrounds it.
Family-Friendly Trails
Children are welcome on the hiking trails of El Yunque too. Angelito Trail and Caimitillo Trail are two short and easy hiking trails in this tropical forest.
Vieques Island
For another memorable adventure, journey beyond the eastern coast of the main island to Vieques, a smaller offshore Puerto Rican island. Besides having its own rich history, Vieques is home to several top-notch natural sights.
The island's name comes from the Taino word "Bieque," which means "small island." Before European colonization, Vieques was home to a series of indigenous cultures, including the Saladoid, Huecoid, Ostionoid, and Taino. It became a U.S. Navy base during the 1940s.
Today Vieques Island hosts the biggest natural wildlife refuge in Puerto Rico and throughout the Caribbean at Vieques National Wildlife Refuge. Almost 18,000 acres of beaches and wetlands contain animals such as Antillean manatees and roseate terns.
You can also travel to the southern part of Vieques, where you'll find what some say is the world's brightest bioluminescent bay at Mosquito Bay. For a real treat, go kayaking through Mosquito Bay on a dark night. Each time you touch the water, you'll see a burst of ghostly light from the mysterious but harmless microbes that live in Mosquito Bay.
Ponce
Plaza las Delicias
Located on the southern coast of Puerto Rico, Ponce is the second-largest urban area on the island. It contains several important Puerto Rico landmarks and historic sites, including Plaza las Delicias, which is located in the center of Ponce.
The Plaza is always full of life, offering events, tourist activities, and numerous shops. You will also find phenomenal sculptures, statues, and charming fountains. Plaza las Delicias is home to Parque de Bombas. Parque de Bombas is an architecturally captivating fire station unique to Puerto Rico.
The Cathedral of Our Lady of Guadalupe (Catedral Nuestra Senora de Guadalupe) is also located in Plaza las Delicias. This mesmerizing cathedral traces its history back to 1835, and its architecture combines Neoclassical and Gothic influences.
The cathedral is usually open daily from 6:30 a.m. until 9:00 p.m.
Serralles Castle
Overlooking Ponce's city center is a majestic mansion known as Serralles Castle. This mansion was built in the 1930s for the owners of Destilería Serrallés, a successful rum distillery. Today, Seralles Castle is a museum showcasing the history of Puerto Rico's rum and sugar cane industries.
Just outside of the museum, you'll find a Japanese garden and a butterfly nursery.
The museum is usually open from Wednesday through Sunday from 10:00 a.m. until 4:00 p.m. Each ticket costs $15. Children under the age of 3 can enter for free.
La Guancha Boardwalk
At the southernmost edge of Ponce by the coast, you'll find La Guancha Boardwalk. While not truly a historic site (it dates back to the late 1990s), La Guancha Boardwalk offers family-friendly fun and an enjoyable dining experience at its food kiosks and restaurants after a long day absorbing the rich history of Ponce. Take a break here to enjoy some fritters or empanadillas.
The boardwalk is open 24/7, but is most active weekend afternoons and evenings.
Puerto Rico's Interior
Caguana Indigenous Ceremonial Park
Journey to Puerto Rico's mountainous interior to find Caguana Indigenous Ceremonial Park (Parque Ceremonial Indígena de Caguana), the island's top indigenous Taino archaeological site and cultural center. It's also a National Historic Landmark.
Here you'll see ceremonial ballcourts built by the Taino more than 700 years ago. Other highlights include an intriguing museum filled with artifacts and a garden containing some of the crops the Taino harvested.
This park is also one of the few places in Puerto Rico where you can see well-preserved pre Columbian petroglyphs (Tibes Indigenous Ceremonial Park is another place with pre Columbian petroglyphs).
Kids are welcome at the park, which is usually open from 8:30 a.m. until 4:00 p.m. daily.
Historic Tax Breaks Await with PRelocate
Puerto Rico offers a rich history, luxurious amenities, and a vibrant culture. Puerto Ricans are also known for their friendliness. From visiting stunning Puerto Rico landmarks to sunbathing at pristine beaches, there's no shortage of fun things to do. Visit Puerto Rico, and you'll only scratch the surface of what the island has to offer—to fully appreciate its many treasures, you'll have to live here.
You and your business may be eligible for generous tax breaks under Puerto Rico's Individual Resident Investor Tax Incentive or the Export Services Tax Incentive.
If you're interested in relocating to Puerto Rico, feel to contact PRelocate and schedule a call. As a licensed real estate brokerage firm (license C-21696), we aim to make the relocation process as efficient as possible. We can save you and your business time and money with your move.
Countless other Americans, curious about starting a new life in the Caribbean, have consulted with our expert team to learn about the financial and cultural opportunities that come with living on the Island of Enchantment.
The rest, as they say, is history.
Contact us today to learn more.
Disclaimer: Neither PRelocate, LLC, nor any of its affiliates (together "PRelocate") are law firms, and this is not legal advice. You should use common sense and rely on your own legal counsel for a formal legal opinion on Puerto Rico's tax incentives, maintaining bona fide residence in Puerto Rico, and any other issues related to taxes or residency in Puerto Rico. PRelocate does not assume any responsibility for the contents of, or the consequences of using, any version of any real estate or other document templates or any spreadsheets found on our website (together, the "Materials"). Before using any Materials, you should consult with legal counsel licensed to practice in the relevant jurisdiction.
More Articles