Tips for Working Remotely in Puerto Rico
Posted:

April 6, 2022

Posted by:

Travis Lynk

Last Reviewed:

July 1, 2022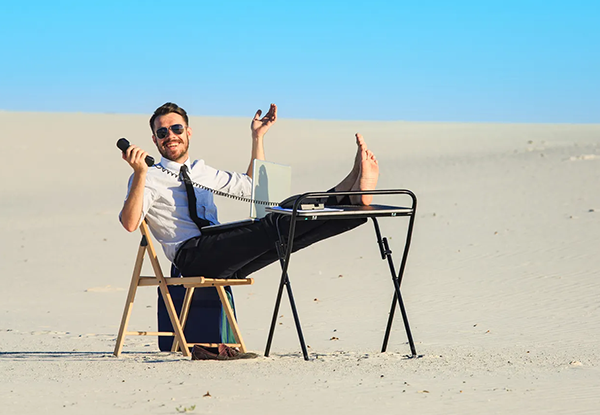 Remote work has been around for decades, but it is fair to say that it has grown exponentially in the last two years. A recent Forbes article claims that 25% of the workforce in the United States will be remote by the end of 2022 and continue to grow through 2023. In other words, it's here to stay. Whether you're new to the digital nomad lifestyle or you've been at it for years, you should consider Puerto Rico as one of your remote work locations. When looking for your new home, consider the luxurious property at Bahia Beach. Breathtaking beach views and delicious island cuisine are coupled with reliable internet and no work restrictions—like applying for a work visa—make it the perfect island relocation spot. Here are a few tips to keep in mind when planning to work in Puerto Rico:
Verify the Internet Stability
As a remote worker, you know from experience how essential the internet speed is to your day-to-day job. Virtual meetings, file downloads, and research are just a few aspects of your job that require high-speed internet, which you have no doubt become accustomed to in the United States. Rest assured that all of the properties at Bahia Beach offer the high-speed internet that you need, but should you choose to live in another location, make sure to check the reliability of the internet service. After Hurricane Maria in 2017, Puerto Rico's infrastructure was reinforced, and most parts of the island now have the support of major internet providers and 5G networks. In fact, according to a 2021 article in The Weekly Journal, Puerto Rico's internet speed is now among the fastest in the world!
The Best Way to Experience the Island is Having Your Own Car
Getting around Puerto Rico is fairly easy. If you are going to be in an urban area for just a few days, you could get by on foot. But if you're considering staying beyond that or making a permanent move, it is a good idea to either ship your car or purchase one on the island. At PRelocate, our expert team can help you arrange for your own transportation. Here are a few things to keep in mind:
The decision to ship your car from the mainland or purchase a new one depends on your preference and your budget. Shipping and import costs can add up quickly and involve far more steps than simply purchasing a car on the island. Be sure to do your research and determine what is best for you and your needs.
Driving around is fairly simple, and GPS navigation systems work pretty well. However, if you're planning to explore more rural, remote parts of the island, the GPS connectivity may be spotty, so it's a good idea to have printed directions as a backup.
High traffic times are between 8:00 am – 10:00 am and 4:00 pm – 6:00 pm. If you aren't used to getting around on the island, try to avoid being on the road at these times.
The driving rules in Puerto Rico aren't as rigid as they are on the mainland. Seasoned drivers may be more aggressive than you are used to, but once you learn the ropes, you will be able to get around just fine.
Consider a Coworking Space
Remote work can be a bit lonely at times, especially when you are in an area that's new to you. Coworking spaces are a great way to network with other remote workers like yourself, have a professional space to meet clients, and even make some new friends while living and working in paradise! Puerto Rico has several coworking space options, such as Piloto 151 and The Landmark with prices ranging from $35.00 per day to $1,400.00 per month, depending on your needs and preferences.
Pack Your Summer Clothes
How does sunny, 80-degree weather sound? In Puerto Rico, you can have that all year round! Be sure to pack your swimsuit if you're moving to Bahia Beach or any of the many other resort-style neighborhoods where you can enjoy working while lounging poolside or even take your laptop right down to the beach! What better backdrop to your workday than clear skies, warm weather, and the sound of crashing beach waves?
If you have any questions about living and working remotely in Puerto Rico, please don't hesitate to reach out to the PRelocate team. We are always ready and willing to help!
Disclaimer: Neither PRelocate, LLC, nor any of its affiliates (together "PRelocate") are law firms, and this is not legal advice. You should use common sense and rely on your own legal counsel for a formal legal opinion on Puerto Rico's tax incentives, maintaining bona fide residence in Puerto Rico, and any other issues related to taxes or residency in Puerto Rico. PRelocate does not assume any responsibility for the contents of, or the consequences of using, any version of any real estate or other document templates or any spreadsheets found on our website (together, the "Materials"). Before using any Materials, you should consult with legal counsel licensed to practice in the relevant jurisdiction.
More Articles