Travel Requirements in Puerto Rico During COVID-19
Posted:

October 28, 2020

Posted by:

Travis Lynk

Last Reviewed:

September 8, 2023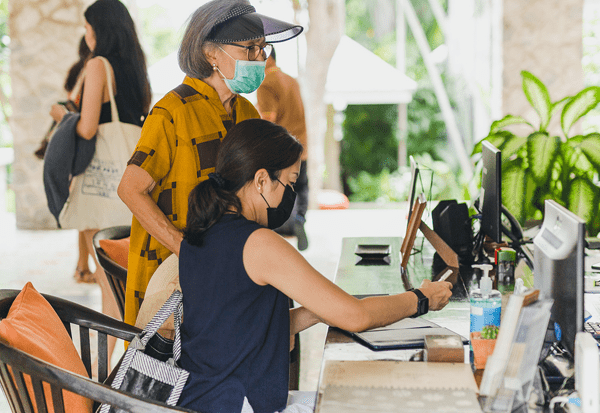 Whether you're looking to come to Puerto Rico for a much-needed getaway or you're relocating to the island to start a new life under Puerto Rico's lucrative tax incentives, traveling during the COVID-19 pandemic is complicated and involves a number of requirements previously unheard of. Travel to Puerto Rico during the pandemic is possible, but prospective travelers must be aware of the regulations surrounding travel to the island.
Puerto Rico is more lenient than most jurisdictions in the world, welcoming travelers from around the world as long as they follow one of two paths of entry. Travelers to Puerto Rico have the choice between presenting a negative molecular-based COVID-19 test conducted within 72 hours of arrival or quarantining for 14 days or the full duration of their trip, whichever is shorter. Those who do not have a negative COVID-19 test to present at the border may choose to have an on-island test conducted, and if the results are negative, they are freed from the 14-day quarantine requirement. However, those who choose this path must still quarantine until they receive their test results.
Those who present a negative COVID-19 test may forgo the 14-day quarantine, but both sets of travelers will generally receive daily automated texts on their phone inquiring about their health and whether they have developed any symptoms characteristic of COVID-19. They simply need to respond to the message, and if the answer is "no," there's nothing more they need to do.
All travelers must also fill out a travel declaration form that asks for their personal and contact information as well as details about their flight to Luis Muñoz Marín International Airport. Those who have a negative COVID-19 test to show can also include details about the test. Travelers can fill out the form in advance and either print off the confirmation or show the border officer the completed form on their phone, but if you haven't filled out the form prior to arrival, don't fret—you can simply scan a QR code at the airport and fill it out on the spot. Alternatively, you can go up to a border officer and have them take all your details in person.
At the airport, travelers are divided into two different lines based on whether they have a negative COVID-19 test or are planning to undergo the 14-day quarantine, so be sure to get into the correct line. Given the reduced number of people traveling during the pandemic, however, travelers may find they pass through customs swiftly.
Restrictions Inside Puerto Rico
Since March, Puerto Rico has taken special measures to curb the spread of COVID-19. While the island has reopened for international travel and tourism, everyone in Puerto Rico, including travelers, are required to follow the regulations within the island, which include wearing a face covering at all times in public; washing one's hands frequently and wiping down often-touched surfaces; and minimizing contact with others, keeping track of any interactions and maintaining social distancing during social contact.
Travelers should be aware that tours, attractions, and other group activities are not permitted as of October 26, 2020, and bars and discos remain closed. Public beaches and natural reserves are open and recreational boat use is permitted as long as social distancing regulations are followed. Supermarkets, pharmacies, and gas stations are open as normal, but restaurants, museums, and retail stores are only open at 55% capacity. Hotel pool facilities, theaters, casinos, and gyms are open at 30% capacity. Travelers may make appointments at hair salons, barber shops, and individual spas, but such establishments are not open to walk-in appointments.
The regulations surrounding travel to Puerto Rico, as well as life within Puerto Rico, are subject to constant update as the COVID-19 situation evolves. Travelers should stay up to date on the latest regulations before and during their stay on the island. Read the latest executive order to learn more about the current state of travel in Puerto Rico (only available in Spanish). The type of welcome bonus (for sports betting or for casino) is chosen during registration. The bonus is only available to players from India, Bangladesh. bet andreas The company has provided an app for Android and iOS. The algorithms for downloading the application are slightly different.
Disclaimer: Neither PRelocate, LLC, nor any of its affiliates (together "PRelocate") are law firms, and this is not legal advice. You should use common sense and rely on your own legal counsel for a formal legal opinion on Puerto Rico's tax incentives, maintaining bona fide residence in Puerto Rico, and any other issues related to taxes or residency in Puerto Rico. PRelocate does not assume any responsibility for the contents of, or the consequences of using, any version of any real estate or other document templates or any spreadsheets found on our website (together, the "Materials"). Before using any Materials, you should consult with legal counsel licensed to practice in the relevant jurisdiction.